Why Hoda Kotb Is Heaping Praise On Kim Cattrall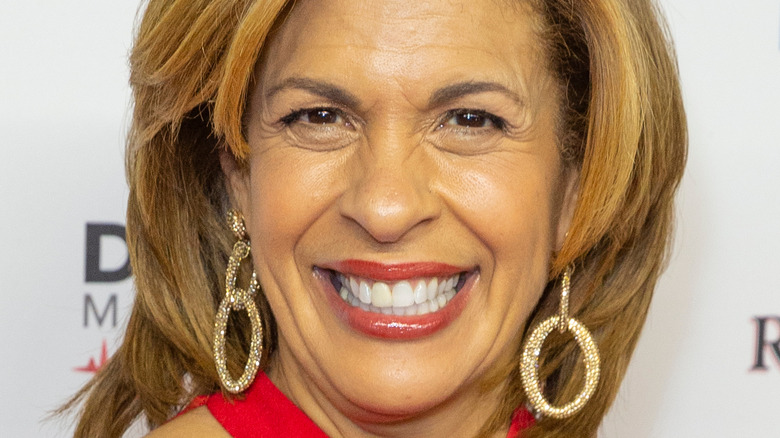 lev radin/Shutterstock
"Sex and the City" fans are all aflutter now that Kim Cattrall finally shared her thoughts about "And Just Like That." And those fans include "Today" host Hoda Kotb.
In case you somehow missed it, when the HBO reboot was announced, people couldn't understand how a sitcom about a quartet of strong, independent, sex-positive women could move forward with only three of those women, since its most notorious character, Samantha Jones, would not be in the new series. But Cattrall, who played Samantha, told Variety, "I was never asked to be part of the reboot," because "I made my feelings clear after the possible third movie, so I found out about it like everyone else did — on social media."
That's right, Cattrall had strongly said no to the sequel back in 2016, for various reasons. For one, she felt the climate had changed, telling the Daily Record, "To have four women talking about shopping trips and spending $400 on shoes when people are having trouble putting food on the table?" A source also told E! News, "It was a combination of not great money and a bad storyline for Samantha." Part of that "bad script" was an icky storyline about Samantha receiving unsolicited d**k pics from Miranda's 14-year-old son. "It's heartbreaking," Cattrall told Variety.
Now that Cattrall is saying more about why and how she said no to the film and what happened with "And Just Like That," Kotb is singing her praises.
Hoda Kotb is proud of Kim Cattrall for saying no
In her May 4 interview with Variety, Kim Cattrall talked about turning down the "Sex and the City" sequel, saying, "As difficult as it was, and as scary as it is to stand up and not be bullied by the press or the fans or whomever — to just say, I'm good. I'm on this track. It was so great working with you. I so enjoyed it, but I'm over here." She ended the interview by adding, "It's powerful to say no."
This statement clearly meant a lot to Hoda Kotb and her "Today" guest cohost Stephanie Ruhle, who talked about it on the show. "Saying no is hard," Kotb said, calling it "one of the big life lessons ... all of us have to learn at some point." Ruhle agreed, saying, "It is such a brave move, right?" Ruhle acknowledged the "pressure" that accompanies expectations from others and admitted she's not great at saying no, because she's "always afraid if I don't say yes, they won't ask me again." That fear is something many women in particular feel.
Kotb also appreciated not needing to justify a "no" response. "I do think there is something about when you say no without explanation," she said, discussing how trying to explain yourself can turn into a big story, only part of which may be true. "And I think it's when you stop caring so much." Ruhle agreed, adding "It takes conviction."