JoJo Siwa's Romantic Reunion Has Fans Totally Overjoyed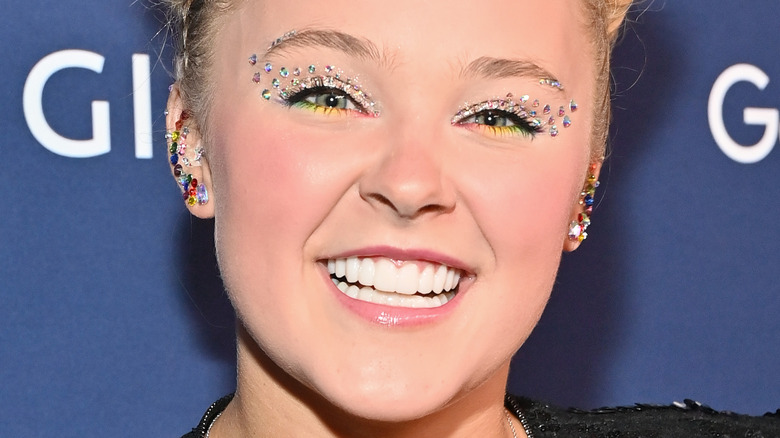 Stefanie Keenan/Getty Images
JoJo Siwa got her start on "Dance Moms," and she's been uber-popular ever since. The star has a YouTube page that's amassed 12.2 million subscribers, and she rakes in tons of views on every video that she posts. One of her most popular videos, "BOOMERANG," has been viewed over 950 million times. Yes, almost a billion views for the soon-to-be 19-year-old. That's pretty impressive, if you ask us!
In 2021, Siwa posted a TikTok that showed her singing to Lady Gaga's hit "Born This Way" as part of her coming-out party. Later, she spoke with People, stating that she didn't want to label her sexuality right away. "I don't know, bisexual, pansexual, queer, lesbian, gay, straight," she said. "I always just say gay because it just kind of covers it or queer because I think the keyword is cool." Siwa added that she technically classifies herself as pansexual because "my human is my human." During an appearance on "The Tonight Show Starring Jimmy Fallon," Siwa shared that her girlfriend, Kylie Prew, encouraged her to come out. 
Siwa regularly gushed over Prew during their time together, including on a milestone anniversary. "I did it!! my human. It's been 1 month since my best friend asked me to be her girlfriend, and it's been the best month ever. I love you," she shared on TikTok in February 2021. After a few months of dating, Siwa confirmed to Paris Hilton on her "This is Paris" podcast that she and Prew called it quits. However, they have since rekindled their romance.
JoJo Siwa and her girlfriend spent time in Disney
Reunited, and it feels so good! JoJo Siwa and Kylie Prew are back together again, following a seven-month hiatus from the relationship. Siwa shared the news on her Instagram, much to the delight of her fans. The post included two images of the duo in front of the iconic castle at Florida's Disney Parks. In one shot, Siwa wrapped her arms around Prew and planted a kiss on her cheek. She looked dressed for the occasion, rocking a pair of mouse ears with a rhinestone-studded bow. "If you love something let it go, if it comes back...." Siwa captioned the shot, making sure to include a single white heart emoji at the end of her post.
Fans seemed thrilled with news of the couple's reunion, and they made sure to shower the comments section of Siwa's post with love. "Love you both soooo much! So so happy for you!" one follower gushed. "So thrilled to see you back together," another fan added. "Oh my word I love this so much. Happy for you both!!!" one more commented.
In November 2021, Siwa opened up to People about her split from Prew, stating that she was taking a little time for herself. "I haven't started dating at all, anybody, but whatever happens happens," she told the outlet. "I fell in love with somebody who I didn't ever expect to fall in love with." Siwa also called Prew her "best friend." We're glad these two could make it work!