JoJo Siwa Reflects On The Anniversary Of Her Publicly Coming Out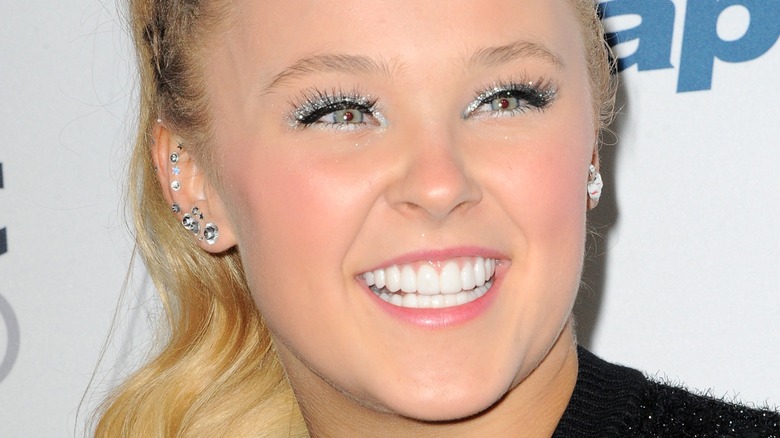 Tinseltown/Shutterstock
"Dance Moms" alum JoJo Siwa built a base of young fans through her Nickelodeon appearances, large-scale tours, and collaborations with companies such as Claire's and J.C. Penney, according to Tiger Beat. However, although many initially knew Siwa to be a fast-talking girl who seemed younger than she was, through wearing hairbows and other colorful clothing, she turned 18 in 2021 — and took some steps to grow up.
In January of 2021, Siwa posted a video to her TikTok page, where she performs to Lady Gaga's "Born This Way," which prompted speculation that she was coming out, according to CNN. Then, she took to Instagram, sharing a full sit-down video where she opened up and confirmed what many suspected. "There's so many accepting and loving people out there. Of course, people are gonna say it's not normal, but it's your normal," Siwa said.
A year later, Siwa has accomplished a lot, including being part of the first same-sex team to perform on "Dancing with the Stars." Although she seems to be adapting to growing up, Siwa opened up to fans once again about coming out for her one-year anniversary.
JoJo Siwa felt loved when she came out
Amy Sussman/Getty Images
Nickelodeon dancer JoJo Siwa celebrated her one-year anniversary of coming out, after revealing the news to her fans in January of 2021. At the time, and in the months since, Siwa has received countless heartfelt messages from fans and parents alike. Now, she is opening up about what it was really like to share the news — something that is a part of her.
"In the last 365 days I've felt more love than ever... I get asked a lot 'was coming out scary for you'... and the answer is yes of course, anything that's different about you is scary, however... it's what makes me... me. so I had no fear with sharing it with the world," Siwa wrote on Instagram. She elaborated on the example she's setting for young people today, explaining, "Truthfully I feel like I was put on this earth to be a role model for kids, and letting all the kids of the world know that loving everyone for who they are no matter what is something that I will always believe in and always share."
Siwa's mother, Jessalynn, has also proudly supported her daughter on social media, including by posting a throwback photo of her in softball gear. "People always ask me when I knew.... Look at that smile," Jessalynn shared. Although as some pointed out that it might reinforce stereotypes, most found the humor in her innocent post, with one fan writing, "LNFOAOAOOAAO AM I THE ONLY ONE WHO FINDS THIS FUNNY."