The Tragic Death Of Friends Actor Mike Hagerty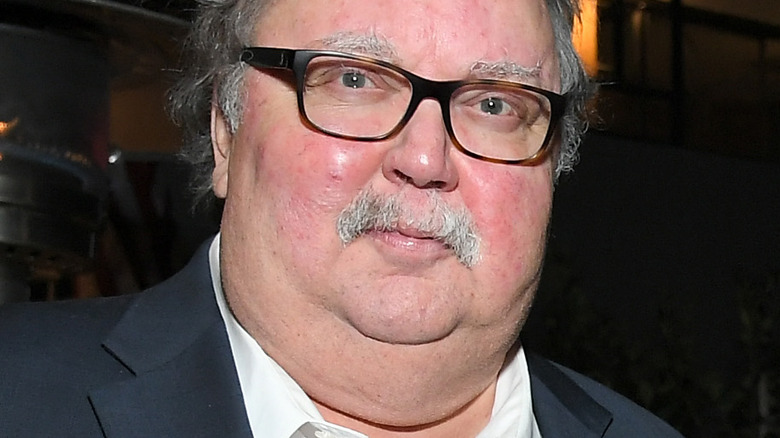 Charley Gallay/Getty Images
The family of comedian Mike Hagerty has sadly confirmed the actor's death. Bridget Everett, who plays Hagerty's daughter on their HBO show "Somebody Somewhere," revealed the sad news on May 6. "A beloved character actor, his love of his hometown of Chicago and his family were the cornerstones of his life," Everett wrote in a statement posted to her Instagram. "Mike, a devoted husband, is survived by his wife Mary Kathryn, his sister Mary Ann Hagerty, her wife Kathleen O'Rourke, and their daughter Meg. He will be sorely missed."
Hagerty was a staple within the Chicago comedy scene, as he started out in his hometown's Second City, per the Chicago Sun Times. Over the course of his 48-year acting career, he appeared in several iconic shows, like "Martin," "Star Trek: The Next Generation," "Seinfeld," and "Curb Your Enthusiasm." He went on to become most well-known for his recurring role in "Friends" as the apartment building's superintendent, who took dance lessons from Matt LeBlanc's Joey Tribbiani in the hilarious "The One With the Ballroom Dancing" episode. 
Friends and fans mourn Mike Hagerty
If you've ever been a watcher of TV or sitcoms, Mike Hagerty has definitely made you laugh. In reaction to the sad news of Hagerty's death, fans took to social media to look back on his impressive catalog of gut-busting roles. "There are few character actors as ubiquitous as Mike Hagerty," one user wrote. "[W]ho'd seamlessly pop into frame and bring a familiar warmth and comfort to the scene. A soulful, hilarious performer who built a career on being that guy you knew from that thing and we were all better for it."
The 2022 HBO series "Somebody Somewhere" was Hagerty's latest project, with Hagerty playing the country patriarch to the show's main character. Jay Duplass, who directed Hagerty in episodes of "Somebody Somewhere," looked back on Twitter, saying, "Mike Hagerty was a great actor and a great man, I'm going to miss him, He lives forever in our hearts."
The multi-talented 67-year-old was beloved by those who worked with him and those he touched throughout his career. "Criminal Minds" actor Joe Mantegna lamented, "R. I. P. Mike Hagerty. That big smile will live on with all of us who knew you."