Dave Chappelle's Latest Revelation About His Attack Answers One Huge Question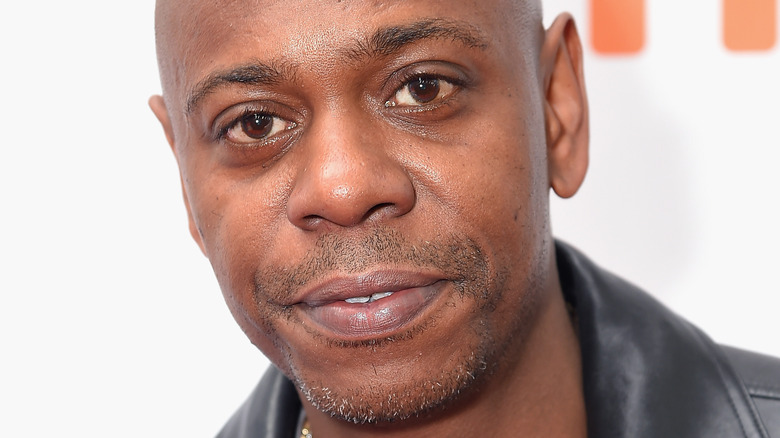 Michael Loccisano/Getty Images
Coincidence or copycat? Dave Chappelle was tackled during a comedy set at the Hollywood Bowl on May 3, per CNN, making many fans have flashbacks of Will Smith slapping Chris Rock at the 2022 Oscars. The attacker, identified by police as Isaiah Lee, was armed with a mock handgun hiding a knife blade when he rushed Chappelle on stage during his performance at "Netflix is a Joke: The Festival." After security detained Lee backstage, Rock himself came onstage to check on Chappelle, making the irresistible crack, "Was that Will Smith?"
According to CNN, LAPD spokesperson Officer Lizeth Lomeli announced Lee was then arrested and "taken to a hospital for medical treatment." A Netflix spokesperson told the outlet of the violent dust-up, "We care deeply about the safety of creators and we strongly defend the right of stand-up comedians to perform on stage without fear of violence." Meanwhile, Chappelle's spokesperson Carla Sims credited Rock and Jamie Foxx, also in attendance, for calming the crowd "with humor." 
Since the incident, his assailant's motives have been highly speculated, given Chappelle's controversies in the public eye as of late. At a comedy show on May 5, the comic himself shed light on what might have been behind this shocking attack. 
Dave Chappelle was attacked for an unexpected reason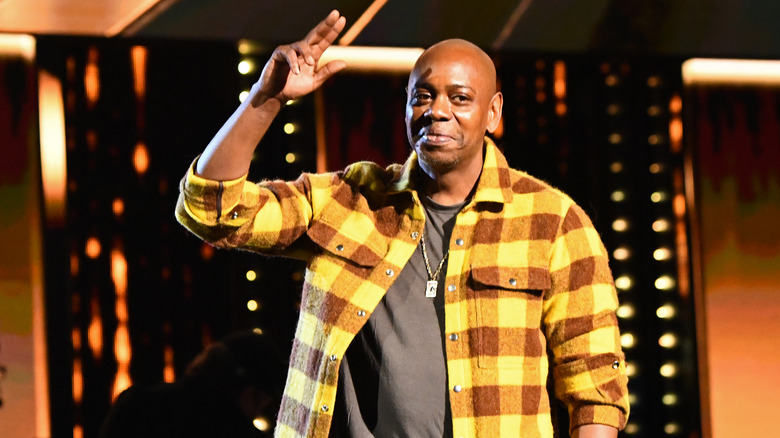 Kevin Mazur/Getty Images
Dave Chappelle's assailant reportedly had something important on in mind when he jumped onstage at The Hollywood Bowl. At a secret comedy show on May 5, Chappelle spilled some inside tea about his May 3 assault, per The Hollywood Reporter. The comic told his audience at Los Angeles' The Comedy Store that he had a chat with his attacker, Isaiah Lee, just after the altercation. "I needed to talk to him," Chappelle said. Lee explained his motivation for the assault as a means to raise awareness for his grandmother's living situation. She had just been driven from her Brooklyn home by gentrification, Chappelle recalled Lee telling him. 
Lee pleaded not guilty to four misdemeanor charges in court, including possession of a weapon, per CNN. According to his lawyer, Lee is currently receiving mental healthcare. However, Judge Wendy Segall warned that should Lee post bail, he must stay at least 100 yards away from Chappelle and any of his performance venues.
The "Half Baked" star also shared some fond memories following the attack at The Comedy Store, including his son saying, "Dad, I love you." Chris Rock, who knows what it's like to get a surprise from an audience member, then joined Chappelle during his set, per The Hollywood Reporter. The two bantered about their respective incidents, with Chappelle joking to Rock, "At least you got smacked by someone of repute! I got smacked by a homeless guy with leaves in his hair."