Liam Neeson Finally Addresses One Of His Biggest Controversies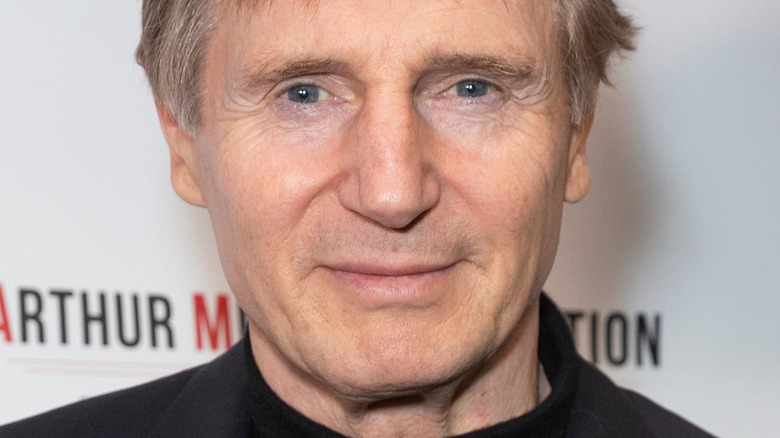 lev radin/Shutterstock
Liam Neeson is a seasoned veteran in Hollywood, starring in plenty of hit films, like "Kinsey" and "Schindler's List." But there's no doubt that one of the actor's most famous roles was that of Bryan Mills in "Taken," where he said one of the most memorable lines of all time: "I will find you, and I will kill you." (If you know, you know.) Neeson has made headlines for some sad reasons in his career, too, including in 2009, when he lost his wife Natasha Richardson in a freak skiing accident. In 2020, Neeson shared how he keeps his wife's memory alive. "I speak to her every day at her grave, which is about a mile and half down the road," he told Inquirer.net. "I go down there quite often, so I do speak to her as if she's here. Not that she answers me." (Ugh, how sweet and sad.)
However, in 2019, Neeson found himself on the wrong side of the headlines over some racist words. The actor sat down for an interview with the Independent, where he shared that a "black" man raped someone close to him. "I went up and down areas with a cosh, hoping I'd be approached by somebody — I'm ashamed to say that — and I did it for maybe a week, hoping some 'black b*****d' would come out of a pub and have a go at me about something, you know? So that I could kill him," he stated. 
Neeson has faced plenty of heat for it, and he's finally addressing the situation.
Liam Neeson finally addresses accusations of racism
G Holland/Shutterstock
Liam Neeson learned the hard way that something you say can come back to bite you. Three years after the racist incident, Neeson is coming clean. Interestingly enough, the actor didn't address the controversy in an interview, but instead on a television show. According to People, the actor made a cameo on an episode of "Atlanta," where he addressed the situation in a scene with Paper Boi. "You might've heard or read about my transgression — you know, what I said about what I wanted to do to a Black guy. Any Black guy, when I was a younger man," Neeson said in the episode. "A friend of mine had been raped, and I acted out of anger."
Neeson said that, looking back at the incident now, it really "frightens" him. "I thought people, knowing who I once was, [that it would] would make clear who I am, who I've become," Neeson shared, making sure to say "sorry" for his actions. "I apologize if I hurt people," he said. The pair quipped back and forth for a while, but it's safe to say that Neeson feels a lot of remorse.
Many people took to social media to share their thoughts on Neeson's appearance, though most were confused. "Wtf is liam neeson doing in this episode of Atlanta," one person tweeted. "Liam Neeson appeared on #Atlanta to apologize (I think?), and it was odd," another fan tweeted. It remains to be seen if Neeson addresses the topic again, in real life.