The Bizarre Experience Daniel Radcliffe Had With Donald Trump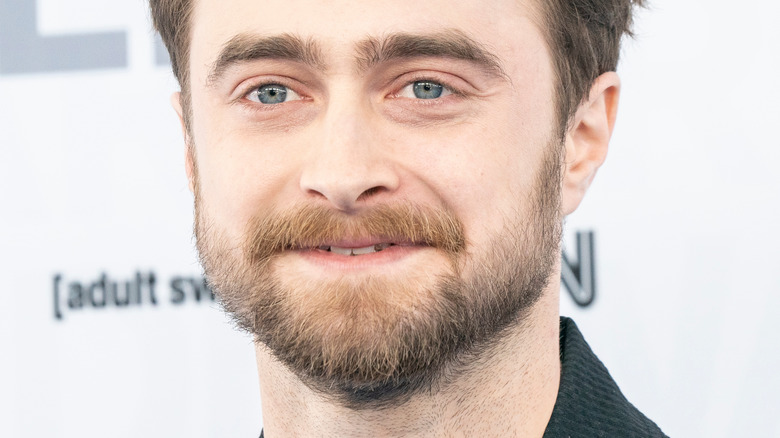 lev radin/Shutterstock
Daniel Radcliffe was thrust into the spotlight as a child after he nabbed the role of a lifetime in the "Harry Potter" franchise. With his dark hair, glasses, and lovable little-kid charm, he was practically synonymous with the boy wizard. "Every opportunity I will get to the day I die will be traceable to the fact I was cast as Harry Potter in 2000," Radcliffe later told Entertainment Weekly. "These movies have given me enough memories to last 10,000 years." At the time of his casting, Radcliffe was just 11 years old (coincidentally, the same age as Harry), according to The Hollywood Reporter. "I remember everyone looking at us and going, 'Oh my god. That's him," Radcliffe recalled to Entertainment Weekly, years later. "I was [just] a kid, among other kids. To be 'special' just because I had been picked for this part was just ... bizarre."
But being a child actor came with its own set of challenges. Per Entertainment Tonight, Radcliffe has been candid about the fact he began drinking heavily sometime during the filming of the movies, though he's sober as of this writing. "Ultimately it was just my own decision," he said in a 2019 "Off Camera With Sam Jones" interview. "I woke up one morning after a night, going, 'This is probably not good.'" Along with the availability of alcohol and drugs, Radcliffe's celebrity status afforded him the opportunity to rub shoulders with other A-listers — including one memorable meeting with ex-president Donald Trump.
Donald Trump gave Daniel Radcliffe some strange advice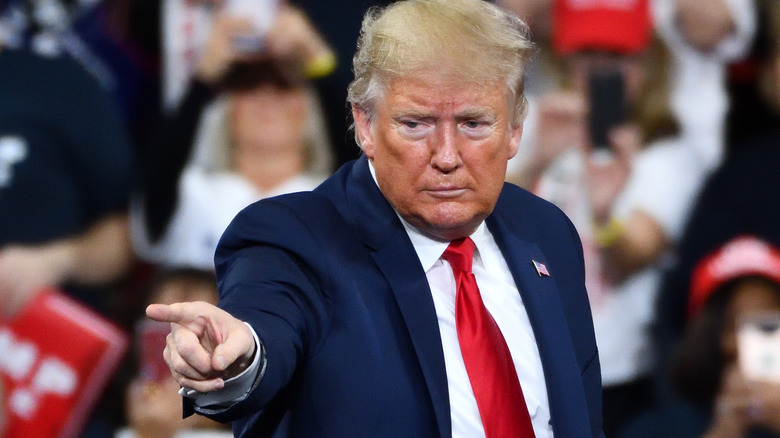 Evan El-Amin/Shutterstock
Though Daniel Radcliffe eventually grew into his movie star role, he was just an average 11-year-old coping with his worldwide fame at the time "Harry Potter and the Sorcerer's Stone" hit screens. While on a press tour for the film, Radcliffe appeared on "The Today Show" along with Donald Trump, as he told host Seth Meyers during a 2016 episode of "Late Night With Seth Meyers."
"I was really nervous and 10, 11 years old and I've never been on live TV before, and just terrified," the actor recounted of his mindset. Thankfully, Trump was there for the budding star with some sage advice ... sort of. When Radcliffe told Trump that he "[didn't] know what [he was] going to talk about on the show," Trump said, "You can just tell them you met Mr. Trump." Radcliffe went on to say that he's never been able to relate to the baffling advice because it stemmed from such an over-confident mindset. "How weirded out would [the audience] be? 'That British kid really loves Trump. He's really into real estate," Radcliffe joked.
Separately, the "Miracle Workers" actor recounted his experience meeting Trump while on "The Graham Norton Show," and it was enough to make fellow guest stars Anna Kendrick and Justin Timberlake noticeably uncomfortable. With Kendrick in particular shaking her head, Radcliffe deemed Trump's behavior to be "the Everest of self-confidence."
Daniel Radcliffe has retained his low opinion of Donald Trump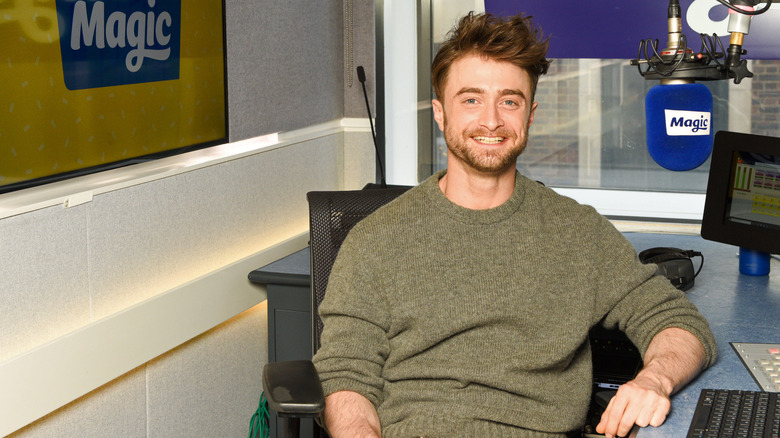 Nicky J Sims/Getty Images
Though he was just a kid when he met Donald Trump, Daniel Radcliffe has retained a low opinion of America's former president. In fact, Radcliffe even slammed legendary football quarterback Tom Brady for his support of Trump. In 2019, Variety reported that Radcliffe would be cheering for the Los Angeles Rams in Super Bowl LIII as they faced off against the New England Patriots — Brady's team at the time. Part of Radcliffe's support for the Rams stemmed from the fact that Brady had once worn a "Make America Great Again" hat during a 2015 interview. "Take that MAGA hat out [of] your locker," Radcliffe said, per Variety.
In 2016, "Harry Potter" author J.K. Rowling took to Twitter to compare Trump to her supervillain Voldemort, reasoning that Trump was worse. (The comparison came after Trump banned Muslims from entering the United States.) In response to Rowling's inflammatory claim, Radcliffe told a Sky Cinema reporter that her point was "certainly not without its merits." However, "I sort of think Donald Trump might not be as ideologically pure as Voldemort," Radcliffe explained. "My thinking on Trump is that he feels like more of an opportunist — I don't know how much of this stuff he's saying he actually ... believes." But whether the "Harry Potter" alum considers Trump to be as evil as the world's worst dark wizard isn't as relevant as the fact that the actor has disliked the media mogul since their first meeting.