Denise Richards Had A Touching Reunion With Her Estranged Daughter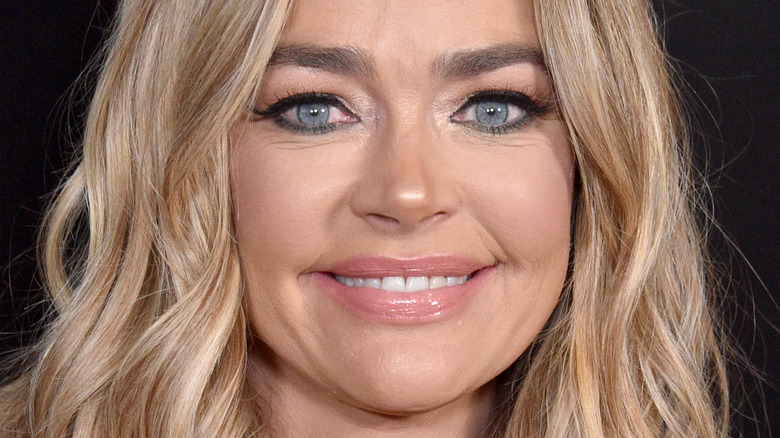 Gregg Deguire/Getty Images
Denise Richards has played a lot of different roles in her life as an actor, model, and even reality star. But if there's one role that means the most to her, it's that of mother. The former "Real Housewives of Beverly Hills" star is mom to her two daughters whom she shares with her ex Charlie Sheen, Sami and Lola, and Eloise, whom she adopted in 2011. In an interview with E! News back in 2013, Richards opened up about juggling her filming responsibilities on the series "Twisted," while raising her three girls as a single mom. She said, "This show is actually great for a working parent because it's an ensemble, so I could work all day and then have three days off or go in for a scene."
And while Richards certainly has had her plate full — she even has a full-time role on the CBS soap "The Bold and the Beautiful" along with all her other film and television projects — it hasn't always been easy keeping up with motherhood at home. In October 2021, Richards said that she was saddened by the situation with Sami and Lola, especially after Sami took to TikTok account to allege that she felt "trapped" when she was living with her mom. One source told People, "They need structure and rules and Charlie is very permissive. Denise just wants the best for them." That said, it looks like their situation has since changed.
Denise Richards is making progress with her daughter Sami
While there's no doubt that raising teens is never easy — and in the spotlight, no less — it looks like Denise Richards and Sami Sheen are making progress in their relationship. The teen took to her Instagram account to post a heartwarming message for her famous mother. She wrote, "happy mother's day !! i love u so much mom. u have no idea how grateful i am to have u in my life." Richards responded to her daughter's message by commenting, "Thank you Sami for an amazing Mother's Day. It means a lot to me. I know nana was at dinner with us she would never miss one of her favorite restaurants."
Back in February, Richards did admit that things always didn't look this picture-perfect with her and Sami. While on SiriusXM's "Jeff Lewis Live," she said that she was getting quite the lesson in parenting with her teenage daughter. Richards said (via Page Six), "Honestly, I have a strained relationship with her. It's very difficult. I know we'll get back to where we were eventually but right now, it is strained." While Richards never went into specifics, we can only imagine that playing a role in "Wild Things" and trying not to raise any can feel like the same challenge.