Who Is Christina Applegate's Husband, Martyn LeNoble?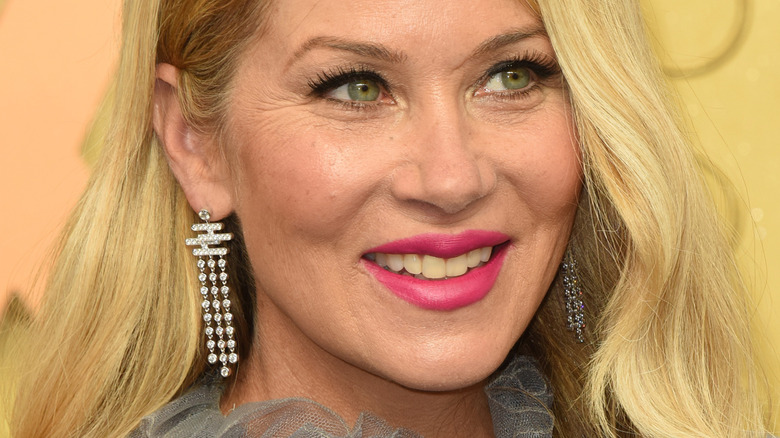 Kathy Hutchins/Shutterstock
Christina Applegate is one of the most famous faces of the 80s and 90s. She became a household name as a teenager, thanks to her role as Kelly Bundy on the hit sitcom "Married With Children." Applegate has also starred in a number of films over the years, including, "Don't Tell Mom The Babysitter's Dead," "Anchorman," and "Bad Moms." The blonde stunner also dated plenty of Hollywood heartthrobs during her time in the spotlight, of course. 
Before Jennifer Aniston and Angelina Jolie, it was Christina Applegate with Brad Pitt on the red carpet. Applegate even told More magazine (via USA Today) that Pitt and television actor Jason Priestly used to stop by her house for barbecues. Speaking about her years as a Hollywood teen, Applegate said, "All the moms kind of let us do whatever we wanted to do. There weren't a lot of rules, but there was a lot of mutual respect." Unfortunately, a few years later Pitt and Applegate had a red carpet date that went terribly wrong. She ditched him on the red carpet for Skid Row frontman Sebastian Bach. Yikes.
She is now married to her husband Martyn LeNoble, a musician who keeps a low profile in Hollywood. Although he's not a household name like his wife, he has an impressive resume in the entertainment industry, too.
Christina Applegate's husband Martyn Noble has connections to the entertainment industry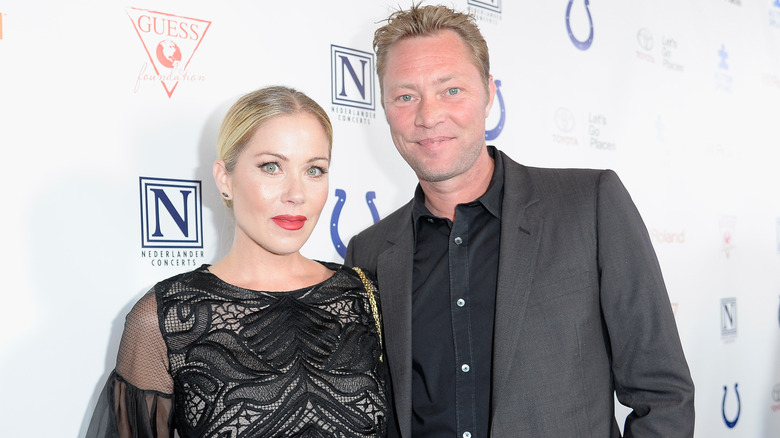 Kevork Djansezian/Getty Images
Christina Applegate tied the knot to her husband, Dutch bassist Martyn LeNoble at a private ceremony in Los Angeles in 2013, according to CBS News. This was the second marriage for Applegate, who was previously married to actor Johnathon Schaech from 2001 to 2007. LeNoble helped found the alternative group Porno for Pyros after moving to LA in 1989, as detailed by The Sun. LeNoble has worked with a number of high-profile musicians in the past, including Jane's Addiction, the Cult, Scott Weiland and Sarah McLaughlin. LeNoble is also no stranger to the film and television industry, as he has a handful of credits as a co-composer for the series "Growing Up Fisher," and "Up All Night," according to his IMDb page. Back in 2012, Applegate said LeNoble was already a huge musical influence on their daughter, Sadie. She told Scholastic's Parent & Child (via ET Online): "Because she sees her daddy with guitars playing music for her, and then she sees mommy being ridiculous at home. She's sort of an amalgamation of the two of us."
And while LeNoble might not have the same level of celebrity that his wife Applegate has, he did have a "celebrity" kind of moment with the paparazzi in 2013.
Martyn LeNoble's fight with the paps got awkward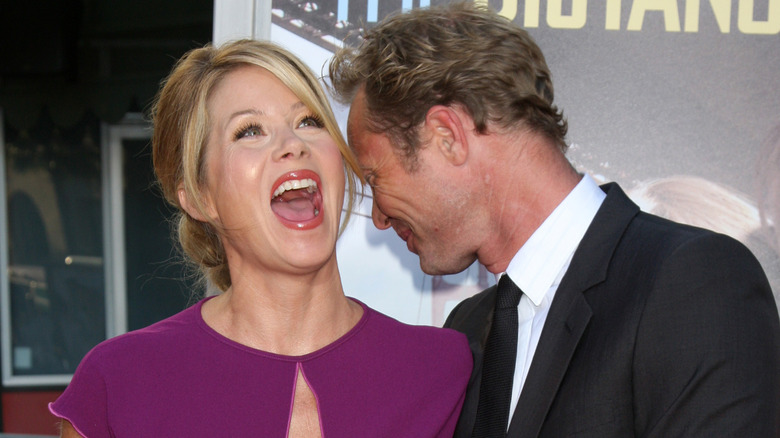 Kathy Hutchins/Shutterstock
In 2013, Christina Applegate's husband Martyn LeNoble saw himself on the wrong side of the law when he was both detained and frisked by the police after a scuffle with the paparazzi, according to the New York Daily News. Apparently, LeNoble was none too pleased when he noticed a photographer taking a photo of both his wife and their daughter. "We're tired of being harassed," LeNoble told the site that year. However, TMZ reported that LeNoble was not handcuffed and not arrested but was just patted down during the incident. Explaining why things got physical the way they did, he hinted that it was the photographer who provoked the fight. "I went outside to talk to him and he got physical with me ... he wouldn't back off," he said. 
Fortunately, LeNoble has not made any similar headlines since that one fight and instead has focused on supporting his wife on and off the red carpet and in her battle with multiple sclerosis. That said, Applegate might have not had an opportunity to make things right with Brad Pitt, but she sure did find herself a star in LeNoble.