Why Christina Applegate Once Ditched Brad Pitt On A Date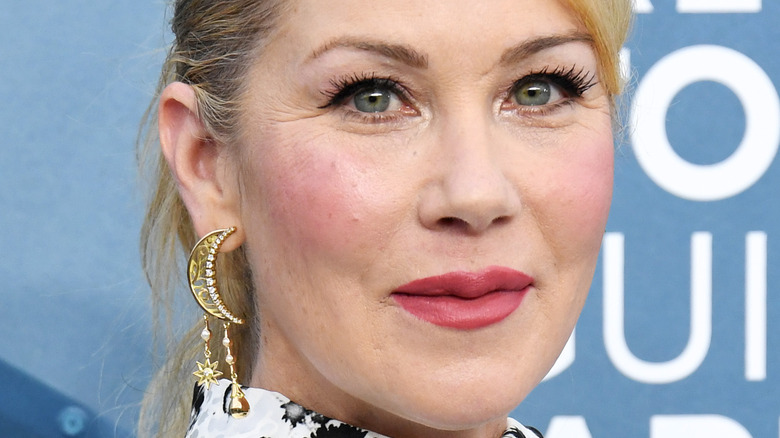 Jon Kopaloff/Getty Images
Brad Pitt has been linked to, married to, or divorced from some of the most high-profile names in the entertainment industry — including Angelina Jolie, Jennifer Aniston, and Gwyneth Paltrow. But before he became a household name, Pitt dated stars with name recognition too, like Juliette Lewis. Pitt and Lewis dated for three years before they pulled the plug on their relationship in 1993. Recalling that moment in her life, Lewis told People (via Huffington Post) in 2014 that most of the headlines she made at the time were "usually about Brad Pitt or drug addiction, which hasn't been me since I was 22. I'm 40. I quit all my bullsh** at 22. There is growth. Get out of the past. I used to be really insular, really introverted. I couldn't articulate myself."
While Lewis was having a hard time with all of the attention she was getting for her romance with Pitt, there was another Hollywood star around the same time who dated Pitt and who must have foreseen the future while linked to the "Thelma and Louise" star – Christina Applegate. That might have been the reason she decided to unexpectedly dump Pitt before they were supposed to hit the red carpet of the 1989 MTV Music Awards together. Here's more.
Brad Pitt's red carpet date gone wrong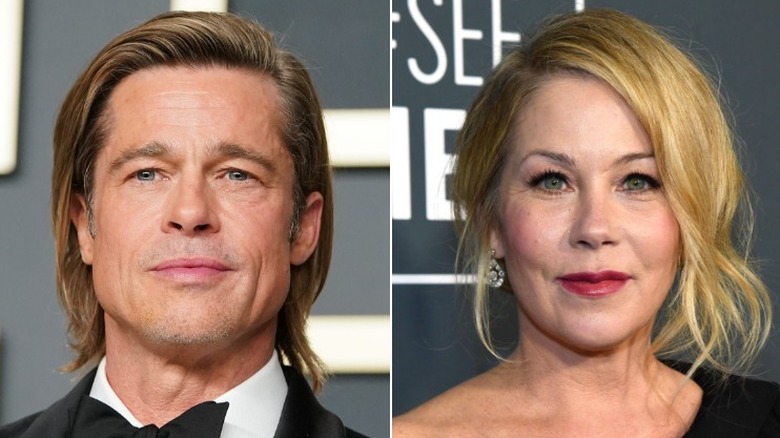 Rachel Luna, Kevin Mazur/Getty Images
Back in 2012, Christina Applegate revealed that she and Brad Pitt were pretty close in the 1980s and before they became a celebrity couple. She told More magazine (via USA Today) that Pitt, along with television actor Jason Priestly, used to come over to her home in the Hollywood Hills for barbecues. Recalling her no-strings-attached early years, she said, "All the moms kind of let us do whatever we wanted to do. There weren't a lot of rules, but there was a lot of mutual respect. I always made sure she knew where I was, and I would always be home by a reasonable hour."
And while Applegate and Pitt made plenty of red carpet appearances together as an up-and-coming golden couple of the celebrity sphere, she allegedly dumped him on the red carpet at the 1989 MTV Music Awards. During an interview with Andy Cohen on "Watch What Happens Live" in 2015, the host pressed Applegate about the incident. While she did admit that she left the awards ceremony with another man, Applegate wouldn't say who it was and tried to plead the fifth. However, she did admit that she and Pitt were completely done as she never saw him again after that night.
Even though Applegate refused to name any names or add any details as to what happened, the mysterious man she reportedly left with that night revealed himself in another interview. 
Christina Applegate dumped Brad Pitt for this musician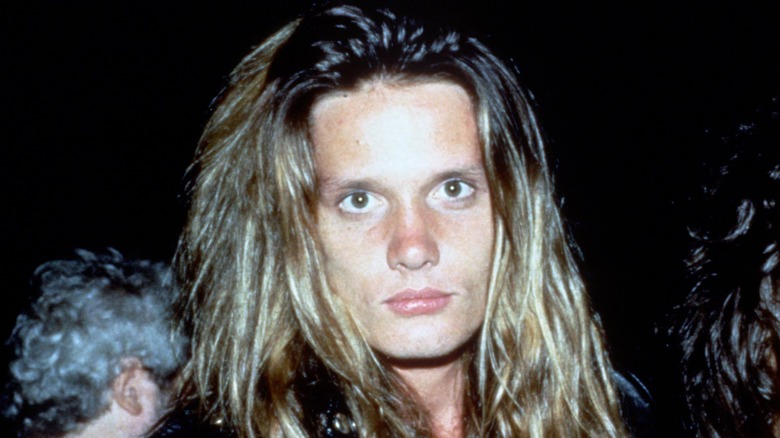 Anna Krajec/Getty Images
Believe it or not, Christina Applegate dumped Brad Pitt for none other than Skid Row frontman Sebastian Bach. Even though Applegate refuses to confirm or deny the rumors, Bach admitted on the iHeart radio show "Elliot in the Morning" that he was the mystery man who might have made Pitt question his eclectic hotness that night.
Bach explained (via Yahoo News), "[Christina] was interviewed recently on, like, Entertainment Tonight, or something, and they said, 'What was the dumbest thing you ever did?' And she goes, 'One night I ditched Brad Pitt for this other dude.' And that dude would be me. So there was a time on this earth when Sebastian Bach was, like, a hotter lay than Brad Pitt." Well, that's one way to put it, but a win for team Bach regardless! 
While there's no denying that Applegate had a type back then (perhaps men with long, blonde hair and a bit of an edge), it now it makes sense as to why Applegate tried so hard to plead the fifth. It seems like everyone in this tale has moved on but it's a pretty funny piece of Hollywood gossip.