Melissa Gorga Confirms What We All Suspected About Her Marriage To Joe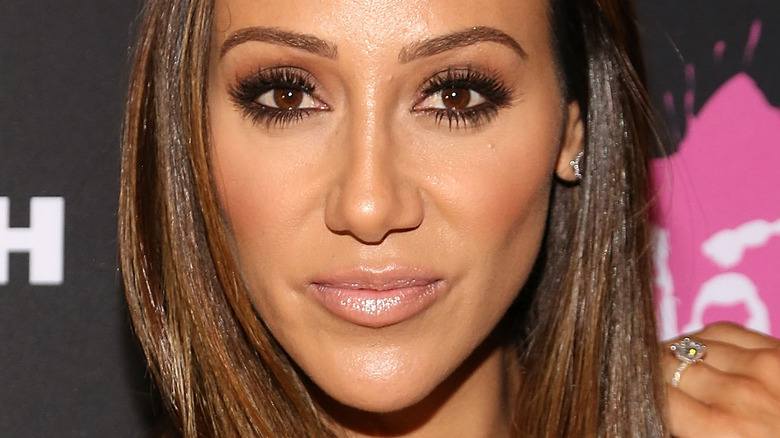 Manny Carabel/Getty Images
Melissa Gorga and Joe Gorga's marriage has been less-than-idyllic at times. Lockdowns during the COVID-19 pandemic put many marriages to the test, including the Gorgas. Spending more time together at home only exacerbated existing problems they were experiencing. "Listen, I'm not gonna deny that we went through a rough, like year-and-a-half, and I would say it started right before the pandemic," "The Real Housewives of New Jersey" star told Page Six in February 2021. Their marital woes were documented on "RHONJ," and at the time, Melissa said the couple was "very raw and real" with publicly presenting the problems they faced. 
As the boutique owner and designer's business expanded, the roles within her marriage changed. That was a point of contention for Joe who was happiest when Melissa was at home with their children. "I don't want to die unhappy," Melissa said on an episode of the hit Bravo show in May 2021 (via Page Six). At that point, the two had hit a crossroads. "So I am feeling really scared about our relationship because I've never felt this exhaustion and feeling of giving up," she admitted.
A year later, Melissa once again spoke about the issues within her marriage and was candid about her relationship with Joe.
How Melissa Gorga has kept her marriage afloat
Looking from the outside, it could be difficult for some "The Real Housewives of New Jersey" fans to understand how Melissa Gorga and Joe Gorga have managed to stay together amidst their seemingly tumultuous marriage. The "I Just Wanna" singer said their relationship had not come without effort. "They take a lot of work. They're not easy. Anyone who says they are is lying," the reality star said about marriages while appearing on the "Chanel In The City" podcast on May 2. "It's like I have a pretty damn good [marriage]. And it's a lot of work for me," she added.
On the podcast, Melissa spoke about riding out the ebbs and flows of a relationship, and said there are times when a marriage runs smoothly, but also, "There's always going to be a couple of bumps in the road." The "Love Italian Style" author also discussed how difficult it was to get Joe on board with supporting her business endeavors away from the family, but felt they had turned a corner.
In the end, adversity appeared to strengthen the bond between the Gorgas. "We're doing great," Melissa told Us Weekly in February. Being stuck at home together during lockdowns was trying, but ultimately helped the couple address underlying issues in their relationship. "It was probably good for us to talk it through. I didn't know how he was feeling, and I don't think he was getting where I was coming from," Melissa said.