Joy Behar And Sara Haines Share Heated Exchange On The View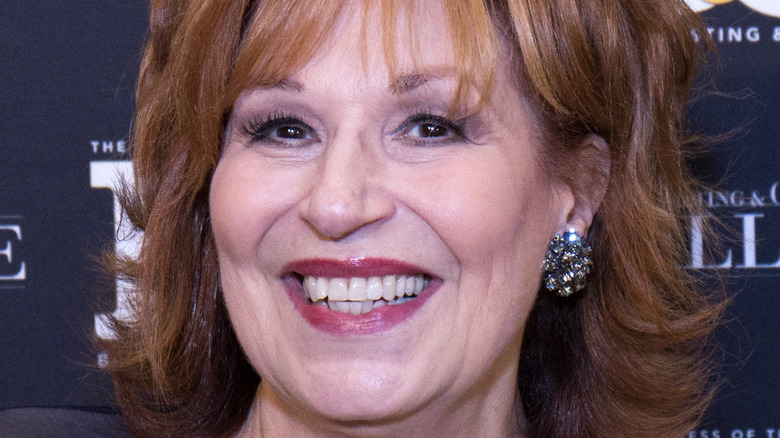 Santiago Felipe/Getty Images
It's not surprising to see heated exchanges and controversial moments on "The View," the ABC talk show now in its 25th season, considering it's all about sharing differing viewpoints. Well, another one happened on May 12 between cohosts Joy Behar and Sara Haines.
When Barbara Walters created the show in 1997, she said (per The New York Times), "I've always wanted to do a show with women of different generations, backgrounds, and views." At the time Walters felt the primary difference was generational, but over the years, it's clearly become political too. When its first conservative cohost, Elisabeth Hasselbeck, was fired in 2013 after a decade on the show, they knew they'd need to continue having a conservative voice on the all-women panel. This has become a problem lately, however, as finding the right kind of Republican cohost has been near impossible. "They are really looking for a unicorn," a former staffer told Politico. "They want someone who is going to fight — but not too hard, because they don't want it to be ugly and bickering." Apparently Nicolle Wallace was only on the show one year, per Us Weekly, because she didn't argue with her cohosts enough.
Walking that thin line of striking back (verbally, of course) while not outright attacking is something the current cohosts do well. They're good at creating moments that appear big enough to get people talking, but that won't cause serious controversy or damage. This current incident between Behar and Haines is another example.
Joy Behar and Sara Haines eventually had a good laugh
On the May 12 episode of "The View," the women were discussing Broadway legend and good friend of the show, Patti LuPone, and her latest viral video (via CNN). LuPone, who is currently back on Broadway in the revival of Stephen Sondheim's 1970 hit musical "Company," yelled at an audience member during a post-show Q&A for not wearing their mask properly. "Who do you think you are?" LuPone yelled. "If you don't want to follow the rules, get the f**k out."
It reminded them of another time LuPone spoke openly to a theatergoer back in 2015. When the patron wouldn't stop talking, LuPone asked, "What is it, honey? Are you drunk? Are you menopausal?" As Joy Behar read about the incident from an index card, she changed the pronunciation of LuPone's name to have a third syllable: Lu-po-ny. It was clearly a slip of the tongue because Behar said the name correctly at least twice before, but her cohosts felt the need to point it out quietly.
Confused, Behar asked what they were mumbling about, and Sara Haines explained the mistake. "It's just LuPone. She's one of — she's your people, Italian," Haines said about their heritage. Behar quickly responded, "Don't interrupt," then let a smile drift across her face. The two cohosts laughed, particularly as Haines referenced LuPone's earlier quote, "Clearly, I'm menopausal and drunk! It's fine." That authenticity from the cohosts is exactly why audiences enjoy "The View." As one fan wrote on the YouTube clip, "i love Sara and Joy's relationship!"