What's The Real Meaning Of Cooped Up By Post Malone? Here's What We Think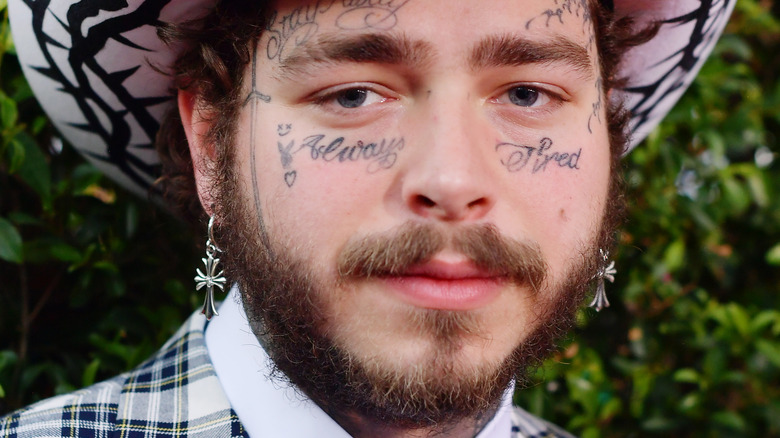 Matt Winkelmeyer/Getty Images
It's been a minute since we've gotten a new album from rapper Post Malone, and we are here for his new single, "Cooped Up." This is the second single from Malone's upcoming album and was released on May 12, a whole six months after his first single, "One Right Now." "Cooped Up" features Roddy Ricch, whose hit song, "The Box," was the top-streamed track in 2020, per Billboard, so Malone is certainly coming back with a bang!
Malone's new highly-anticipated album, "Twelve Carat Toothache," will be coming out on June 3. "It's [about] the bipolar aspect and the duality of everything," Malone said in an Apple Music interview with Zane Lowe. "But every song in there tells a story, so this is kind of like, 'Here's the life that we live, but there's always something going on in the background.'"
So, what kind of story does "Cooped Up" tell?
Cooped Up definitely refers to life amid the pandemic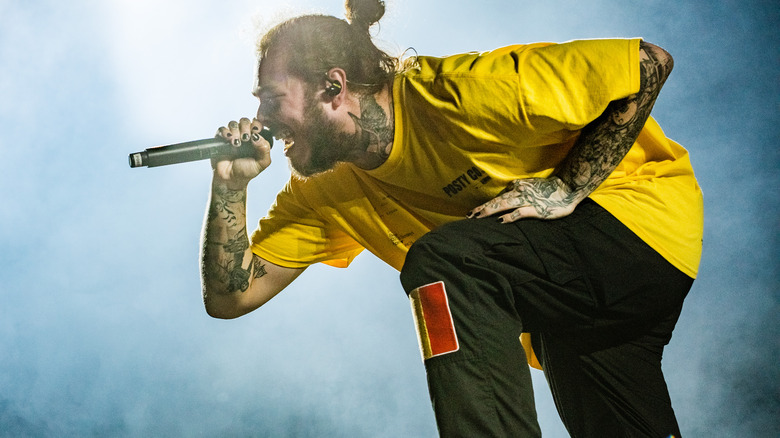 Ben Houdijk/Shutterstock
Post Malone's melodic singing voice is on full display in "Cooped Up." The chorus begins, "I'm about to pull up / Hit switch, pull curtain (Hit switch, pull curtain) / And I've been waitin' so long / Now I gotta resurface (I gotta resurface)." This could be a reference to the fact that it has been three years since the release of Malone's last album, "Hollywood's Bleeding." Plus, Malone is known for his hype concerts and theatrical performance style, so fans have been begging him to "pull [up the] curtain" on stage and give the people what they want.
Another simpler take? The "switch" might be in reference to a luxurious Maybach, which has curtains that open and close with the touch of a switch. 
The chorus continues, "And yeah, we 'bout to toast up / All that bread that we burnin' (Burnin', burnin', burnin') / 'Cause I've been feelin' cooped up (Yeah) / I've been f***in' cooped up (Mm-mm-mm)." Since Malone's previous album came out in 2019, the COVID-19 pandemic — like the rest of the world — kept him from releasing solo projects and touring. But now that safety procedures have lightened up, Posty doesn't need to be so "cooped up" and can go back to what he does best: making that "bread," a.k.a. money. So it seems like Malone is planning on having his very own hot boy summer this 2022.
Post Malone moves on after some self-doubt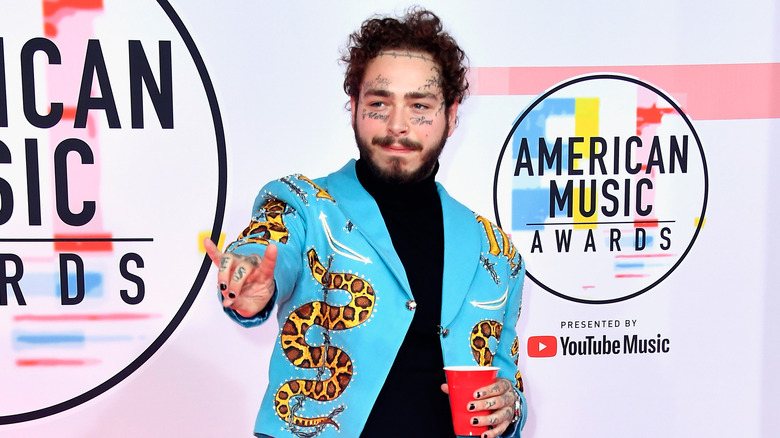 Frazer Harrison/Getty Images
Like he said in the Apple Music interview, the duality of fame for Post Malone is very apparent in this song; while the chorus represents Malone's love for performing, the rest of the song discusses some of the negative effects that being famous has had on the rapper. In his first verse, Malone raps, "Feelin' like an outcast, I'm the only guy in slacks. That'll cost you three stacks (Three stacks, three stacks)." 
Malone is known for being unapologetically himself through his fashion choices, especially when it comes to cost. Considering many don't have stacks to throw around on pants, it's understandable he's singled out in that department — but to him, being an outcast for wealth might be a good thing. Not to mention, being different is Post Malone's signature, after all — from his face tattoos to his hair to the fact that he is a white rapper, Malone has celebrated his "outcast" status since the beginning.
But Malone quickly shrugs off his self-doubting lyrics, "Gucci my Prada, Miyake (Ooh) / Louis, Bottega, and Tommy / All of these things on my body, let's party (Ah, ah, ah)." After all, who cares what people think? Especially when you're Malone, and have a whopping $45 million to spend on just about anything you want, per Celebrity Net Worth. Malone is just trying to make music that his fans can party to and have fun with.