The Unexpected Backstory Of Jennifer Aniston's Name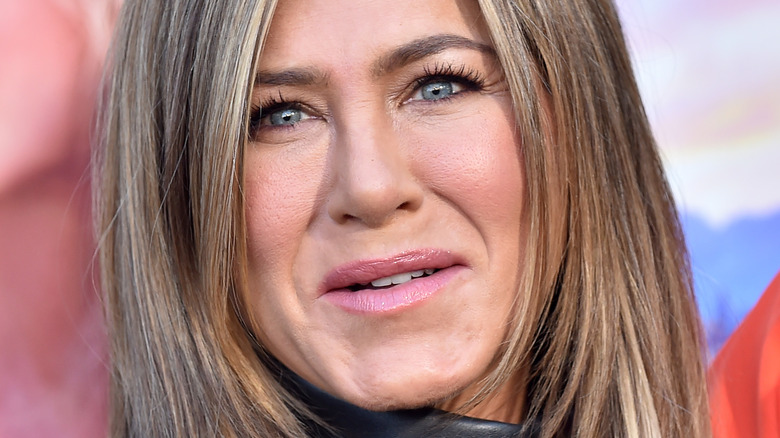 DFree/Shutterstock
Jennifer Aniston is perhaps one of the most recognizable names in the entertainment industry, and for a good reason, too. Aniston became an international star, thanks to her role as Rachel Greene on the hit NBC sitcom "Friends" for 10 seasons. That, and she's also gotten a lot of attention for her personal life over the years, including her relationships with her ex-husbands Brad Pitt and Justin Theroux.
And while being in the public eye isn't always easy, Aniston told Harper's Bazaar that she's learned that she can't always please everyone, especially when it comes to overzealous fans. "I try to have a rule: I only take photos with kids," she said in 2019. "It was a hard boundary for me to create because people get really pissed off at you. But you have to have limits. Otherwise you'll just be standing there doing selfies on a corner for decades."
But if there's anything that fans perhaps don't know about the star, it's that her name has an unexpected backstory. Believe it or not, Aniston is not her family's real name.
Jennifer Aniston's father changed his name, too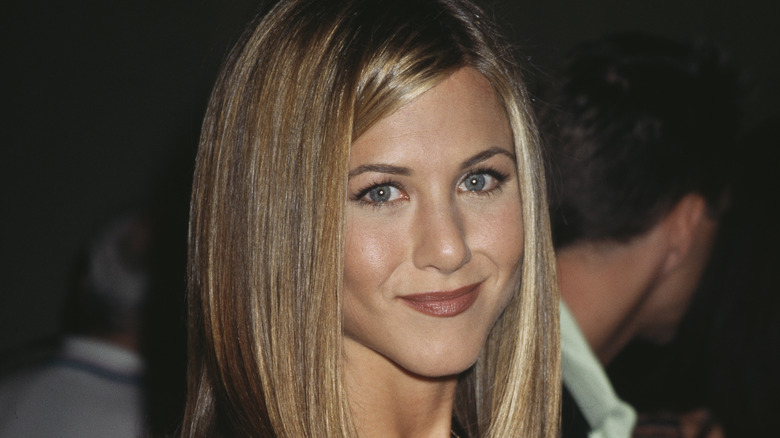 Michael Ochs Archives/Getty Images
You might know her as Jennifer Aniston, but there are some people in her family that probably call her by a different name — her Greek name. Even though the Hollywood star was born Jennifer Joanna Aniston, her family's real last name is Anastassakis. That's because her father John Aniston changed his name soon after Jennifer was born and before he became a daytime television star.
The "Days of Our Lives" legend was born on the island of Crete in Greece as Yannis Anastassakis, per his IMDb biography. Interestingly enough, a lot of eagle-eyed fans noticed during episode 24 of Season 7 of "Friends" that there was a well-hidden Easter egg that paid tribute to Aniston's Greek heritage, per Newsweek. Before Chandler and Monica's wedding in the episode, there was another wedding for the "Anastassakis and Papasifakis" bride and groom. 
And while the moment in the episode must have been a proud one for Aniston, she's also had some very interesting things to say about her Greek heritage.
Jennifer Aniston is incredibly proud of her Greek roots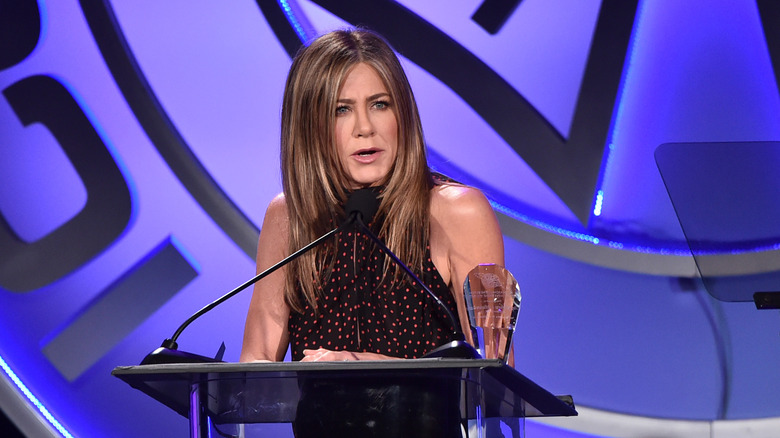 Alberto E. Rodriguez/Getty Images
Back in 2014, Jennifer Aniston made it no secret that she was incredibly proud of her Greek heritage. That's because she credits her roots for her family's youthful looks. In an interview with Yahoo! Life back in 2014, she said, "My dad is 100 percent Greek; he turned 81 and he barely has a wrinkle. And neither does my grandmother, who was 95 when she died."
Jennifer has also admitted that she's spent time visiting her family in Greece and that she knows a few words in Greek, too. Well, actually make that the censored words. While on "Jimmy Kimmel Live" back in 2014, she played "Celebrity Curse Off" with her former "Friends" co-star Lisa Kudrow. When she couldn't come up with any more curse words but was still determined to win, she used the foul Greek word "malakas" much to everyone's surprise.
Her father John Aniston is also very proud of his daughter. During an interview with E! News back in 1990 and four years before she landed her role on "Friends," he called her a "natural talent." He said, "There are certain things you can learn in this business, and there are certain things you can't learn. The comic instinct that she has in unerring. That's her greatest asset." Aww. How do you say, "daddy's girl" in Greek?