How Daniel Radcliffe Really Feels About Meghan Markle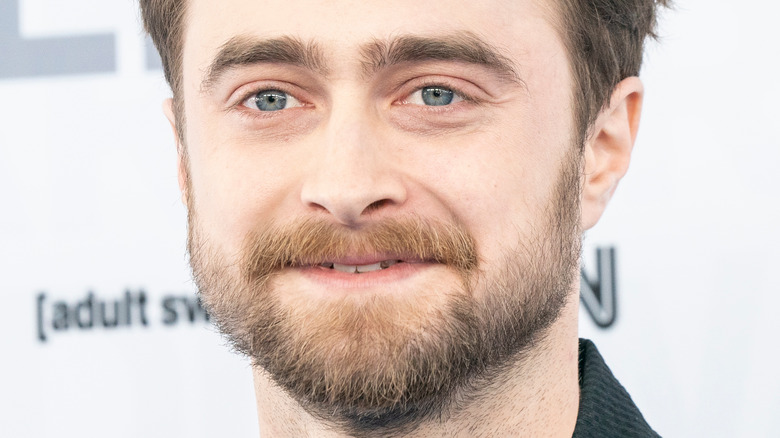 lev radin/Shutterstock
Daniel Radcliffe is perhaps one of the biggest stars in Hollywood thanks to his portrayal as the titular character in the "Harry Potter" franchise. But being in the celebrity spotlight hasn't always been easy on him. Back in 2019, Radcliffe admitted that he turned to alcohol to cope with his fame in an interview with "Off Camera with Same Jones." Radcliffe said (via Entertainment Tonight): "There is no blueprint for starting young and working stuff out," while also adding that he sometimes showed up to the film set badly hungover from the night before. "It was bad. I don't want to go into details but I drank a lot and it was daily — I mean nightly," he said.
Thankfully, the actor has managed to overcome that period in his life and has managed to stay sober since 2010, per Us Weekly. With that said, Radcliffe's struggles with the limelight might be one of the reasons why he sympathizes with another high-profile name who hasn't had it easy in recent years: Meghan Markle. Yet Radcliffe's comments about the Duchess of Sussex have raised a lot of eyebrows because what he said about her was totally unexpected and for this reason, too.
Daniel Radcliffe understands Meghan Markle's struggles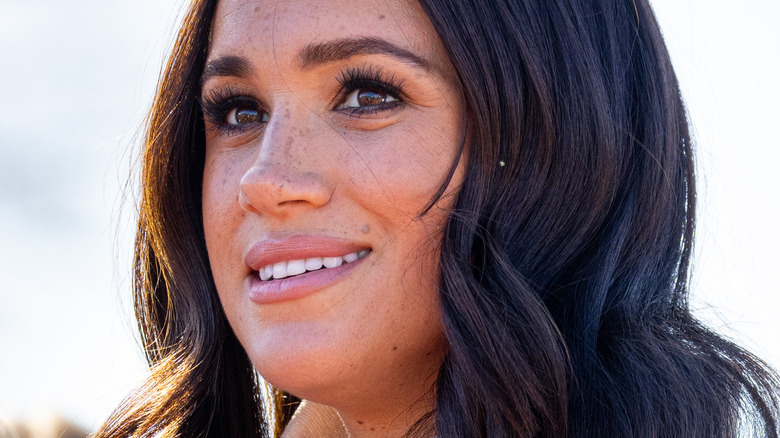 Patrick Van Katwijk/Getty Images
In an interview with People Now, Daniel Radcliffe admitted that he totally sympathizes with Meghan Markle because of all the reportedly harsh treatment she's gotten from the press in recent years. In fact, the Duchess of Sussex's battle with the tabloid media has been a well-documented one, especially after she accused the British media of bigotry in her interview with Oprah Winfrey back in 2021, per The Hollywood Reporter. Radcliffe said that because of everything she and Prince Harry have gone though, he really thinks that their relationship is the real deal. That, and he has nothing but "respect and empathy" for the couple because of all the scrutiny they've had to deal with on a daily basis. He said, "What I have and what I went through is a fraction of what [Prince Harry and Prince William] have and went through and they went through it from birth. They didn't even get 10 years like I did. I can't imagine what that life must be like."
Radcliffe's comments have actually surprised his fans, especially those who remember his own scathing criticism about the British monarchy back in 2009.
Daniel Radcliffe wasn't always a fan of the royal family
Chris Jackson/Getty Images
Danielle Radcliffe's comments about Prince Harry and Meghan Markle have managed to raise some eyebrows — and definitely the sarcastic kind — because of what he said about the British monarchy back in 2009. During an interview with the Daily Beast, the Hollywood star spoke out about his views on the royal family and made it clear that he wasn't a fan at all. "I am not a royalist. Not at all... I just don't see the use of the monarchy — though I'm [a] fierce patriot," said Radcliffe. "I'm proud proud proud of being English, but I think the monarchy symbolizes a lot of what was wrong with the country."
Radcliffe also added that, while he doesn't think the royal family isn't doing "anything wrong," he simply doesn't like what they represent. "That symbol of class division is not something I particularly like — and I am a very upper-middle-class kid," he said. Clearly, Radcliffe and the Duchess of Sussex have a lot in common, as both have clearly distanced themselves from the palace — one by word, the other quite physically. In Meghan's case, she and Harry have distanced themselves by about 3,000 miles, as they left London and moved to California to start a new life for themselves far away from the British press.