Inside Jim Carrey's Little-Known Connection To Tupac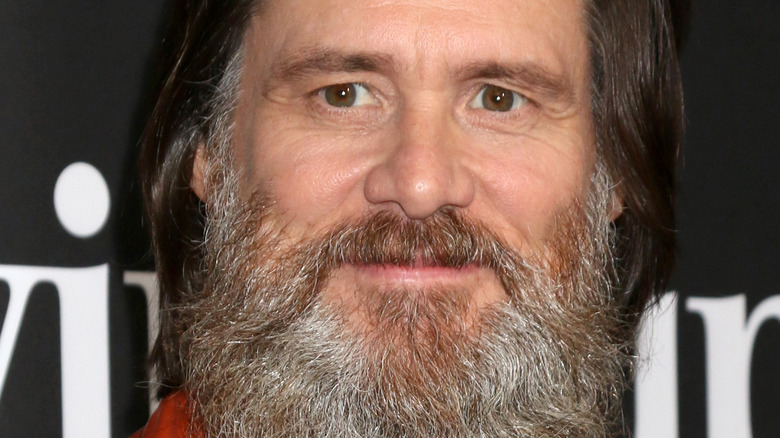 Kathy Hutchins/Shutterstock
Canadian comedy legend Jim Carrey has met a lot of famous faces throughout his almost 40-year career in Hollywood. From working alongside Jamie Foxx and Jennifer Lopez before they were famous on "In Living Color," to starring alongside pre-fame Courteney Cox and Cameron Diaz in mega box-office hits "Ace Venture: Pet Detective" and "The Mask," Carrey has probably met them all. Despite his big personality and epic comic timing, we don't tend to hear much about his friendships. That's why it was big news when he teamed up with fellow Canadian, The Weeknd, to appear on the new "Dawn FM" album, narrating in-between songs as a disc jockey to the afterworld. 
As both of them hail from Scarborough, Ontario (Carrey spent his teen years there and the "Blinding Lights" singer grew up there), it stands to reason they'd have a lot in common. But they're mutual admiration goes deeper. In 2020, The Weeknd (real name Abel Tesfaye) told Variety how Carrey showed up for him on this 30th birthday. "I texted him the address of my condo in L.A., and he said, 'I can literally see your place from my balcony,' and we got out telescopes and were waving to each other," he revealed. "On his balcony he had these giant red balloons, and he picked me up and we went to breakfast."
And that's not the only musician Carrey has supported in surprising ways.
Jim Carrey wrote letters befriending Tupac while he was in prison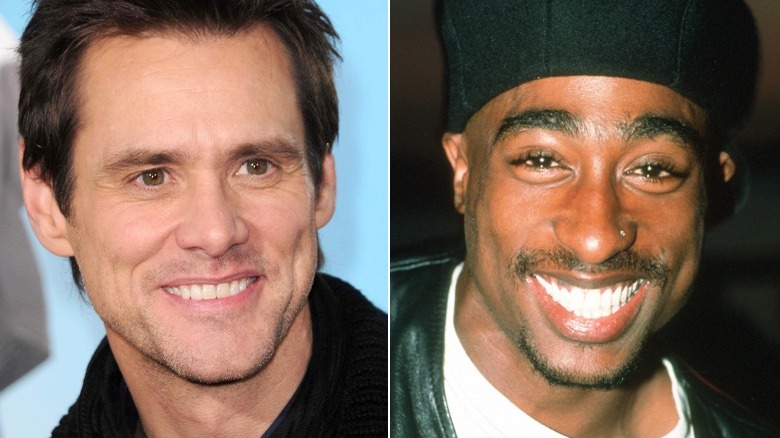 Al Pereira/Getty & s_bukley/Shutterstock
According to a report by E! News, "Dumb and Dumber" star Jim Carrey found out in 1995 that "Changes" rapper Tupac Shakur, who was imprisoned at the time for his involvement in the sexual assault of a woman, was a big fan of his. So the Canadian funnyman took it upon himself to write letters to Shakur to cheer him up during his incarceration. 
According to a report on their epistolary friendship, the "Bruce Almighty" actor believed that the charges against the star of "Poetic Justice" star were bogus, and wrote Shakur letters meant to make him laugh to make his sentence less of a hardship. Another report from earlier this year suggests that Carrey has consistently refused to divulge the nature or content of their letters. In fact, the creators of the "Letters of Note" anthologies have tweeted in the past that they reached out to Carrey to share his letters with Shakur and were met with radio silence. "Letters of Note" is famous for publishing the private correspondence of noted personalities from history, such as Zelda Fitzgerald, Tom Hanks, Fidel Castro, Leonardo da Vinci, Amelia Earhart, Elvis Presley, Mick Jagger, and more. 
Carrey isn't the only person to send letters to Shakur in prison. Queen of Pop Madonna exchanged letters with Shakur as they were dating at the time, and some of those letters have actually been made public. 
Tupac's letters to Madonna were up for auction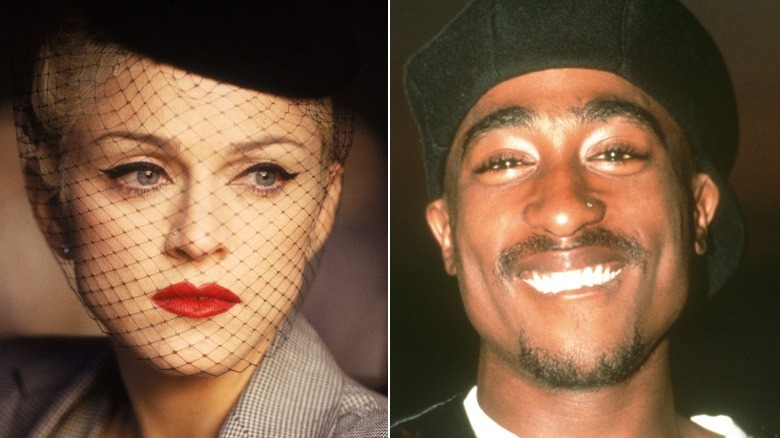 Frank Micelotta Archive & Al Pereira/Getty
In 1995, while Jim Carrey was writing to incarcerated Tupac Shakur to cheer him up, Shakur, in turn, was writing to "Express Yourself" pop star Madonna. According to The Sun, the rapper and the Queen of Pop met in 1993, and by 1994, they were officially an item. But in 2017, some of Shakur's letters to Madonna that he wrote while in prison went up on the auction block, and they reveal a very sad and personal moment between the two.
One letter Shakur wrote the "Vogue" songstress from jail reads as a Dear John breakup letter. Independent published images of the three-page handwritten letter, dated January 15, 1995, and it reads in part, "I must apologize to you. Because like you said I haven't been the kind of friend I know I am capable of being. Not because I am evil or because you weren't worthy but at the risk of sounding over dramatic, the effects of racism make it difficult for a young black man to properly show affection for an older white woman ... I never meant to hurt you." He also speaks about the difficulty he felt as a young man dating the world's most famous sex symbol, per Vogue. 
Madonna eventually lost her emergency court injunction to stop the auction, so while we may never know what Carrey or Madonna wrote to Shakur, at least we know where Shakur's head was at a year before his tragic murder.