Meghan King's Latest Outing Is Raising Eyebrows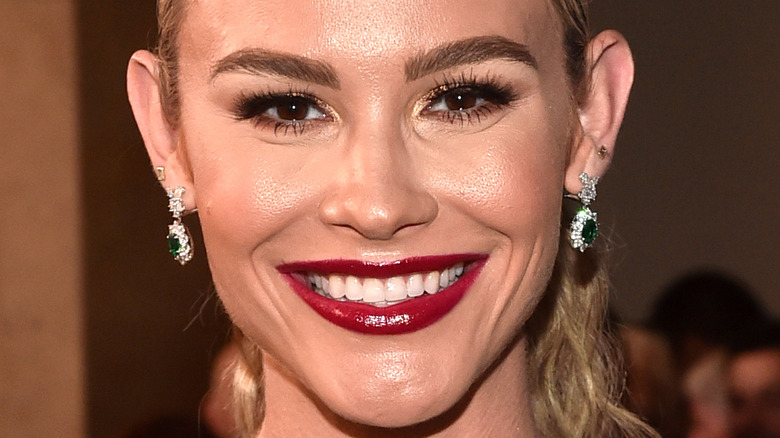 Alberto E. Rodriguez/Getty Images
Meghan King is most well-known for appearing in the Bravo hit "The Real Housewives of Orange County." According to her IMDb page, the bubbly blonde appeared on the series from 2014 through 2017. On January 23, 2018, King announced on her blog that she would be leaving the series after just three seasons, which surprised many of her fans. "Today is a bittersweet day for me. After three seasons of the rollercoaster that is The Real Housewives of Orange County, I've decided to hang up my OC Housewife hat," she wrote on the post.
Shortly after she tossed out her orange and moved back to St. Louis, the star called it quits with husband Jim Edmonds in 2019 following rumors that Edmonds and his nanny were having an affair. As fans all know, King later moved on with another pretty famous person — Joe Biden's nephew, Cuffe Biden Owens. But like her first marriage, her one to Owens didn't last. The couple called it quits just two months after tying the knot. "I am rattled. This situation is profoundly devastating," King wrote after the split (via Page Six). "This is obviously not what I imagined when I made my vows — and I'm shocked and saddened by the way things turned out." According to the Daily Mail, Owens didn't like how open King was on social media, as he tended to live his life out of the spotlight.
Now that she seems to be single, King feels free in every sense of the word.
Meghan King enjoys a nude hike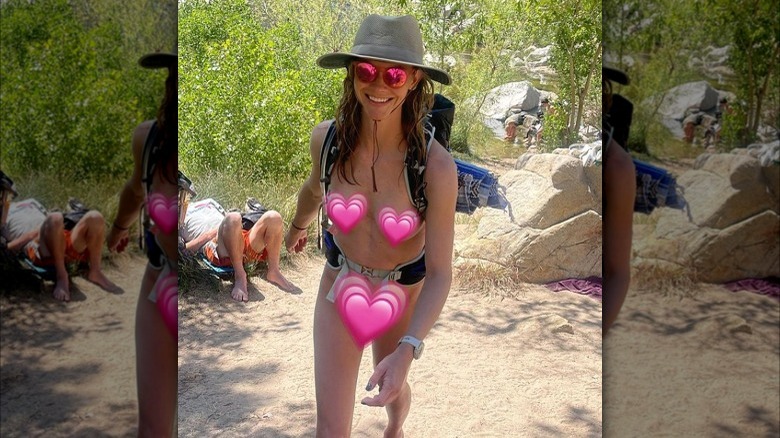 Instagram
Meghan King is literally letting it all hang out. The mother of three took to Instagram in mid-May to share a scandalous snap on her Instagram stories. According to Page Six, the former "Real Housewives of Orange County" star posted a photo of herself enjoying the great outdoors at Joshua Tree National Park. The image (pictured above) captured King wearing nothing but a backpack as she went nude for the occasion. She used emojis to cover up her NSFW parts and shielded her eyes from the sun with a pair of reflective sunglasses. To complete her look, the star sported a wide-brimmed hat. "Yeah, I did that," she captioned the cheeky snap (no pun intended).
The same day, she added a few more snaps from her hike, but in those images, she was rocking a pair of patterned workout leggings and a solid long-sleeve top. She sat on top of a yoga mat and gazed into the camera. "Took myself off the grid and into the desert to camp for the first time – ever," she wrote in the caption. "So if I don't come back come find me in Joshua Tree!" It seemed like she was in her element.
The week before her big hike, King reflected on motherhood as she posed with family in St. Louis. "It's the first Mother's Day I've really felt at peace with where I am in my identity as a mother," she wrote. It seems like King is doing a lot of self-reflection lately.