The Truth About Dorit Kemsley's Mysterious Accent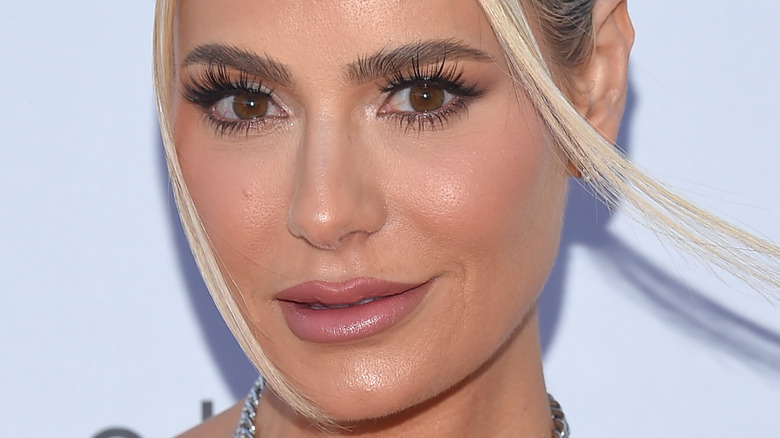 DFree/Shutterstock
Fans of "The Real Housewives of Beverly Hills" were introduced to Dorit Kemsley in 2016 when she joined the main cast ahead of the seventh season, per Bravo. But Dorit was not exactly a stranger. Before being cast, Dorit and her husband, British business Paul "PK" Kemsley, were already on "love you" terms with none other than Lisa Vanderpump, as PK indicated on Instagram just a couple of months before they debuted on the show. "Very proud of my dear friend @lisavanderpump. You look amazing keep doing it... love you," he captioned the post celebrating Vanderpump's Adweek cover story.
Throughout her run on "RHOBH," the Kemsleys have caught viewers' attention for a number of reasons, including Dorit having a major falling-out with Vanderpump over an adopted dog in Season 9, People noted. The couple also stirred controversy when they became the subject of a tax lien that accused Dorit and PK of owing upwards of $1.3 million in taxes, according to The U.S. Sun. 
Another point of contention has to do with the way Dorit speaks. Her accent mystified fans of the franchise from the get-go, with many wondering whether she hailed from a foreign country. As it turns out, she doesn't, as Erika Girardi famously announced. "You're an American! You were born in Connecticut," Giraldi said early in Season 7. That is indeed true, though Dorit considers herself a "child of the world," as she declared on "RHOBH." However, she has an explanation for her accent.
Dorit partly attributes her accent to her marriage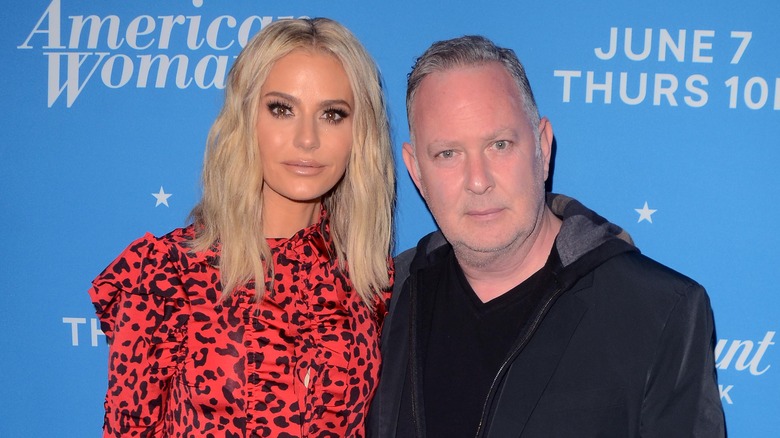 Kathy Hutchins/Shutterstock
Dorit Kensley met PK Kemsley at a New York eatery through mutual acquaintances, she told Wedding Style magazine in 2015. The London native lived in Los Angeles and was in the city for business when they crossed paths. Dorit's grandmother had just passed away, but not before ominously promising her one-and-only was about to enter her life. When PK asked Dorit to postpone her work trip to Hong Kong to go on a date, she initially rejected.
But Dorit couldn't take her grandma's words out of her mind. And like that, she became attached to a Brit with a strong London accent. Her relationship with PK greatly influenced how she speaks, she told Bravo's "The Daily Dish" in 2017. "I'm sure some of his inflections have rolled over on me," she explained. Her "Real Housewives of Beverly Hills" co-star Erika Girardi witnessed it firsthand, denying that Dorit fakes the way she talks. "This is her real voice," Girardi said at a BravoCon in November 2019 (via Page Six). "Does she get influenced sometimes by her husband's accent? Yes." And Teddi Teddi Mellencamp nodded in agreement.
However, PK isn't the only international influence in her life. While she was born in Connecticut, Dorit's parents were not. Both Jewish, her father hails from Israel and her mother was born in Tangier, Morocco, she told Us Weekly. In addition to having a Londoner husband and immigrant parents, Dorit spent years in Europe.
Dorit Kemsley lived in Italy and speaks four languages
While Dorit Kemsley caught a bit of flak for addressing her worldly upbringing during a conversation regarding racism on "The Real Housewives of Beverly Hills," she wasn't exaggerating about having spent a significant part of her youth abroad. After the Connecticut native graduated from college, Kemsley kicked off her professional life by working for a swimwear company in Italy, a country that became her home for the following decade, she told Bella Magazine in 2017. The opportunity gave rise to Kemsley's career as a fashion designer, developing a swimwear line for Beverly Beach and a bridal collection in partnership with Nektaria, according to Page Six.
Kemsley's work has taken her all over the world, putting her multilingual skills to good use. The daughter of Jewish parents, the reality star learned Hebrew as a teenager while also studying Spanish, she told Bravo's "The Daily Dish." Kemsley later added Italian to her repertoire, a language she became better at than Spanish. Working abroad with people who didn't speak English fluently instilled in her the habit of over-enunciating. "I think, at times, some of my English is part that and part inflection and, you know, being around a lot of Europeans and a lot of Brits," she said.
Thus, marriage, upbringing, and experience living and working in Europe have all contributed to how Kemsley speaks. "You just become, like, a product of your environment," she concluded. "That's who I am."