Sharon Osbourne Reveals How She And Ozzy Reacted To Kelly's Baby News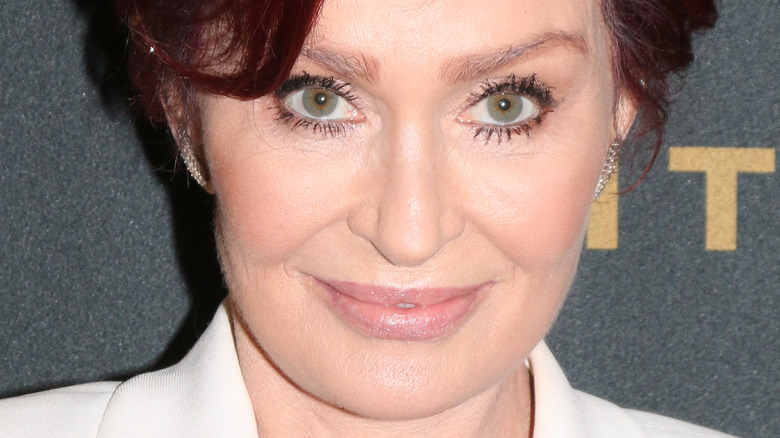 Kathy Hutchins/Shutterstock
Sharon Osbourne places great value on family, mainly because she grew up in a dysfunctional household, she told The Guardian in 2012. When she started her own family with Ozzy Osbourne in 1983, Sharon wanted to create a different reality. "I hope my children have more structure and guidelines than I did," she said. "My childhood was chaotic and I basically had to bring myself up." While the Osbournes have amassed a hefty amount of controversies over the years, there's no denying they are close. And Sharon's very much at the center of the family dynamic.
Unsurprisingly, watching her family grow through her son, Jack Osbourne, has been one of the highlights of her life. When he made her a grandmother in April 2012, Sharon was in the delivery room to welcome Pearl Clementine. "It's just an amazing event in my life," she told her co-hosts on "The Talk" (via Digital Spy). Sharon's journey to grandmotherhood was just the beginning, as Jack and his then-fiancée Lisa Stelly welcomed two more daughters, Andy Rose, born in June 2015, and Minnie Theodora, born in February 2018.
Jack and Stelly broke up shortly after the birth of their third child, but his desire to expand his family didn't end there. Jack and fiancée Aree Gearhart are expecting a baby, they announced in March. Jack's, however, won't be the only grandchild Sharon and Ozzy welcome in the coming months. Kelly Osbourne announced she's also pregnant — and the grandparents' reaction was the sweetest. 
Ozzy Osbourne cried when Kelly Osbourne broke the news
Kelly Osbourne made her big news public on May 12, when she uploaded a photo of the ultrasound to Instagram. "To say that I am happy does not quite cut it," she captioned the post, adding that her pregnancy was the reason she had been quiet in recent months. Obviously, Kelly and her loved ones have known for a while. Kelly, who made her relationship with Slipknot turntablist Sid Wilson public in January, broke the news to her parents in a rather unceremonious way — over the phone, Sharon Osbourne shared on "Talk TV UK" on May 16. "She was away, she was with her guy, and she called us," Sharon said. Sharon and Ozzy Osbourne were immediately ecstatic. "Dad was the first one to cry," Sharon shared. "It's a blessing. It's a real blessing."
The news may have been a surprise to many fans — but not to all. When Jack Osbourne's fiancée publicly announced her pregnancy on Instagram on March 21, Kelly left a comment that caught social media users' eyes. "Outside of you and jack there is no one more excited for this baby and you know why!!!!!!!!" Kelly wrote her future sister-in-law. A few commenters had an interesting theory for Kelly's cryptic message. "She's pregnant too and they'll grow up together?" one guessed. While only Kelly knows what she meant, the timeline suggests she had discovered her own pregnancy around then, so hats off to the attentive fan.