Heidi Klum's Daughter Turns Heads In One Of Her Famous Mom's Old Outfits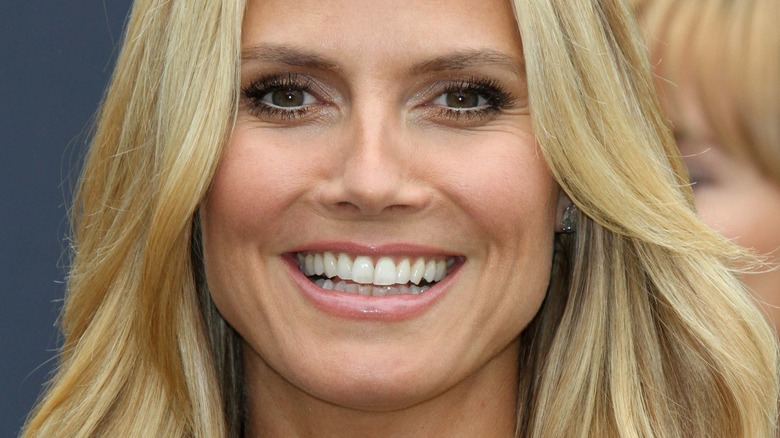 s_bukley/Shutterstock
We may receive a commission on purchases made from links.
Leni Klum, daughter of supermodel Heidi Klum, has been turning heads since her own modeling career gained some serious traction. Landing her first solo magazine cover for April 2021's Glamour Germany, Leni's appearance also marked the publication's 20th anniversary, when Heidi was its first cover star (per Us Weekly). Before that, Leni's first cover appearance was right next to Heidi in the January/February 2021 issue of Vogue Germany. Leni gushed on Instagram at the time that she was "so excited for [her] first cover," adding, "Thank you for being by my side @heidiklum."
It's clear Heidi is one proud mama bear. In February 2021, Heidi told People that it had been "mind-blowing" to watch her daughter open that year's Berlin Fashion Week. Telling the outlet that Leni has "been wanting to model for quite some time," Heidi shared just how un-camera-shy her daughter is. "She's been coming to my sets for her entire life and she's not really afraid of the cameras being stuck in her face," Heidi said. The "America's Got Talent" judge also recently showcased their individual April Harper's Bazaar Germany covers on her Instagram, writing on Leni's, "Du hast die wunderschönen blauen Augen von meiner Mutter" (which, per Google Translate, means: "You have my mother's beautiful blue eyes" in German.)
Just when you thought Heidi couldn't be more supportive of her daughter's endeavors, Leni posted social media proof as to why it pays to have a supermodel mom.
Leni Klum rocks Heidi Klum's dress 24 years later
In addition to modeling, Leni Klum also takes some fashion cues from mom Heidi Klum. Rocking a black strapless gown in Instagram photos posted May 16, Leni wrote in the caption, "Prom night in mamas dress." Heidi was indeed photographed in the same dress at 1998's filming of "Comic Relief VIII," a star-studded live comedy benefit, per Page Six. Both Klums accessorized the satin dress similarly, sporting minimal jewelry to accentuate the sleek silhouette. (Leni wore a dainty diamond necklace, while Heidi draped on a gold lariat necklace in 1998.)
Leni has also already proven to be a fashion maven in her own right. In addition to a skyrocketing modeling career, she debuted her own fashion line in a team-up with German brand About You in fall of 2021, per Fashion Gone Rogue. The collaboration comprised of simple, casual streetwear, which Leni described as "every day staples" for everyone. "From the very beginning, it was clear to me that the top priority of my first collection should be that everyone feels comfortable in my styles," she said. "Everyone should feel addressed by the different cuts and designs... I am so happy and proud of how each item has turned out." 
Of course, her mother has dabbled in clothes-making herself, with a lingerie line and her "Esmara by Heidi Klum: Heidi and the City" clothing line for German chain Lidl, per USA Today. Maybe a mother-daughter fashion collab is next?