Whatever Happened To Stassi Schroeder's Ex Patrick?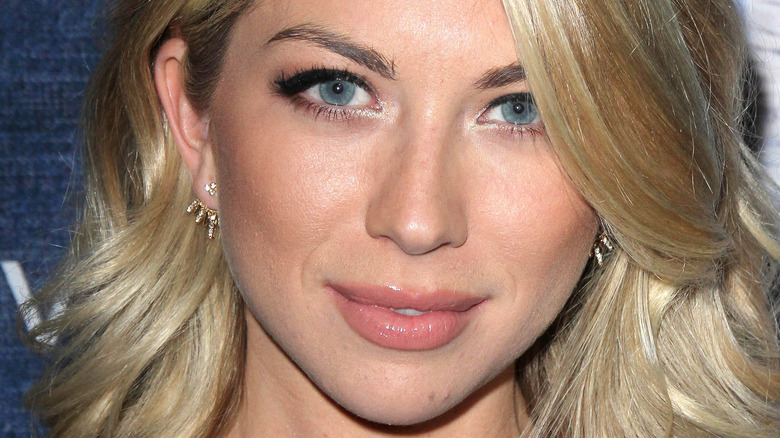 Kathy Hutchins/Shutterstock
Stassi Schroeder's romance with Patrick Meagher was a big storyline on "Vanderpump Rules" before their 2017 breakup, with the couple's on/off relationship providing plenty of juicy reality TV fodder in the wake of her split with her now former co-star, Jax Taylor. Schroeder and Meagher met in a very modern way (over Twitter!) after she heard one of his radio shows. "I was listening over the summer and he was talking about soulmates and how his soulmate could be across the country, and I tweeted at him. We met, and it was like magic," she told Wetpaint (via Bravo).
But, it was only magic until it wasn't. Fans saw the demise of Schroeder and Meagher's romance go down during Season 6, with Schroeder admitting she didn't enjoy seeing from the outside what things were really like with the radio show host when she watched it all back. "If I didn't see that on TV, I would remember my relationship very differently. When you're so deep in something — and you know, we were together on and off for four years, it's a really long time — I couldn't see it for what it was. Watching back is crazy," she admitted on "The Daily Dish Podcast" in 2018, adding, "Lisa [Vanderpump] always tells us this: one of the great things about reality TV is it's like a mirror." But what exactly happened to Meagher after things with Schroeder came crashing down?
Patrick Meagher's vacation vanish
Cast your mind back to Stassi Schroeder and Patrick Meagher's breakup, and you may remember their split happened on a pretty significant day. The former confirmed on Twitter that they split on their anniversary, writing, "Broken up with on our anniversary after I planned a trip for us to Mexico. Call me Carrie Bradshaw. @rachaelnobrien you're coming [with] me now." Awks. The two friends ended up going on the vacation together instead of Schroeder and Meagher, with the former admitting during an August 2017 episode of her "Straight Up with Stassi" podcast (via Bravo) that things turned sour because Meagher had actually forgotten their anniversary. She added that she still missed her ex and believed she was "jilted" by him, noting that she thought they'd have a romantic flight out where they'd be making out constantly.
But make out they did not, and it sounds like Schroeder and Meagher haven't had much, if any, contact since. "I'm just never gonna see him again," Schroeder said of Meagher on "The Daily Dish Podcast" in 2020. "Patrick wasn't a part of our group of friends, so once it was done, it's like, I don't even know where he lives, like, if I would even run into him," she added, sharing that she has Meagher, and all of her other exes for that matter, blocked on her phone.
Stassi Schroeder's ex moved on
As for what Patrick Meagher has been up to since splitting with Stassi Schroeder, it seems he's been keeping on keeping on. Meagher appears to have a new radio role after leaving his gig fronting SiriusXM's Mad Dog Sports Radio's "The Rap," moving on to host "The Lombardi Line" alongside former NFL executive, Michael Lombardi. Interestingly, Meagher was actually once accused of staying with Schroeder to get more publicity for his radio career, with a source claiming to Page Six in 2018, "He told friends that he needed the boost. He never planned to stay with Stassi."
As for his personal life? Well, that's a little more secretive. Meagher has never had a public Instagram account, which makes it a little harder to keep up with the former reality TV star, though that was actually one thing Schroeder really liked about her former man. "I think it's the hottest thing. He could just care less," she admitted, per The Daily Dish. Meagher doesn't appear to tweet either, but sporadic tweets from @TheWrap Twitter account share his career highlights. It looks like Meagher is a man who took a big step back from the spotlight in the wake of his "Vanderpump Rules" days!
But while we don't know who Meagher is dating these days, we do know that Schroeder has moved on with her husband, Beau Clark.