This Is Who Jason Momoa Was Engaged To Before Lisa Bonet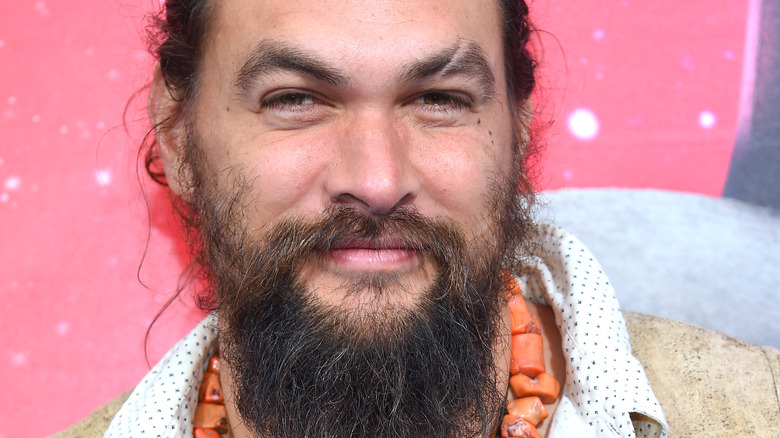 DFree/Shutterstock
When it comes to Hollywood's it couples, Jason Momoa and Lisa Bonet are surely in many people's top five. Though they were only married for five years — between 2017 and 2022, per Insider — the two stars had been together for much longer. "Jason is the love of my life," Bonet once gushed to People. "He's everything I hoped would come."
Unfortunately, their love story was apparently not meant to last forever. In January 2022, Momoa and Bonet — who share two kids, Nakoa-Wolf Manakauapo Namakaeha Momoa and Lola Iolani Momoa — announced their split in a since-deleted joint statement shared on Instagram. "We share this not because we think it's newsworthy, but so that as we go about our lives we may do so with dignity and honesty," the post read, per Vanity Fair. "The love between us carries on, evolving in ways it wishes to be known and lived. We free each other to be who we are learning to become ... Our devotion unwavering to this sacred life & our Children."
And even though there were rumors that Momoa and Bonet were getting back together, the "Aquaman" actor has seemingly moved on. He debuted a new relationship with Mexican actress Eliza González just four months after his split with Bonet, per People. But long before Bonet and González, Momoa was actually in a serious relationship with another actress in Hollywood.
Jason Momoa met his ex-fiancee on a film set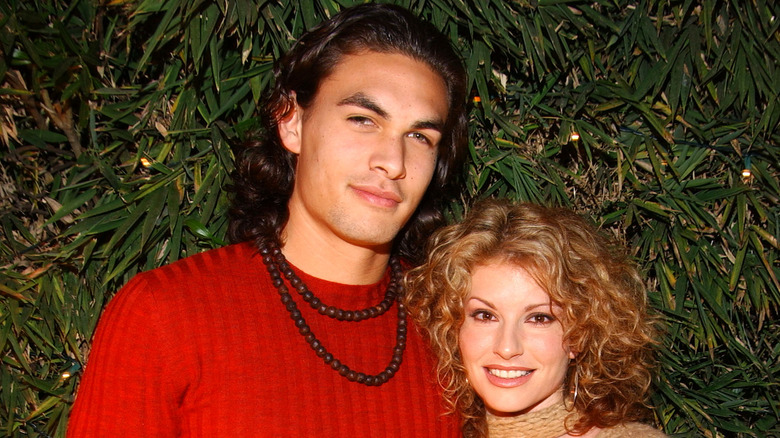 Sebastian Artz/Getty Images
According to POPSUGAR, Jason Momoa and Simmone Jade Mackinnon met on the set of "Baywatch" in 1999. On the show, both Momoa and Mackinnon played lifeguards, though they weren't on the series long. Mackinnon departed in 2000, per IMDb, and Momoa the following year (via Today).
A classic Hollywood meet-cute, Momoa and Mackinnon engaged in a romantic relationship. After five years of dating, the "Game of Thrones" star popped the big question in 2004. However, the seemingly blossoming love story was not meant to be. The couple parted ways in 2006, per POPSUGAR, a year after he met Lisa Bonet. 
While Hollywood is no stranger to tales of bitter exes, Momoa and Mackinnon remained cordial with each other years after the split. In 2013, the pair made headlines after they were photographed publicly locked in a warm embrace. A source confirmed to Daily Mail, "It was Simmone, they're still good friends."
Jason Momoa and Simmone Mackinnon's relationship ended on a controversial note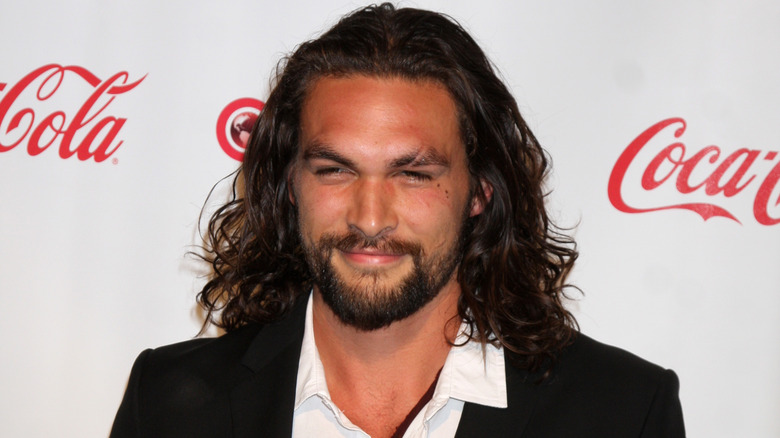 Kathy Hutchins/Shutterstock
Jason Momoa and Simmone Jade Mackinnon might have maintained a friendly relationship over the years, but their actual breakup was a tad messy. 
According to Net-A-Porter, Momoa met his estranged wife Lisa Bonet and immediately hit things off. "I can't say it was full-on from the moment we saw each other, but we have been together from the day that we met," Bonet told the outlet in 2018. "In that moment, love came and it came big, and he did not run as I think a lot of men do. He basically picked me up and threw me over his shoulder, caveman style!"
While this seems like a harmless meet-cute, Momoa was in fact still involved with Mackinnon at the time — or at least so it seemed. According to Mama Mia, Mackinnon broke up with Momoa immediately after finding out that Bonet was pregnant with Momoa's child. "Honestly, it's a shock and of course this news has been upsetting," Mackinnon admitted in a 2007 interview. However, she didn't let the pregnancy and breakup keep her down, as she later expressed, "But I have moved on and I am very happy."