Miley Cyrus' Plane Accident Was Even Scarier Than We Thought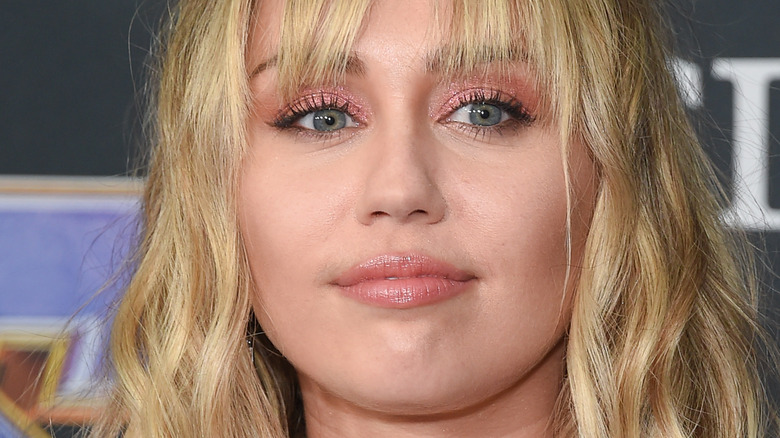 DFree/Shutterstock
Back in March, a lightning storm came in like a wrecking ball and almost took out "Wrecking Ball" singer Miley Cyrus. The "Midnight Sky" songstress was on a flight to Asunción for a tour stop in Paraguay when an incredible tempest forced her plane to make an emergency landing, per Sky News. At the time, Cyrus posted about her terrifying ordeal on her official Instagram, dedicating the post to her fans. "Our plane was caught in a major unexpected storm and struck by lighting," she wrote on March 23. "My crew, band, friends and family who were all traveling with me are safe after an emergency landing. We were unfortunately unable to fly into Paraguay. I LOVE YOU."
She included in the post a shot of the airplane's hull, burnt and black, after being struck by lightning. She also included a short video taken from inside the plan where flashes of lightning can be seen just off in the distance from the plane. An unknown voice can be heard exclaiming "Oh my God" next to Cyrus.
Now, the "Nothing Breaks Like a Heart" crooner is filling us in on all the terrifying details from that fateful night, and it turns out she was even more petrified than she originally let on. 
Miley Cyrus is still traumatized
On May 16, "Party In The USA" singer Miley Cyrus appeared on "Late Night With Seth Meyers" to fully explain her state of mind back in March when her aircraft got struck by lightning and made an emergency landing.
"It was really scary," Cyrus said. "I was in my mom's lap because I was pretty sure it didn't matter about the seatbelts at this point." Noting that she woke up that morning with the eerie feeling that something was off, she said her "rock n' roller" band was still hyped to get to the show in Paraguay, even after the emergency landing. "I'm like, 'OK, no. We're in the middle of the forest in a broken-down airplane. There's floods where we're supposed to be going. The stage is sinking,'" she retorted. They instead headed straight to Brazil, where she said authorities let them in a few days ahead of their scheduled Lollapalooza stop. "We were able to take a few days to recuperate 'cause all of us were a little traumatized," Cyrus said. We're sure her new love interest Max Morando was happy to have her back in his arms. 
Singer Doja Cat was also supposed to perform in Paraguay that weekend, but tthe floods from the storm forced her to cancel the show — which led to such severe backlash from fans that the "Need To Know" singer threatened to quit music altogether.