What Happened To American Idol Winner Just Sam?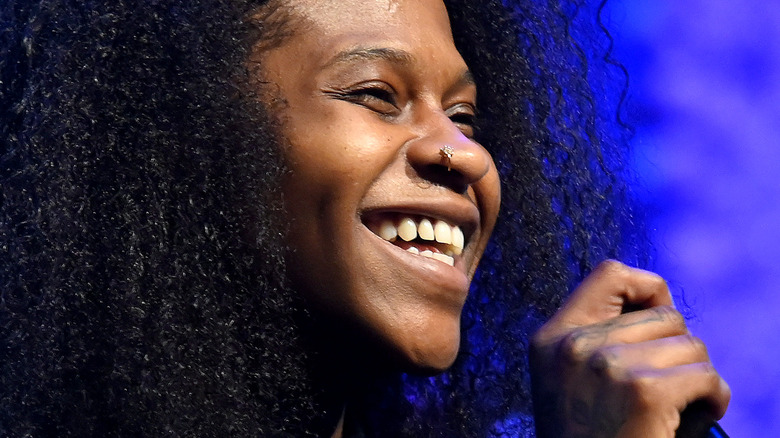 Noam Galai/Getty Images
"American Idol" prides itself on being the place where dreams are made true. With its sweeping montages and inspirational music, there's a reason the show attracts so many hopefuls every year. After all, who wouldn't want to be the next Carrie Underwood or Kelly Clarkson? However, a golden ticket to Hollywood doesn't always translate to a chart-topping career when the show is over. 
Back in 2020, one "Idol" contestant, Samantha Diaz — better known as Just Sam — saw her dreams come true when she won Season 18 of the singing competition. Just Sam wowed audiences during the competition with her emotional vocals, especially her cover of "Rise Up" by Andra Day. Before "Idol," Just Sam made a living by singing in subway stations for money in New York City, according to People. She ended up being an inspiration to many, as viewers watched the singer come out of her shell and find her confidence. "After this, I hope to be able to inspire more people and reach more people all across the country and across the world," Diaz told the outlet following her big win. 
So, what has the "American Idol" alum been up to since her victory? Unfortunately, the singer has had a tough time since winning the competition. Diaz opened up about her struggles and why you haven't heard her announce an album release date. 
Just Sam is struggling to pay her bills
Even before "American Idol" ended, Just Sam didn't get the "Idol" experience many others received in previous years. Due to the COVID-19 pandemic, she and the other contestants had to hold socially distanced performances in their Los Angeles hotel rooms, according to Pop Culture.
The singer ultimately moved to Los Angeles to pursue a professional music career. In an interview with Talent Recap, she revealed that she never expected to win. "To this day I don't know how I won," she shared. "Last year was my year. I don't think that I need another year. This is their time. Although we all didn't have an opportunity to perform on the stage, they didn't win, these are my friends."
After winning the competition, Just Sam signed a record deal with Hollywood Records, but that didn't last long and she parted with the label. Since then, she has tried to launch her career on her own. "I thought it was gonna be easy, just go to the studio, record, put out music. And that's not how the world works. That's not how the industry works. It takes time, it takes money that I don't have. It takes patience," she revealed in an Instagram Story in 2022, according to Just Jared. The singer soon found herself in a similar situation as she was in before the competition. She currently produces music, but is reportedly struggling to pay rent and provide a weekly income for herself.
Just Sam went back to singing on the subway
After leaving her record deal, Just Sam appears to have moved back home to Harlem based on her Instagram. The singer has family, including a grandmother, who lives there, too. 
According to Just Jared, the "American Idol" singer said that she's still working on her music, but struggles to find a way to release it. "I am making music," she shared. "I just cannot afford to release music, because mixing and mastering music costs a lot of money. And I invested in myself and ended up broke. That's the truth. Not broke, broke — like I'm living. I have my own place."
In the meantime, Just Sam's bringing her music online. She launched a YouTube channel where she regularly uploads new singles. She also returned to singing on the subway, according to MJs Big Blog. Despite these setbacks, Just Sam doesn't appear ready to give up on her dreams anytime soon.