Fans Have A Lot To Say About A Suspicious Absence From The RHONJ Reunion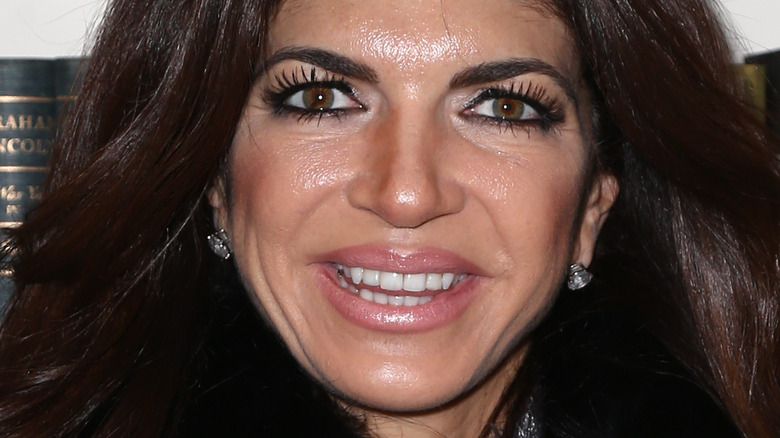 Debby Wong/Shutterstock
Another season, another drama from the cast of "The Real Housewives of New Jersey." Season 12 of the Bravo hit was no different when it came to fallings out and sassy comebacks, with one of the biggest storylines of the season being Teresa Giudice falling out with, well, pretty much everyone.
In a "RHONJ" throwback that will surely resonate with longtime fans of the Garden State spin-off though, it seems like a lot of the stalwart's energy towards the end of the season was focused on drama with her own family (yes, again) as friction arose with Teresa, her brother, Joe Gorga, and sister-in-law, Melissa Gorga. Much of that was discussed during the infamous reunion episodes, including Joe storming off the set after yet another fall out with his sister. Melissa's husband was full of expletives and even claimed he was quitting the show, while Giudice accused her brother of gossiping about her fiancé, Luis Ruelas.
But while we can always leave it to the Gorgas (and former Gorgas) to stir things up, it's actually not the longtime drama viewers that got a lot of viewers talking as the third part of the reunion aired on May 17. Instead, it was someone who actually wasn't there that had the Twittersphere buzzing.
Traci Johnson goes MIA
Where was Traci Johnson during "The Real Housewives of New Jersey" Season 12 reunion episodes? Well, it looks like no one really knows. Johnson was the newbie during the 2022 episodes, joining the cast as a Friend when Bravo confirmed the news and dropped a dramatic trailer back in December 2021. Throughout the season, she made her presence known by throwing in her two cents regarding Teresa Giudice's problems and joining the ladies on their trips. But she was nowhere to be seen when it came to the wrap ups — and social media certainly noticed.
"Imagine being Traci and going to supposedly film a reunion, buying a gown, getting in full glam, waiting for hours until they call you and then they completely edit you out of the show. It's both depressing and hilarious," one person tweeted. "Traci being completely cut out of the three-part #RHONJ reunion is so savage," another wrote. Making thing extra awkward? Johnson definitely attended the reunion taping. She shared Instagram snaps of herself on set on April 7, writing in part, "You all better be ready for one fiery RHONJ reunion." Eeep.
So, will Johnson be back for Season 13 or is this a sign she won't return? Bravo is yet to officially confirm things, though Bravo and Cocktails reported in April the entire "full time" cast will supposedly return. Notably though, Johnson is a part-timer, and the outlet alleged there could also be some new faces joining the show...