Amy Schumer Debuts Kardashian Makeover In Head-Turning Transformation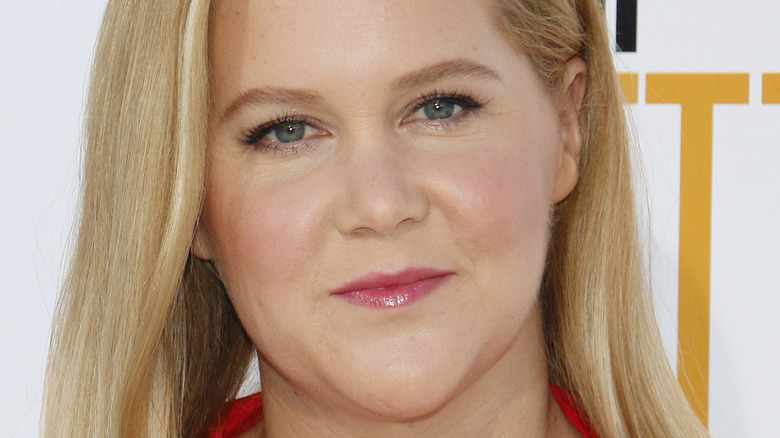 Tinseltown/Shutterstock
Recently, Amy Schumer has been very candid about sharing her physical transformations with fans. In a now-deleted December 2021 Instagram selfie, the comedian documented her doctor's visit to have cheek fillers removed. "Turns out I was already full," the comedian quipped in the caption at the time (per Page Six). In January, Schumer also revealed on Instagram she had liposuction performed after undergoing surgery for a severe endometriosis condition. Explaining her decision on a March episode of the "Dear Chelsea" podcast (via E! News), Schumer said, "If anybody sees me in pictures or anything and they're like, she looks thinner, and whatever: It's because I had a surgery. It's too hard, and I just want to be real about it."
Writing in a recent Instagram post that, following multiple recent surgeries, "I want to feel hot," Schumer strutted her stuff on May 2's Met Gala red carpet. Wearing Gabriela Hearst, Schumer jokingly said to the event's livestream host La La Anthony, "Everyone's always at home [wondering] what is Amy going to wear this year," per the Independent. Well, after the debut of her alter ego at 2022's Hulu Upfronts, that certainly may well be the case! 
Amy Schumer unofficially joins the Kardashians
Amy Schumer took the term "style reinvention" to another level at May 17's 2022 Hulu Upfronts. The "Life & Beth" star presented at the event with Khloé Kardashian and Kris Jenner, and Schumer dressed for the occasion. The comedian's Instagram video showed the comedian dolled up in a light blue blazer, a pair of distressed jeans and open-toe white heels. She completed her look with a pair of blindingly shiny aviator shades, spray-on tan, high ponytail, and very long manicure. "Kamy kardashian for a day! Anyone with these nails how do you do anything?!," Schumer wrote of her look in the post's caption. The comedian also posted her post-event ensemble, for which she shed her blazer for a backpack and wrote, "In the 2nd photo I have legally transitioned to sign the bounty Hunter I guess." 
Schumer's alternate personality was a blockbuster hit. With fans in the comments asking how to get their hands on "Kamy"'s jeans, Schumer offered, "These jeans are from Zara but usually you know I rock @goodamerican," referencing Khloé's own denim brand. "KAmy rocks," enthused one fan. "Loving the long pony look on you," complimented another. One astute fan even claimed, "Before I saw the caption, I thought why is she dressed like khloe kardashian? Lol." 
Schumer fans were clearly having as much fun with Kamy as she was, with one answering the question posed in her caption, joking, "Don't pick your nose!"