The Comments About Khloe Kardashian That Got A Heckler Removed From Tristan Thompson's Game
Tristan Thompson and Khloé Kardashian may have called it quits for good, but the end of their up-and-down relationship is still playing out on the family's reality show. 
When "The Kardashians" Episode 1 dropped in April, viewers saw Kardashian dish that she had dumped water all over Thompson's clothes following his first cheating scandal, according to Entertainment Weekly. Unfortunately, that didn't stop Thompson from stepping out on Kardashian and secretly fathering a child with fitness model Maralee Nichols in 2021. The reality star opened up to USA Today about how hard it was to learn of her ex's infidelity during filming. "It was déjà vu," the Good American founder said. "I think the first time [Tristan cheated] it was either Kendall or Kylie that called me [to break the news]. Now it's good old Kim." Despite Thompson's string of infidelities, hearing the news never got easier. "There is a numbing sensation to it," Kardashian said.
Fans know how everything played out between the former couple, but for now, episodes of "The Kardashians" are still depicting Kardashian and Thompson's relationship in a rosier light. In the show's newest installment, Kardashian shared her reasons for maintaining a connection with Thompson even after he'd wronged her, via Us Weekly. Thompson also revealed that he had defended Kardashian from a fan's disparaging comments during a basketball game between his former team, the Sacramento Kings, and the Memphis Grizzlies.
Tristan defended Khloe's honor on the court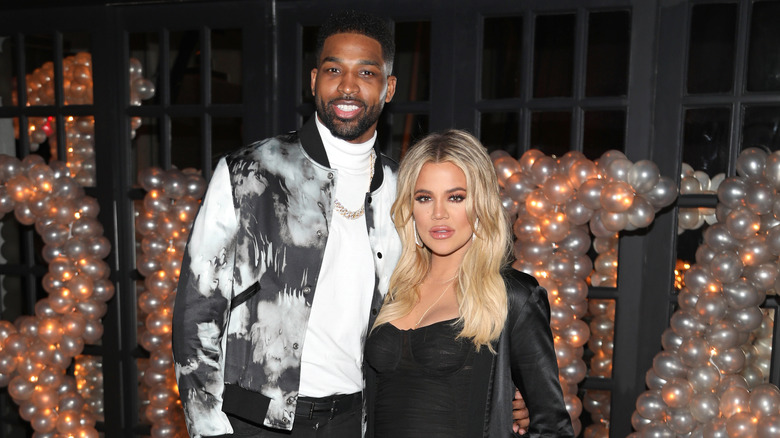 Jerritt Clark/Getty Images
During a May 19 episode of "The Kardashians," Tristan Thompson told Khloé Kardashian that he had a fan ejected from his basketball game in November 2021 because of the fan's heckling, per People. 
The NBA pro is no stranger to receiving flak from fans. After all, E! News reported that attendees had chanted Kardashian's name at a March game when Thompson attempted to take a drop shot. But the November situation was different, because the heckler had insulted Kardashian. As People noted, the fan accused Kardashian of "talking to different players" and said that Thompson was "just the next one." Translation: "[He] called me a w****, and said I date basketball players. I've had six boyfriends, three of them have been in the NBA," Kardashian interpreted, per People.
As for how Thompson handled the situation, he spoke up in defense of his then-girlfriend and their daughter, True. "You're not gonna keep talking about my family like that," he said, a statement to which Kardashian approved of. At the time, a video from TMZ showed Thompson pointing out the fan in question to security. Sacramento Kings Head Coach backed up Thompson's actions by saying that fans shouldn't come to games to harass players. "They can say anything they want to me or they can boo and do everything they want with the players, but there's no room for saying inappropriate things in a sporting event," he told reporters. "That's not why you're there."