Dove Cameron's Emotional Life Update Has Everyone Saying The Same Thing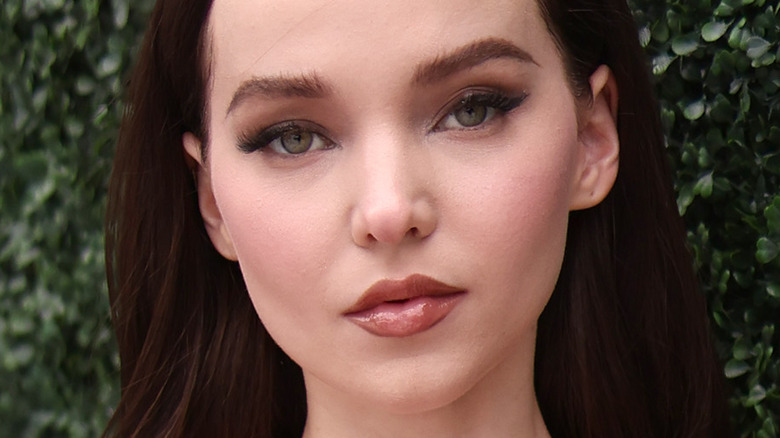 Matt Winkelmeyer/Getty Images
Emmy award-winning actor Dove Cameron previously shared her struggle with mental health after enduring several personal tragedies. In 2017, the "Liv and Maddie" star tweeted that her father died by suicide when she was 15 years old, and that she changed her name to honor him (her birth name is Chloe Celeste Hosterman). She also opened up about her struggle dealing with the death of her "The Descendants" co-star Cameron Boyce, telling People in 2021, "I can't find a soft place to land around it." Boyce died in 2019 after suffering a seizure in his sleep.
In 2020, the chart-topping "Boyfriend" singer gave an unguarded interview to Puss Puss, where she talked about how she attempts to cope with so much loss. "To be completely honest, I wake up and it's the first thing on my mind. It's constantly in the back of my mind in everything I do. I have to kind of be like, okay, nothing crazy is going to happen today," Cameron said.
She has also had a complicated journey with her self-identity, and in 2020, she came out as "super queer," per Teen Vogue, stating she always knew she wasn't straight from an early age. Now she's posted a raw and deeply personal statement to Instagram where she revealed her ongoing struggle with "depression & dysphoria."
Dove Cameron opened up about her 'depression and dysphoria'
"Schmigadoon!" star Dove Cameron lit up the internet with a new IG post about her ongoing struggle with "depression and dysphoria" and "identity vs the self." The post shows several shots of "The Descendants" actor crying in a black hoodie along with a lengthy statement where she reveals she's trying to figure out how to "unlearn self abuse and self hatred."
"I've been struggling lately with the concept of self, my inner relationship to who I know myself to be and my outer perceivable self who I feel I have never known but other people seem to, I've been covering mirrors lately," she writes. "I've been feeling wrong in clothing that used to make me feel beautiful lately. I've been crying a lot lately, sometimes terrorized by my identity and image." 
She also details her ongoing gender identity and sexuality struggles — something she's explored in her songs "We Belong" and "Boyfriend" — writing, "Sexuality and performative gender norms, societal rewards and identity are really throwing me for a loop. social media and mirrors and branding and the constant broadcasting of self and visibility of ourselves and everyone everywhere is not optimal for mental health, clarity of energy or relationship to our inner world. for any of us." Cameron continued exploring these themes in the caption, which resonated with her fan base.
Her supporters have flooded her IG comments
Dove Cameron also wrote a lengthy caption to her IG statement on May 18, where she adds, "[F]or me, identity and the self have always been diametrically opposed, and there has only ever been room for one at a time to occupy my life." Cameron then makes the comment that sometimes she feels as if she's "not meant to be here," but when it comes to her fans, she really does want to "be here with you." 
"I am beginning to have a hope that the public platform that has been difficult for me to learn to take up space as myself in, can actually be the conduit for change/mutual support/exploration/safety," she concluded.
Cameron's comments section soon began overflowing with both celebs and fans commending her for speaking her truth. Pop artist Nicholas Tomillon wrote, "sending you so much love. you are such a beautiful soul. never forget that." Actor Daniela Melchior wrote, "You're a beautiful butterfly," while singer Madison Beer wrote, "holding you and seeing you so deeply." Even Kristen Chenoweth chimed in with, "Darling One. Remember: 'when the wind did not blow her way in the storm. What does she do? She adjusts her sails.'"
If you or someone you know is struggling with mental health, please contact the Crisis Text Line by texting HOME to 741741, call the National Alliance on Mental Illness helpline at 1-800-950-NAMI (6264), or visit the National Institute of Mental Health website.