The Truth About Dove Cameron And Cameron Boyce's Relationship
Shutterstock
Actor Dove Cameron first rose to fame on Disney Channel, starring in shows, like "Liv and Maddie," and original features, like "The Descendants," before taking on grittier roles such as Ruby Hale in 2017's Marvel's "Agents of S.H.I.E.L.D" (via IMDb). As of 2021, Cameron has also made a foray into pop music because, as the actor-singer explained to BBC, "I function best when I have about 10 plates spinning at once."
Growing up in the spotlight may have inflated many a child actor's ego, but Cameron has somehow managed to keep her bubbly, friendly personality intact. A 2017 interview with Galore described the star as "an instant friend at a party — someone you spill your entire life story to even though you'll never see them again, and it doesn't get weird." In the same piece, Cameron explained, "I don't think there's anyone that I've met that I haven't created a bit of a deep relationship with ... It's a really lovely thing to create a relationship with people [who] might not anticipate that closeness." 
Given her charming nature, it's no surprise she forged a special bond with several of her "Descendants" co-stars, including Cameron Boyce, who tragically died from a seizure in 2019. Here's the truth about the pair's special relationship.
Dove Cameron feels she and Cameron Boyce were always meant to be BFFs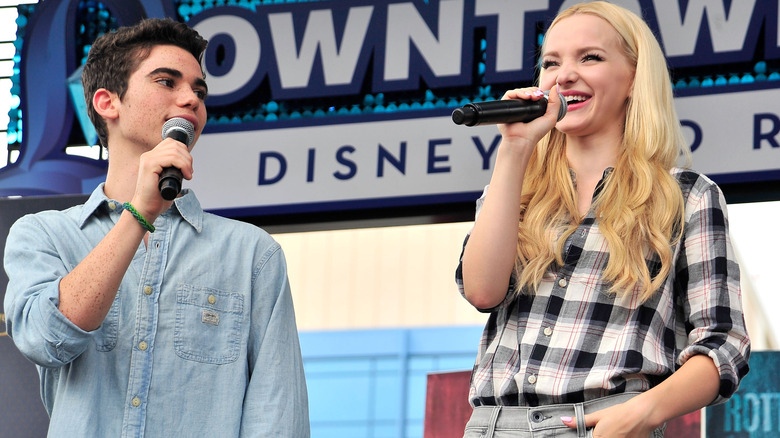 Jerod Harris/Getty Images
Even before Dove Cameron ever worked with Cameron Boyce on the set of "The Descendants," she had a sense they were destined to be besties. The multi-hyphenate star told Seventeen in 2019 that she had been impressed with his work on the Disney Channel series "Jessie" (which ran from 2011-2015), and was looking forward to meeting him in person. "I had always thought, 'damn, what a charismatic, bright and brilliant kid,'" she expressed. After their initial meeting (at which point she hugged him), Cameron recalled that she told Boyce, "'This is going to sound so weird, but we're about to do this new thing together, and I'm going to hug you, because I can promise you now, we are going to be friends.'"
Sounds like it was never an option not to be friends! For his part, Boyce warmed to Cameron almost instantly. She explained, "From that first day onward, Cameron was my friend and he treated me, like he treated everyone else, like they were the most important person in the room. I loved him like a brother, and I learned from him every day, how to be joyful, how to be resilient, how to be patient, no matter the circumstances" (via Seventeen). She added, "I couldn't begin to quantify the wisdom and generosity that this kid had." The depth of their bond, therefore, makes the loss of Boyce even more devastating.
Dove Cameron will forever miss Cameron Boyce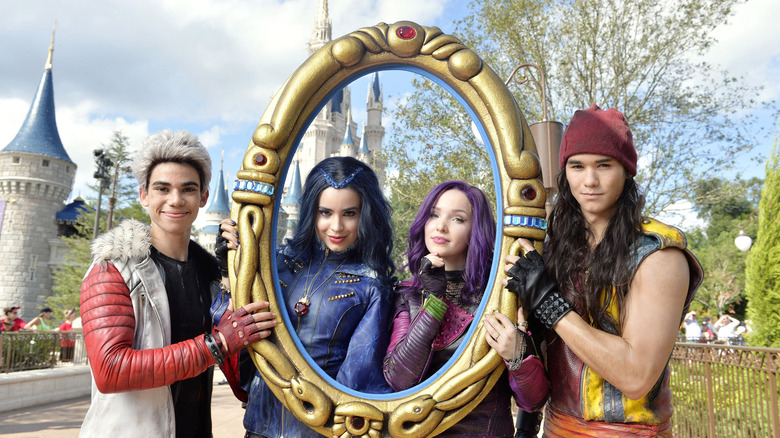 Handout/Getty Images
Like anyone else in her shoes, Dove Cameron struggled with losing her friend Cameron Boyce. Thankfully, "The Descendants" stars have found comfort in one another in the wake of losing one of their own. "Me, Boo Boo, Cam and Sofia [Carson] still have our core 4 group chat active and open," Cameron explained to Seventeen, speaking of the franchise's lead stars. "It's hard when there are no adequate words to express the pain we are all feeling, but the usual text is 'love you.' Or 'are you eating?' ... I think something like this horrible loss makes you realize how important you are to each other."
Though Cameron has been vocal about her struggles with anxiety and social media, even taking a "social detox" in 2019, she recognized the importance of paying tribute to Boyce on her platforms. "I felt really weird about posting about Cameron on social media because it felt really emotional and private and intimate and social media is the opposite of that," she shared in a pared-down Instagram video in July 2019. "Cameron was one of my favorite people alive in the world," she continued. "Over the last six years, since he was only 14, Cameron talked me down from countless ledges, talked me through eating disorders, helped me out of a dark relationship and through endless breakdowns." 
As she put it, he was her "earth angel," and a bright light that was taken much too soon.