Ellen Barkin's Spicy Clarification About Her Relationship With Johnny Depp Lights Up Twitter
Dimitrios Kambouris/Getty Images
This article contains description of domestic abuse.
The tide seems to be turning in Johnny Depp's defamation battle against Amber Heard. There have been more shocking moments from the trial as people testify for Depp's ex-wife. Heard's sister gave a bombshell testimony on May 18, claiming Depp physically assaulted her and her sister in 2015. According to People, Whitney Henriquez testified that Depp struck her in the back and then hit her sister. Henriquez said Depp "grabbed Amber by the hair with one hand and was whacking her repeatedly in the face with the other as I was standing there." Heard's sister said the "Pirates of the Caribbean" star gave her a non-disclosure agreement form to sign after the incident.
Depp's manager of 30 years gave stunning testimony on May 19. Tracy Jacobs testified on video about her former client, who fired her in 2016, explaining that Depp's actions hurt his career. According to Jacobs, the actor's chronic lateness, substance issues, and no-shows told the court it became "harder to get him jobs given the reputation that he had acquired due to his lateness and ... other things" (via The Wrap). Depp's former manager explained, "It also got around town ... it's a small community, and it made people reluctant to use him toward the end."
But actor Ellen Barkin blew up a claim by the "Finding Neverland" actor and lit up Twitter with her spicy testimony.

Barkin makes the nature of her relationship with Depp clear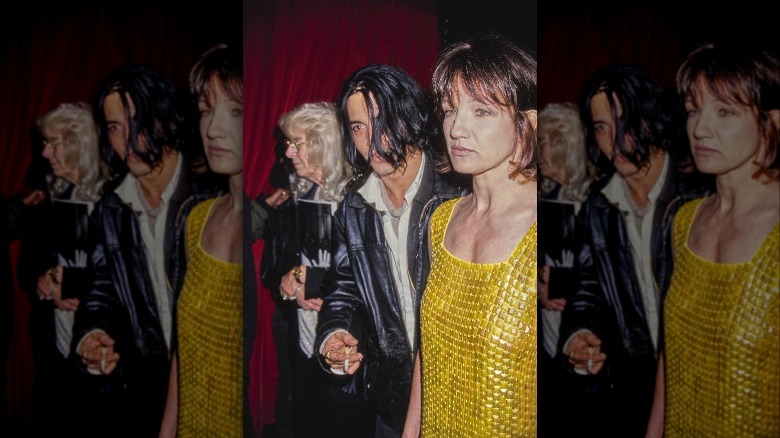 Michael Ochs Archives/Getty Images
Ellen Barkin accused Johnny Depp of abuse during their fling in the '90's with her testimony on May 19. According to Law and Crime, Barkin claimed the "Pirates of the Caribbean" star threw a wine bottle at her. Barkin also alleged Depp's use of cocaine and hallucinogenics during their time together and insisted, "He's drunk all the — most, a lot of the time." Law and Crime also reported Heard's lawyer asked about her and Depp's "romantic" relationship, and the 68-year-old actor immediately corrected them. "Can we change that to sexual? Just sexual?" Barkin asked — sparking a Twitter tsunami.
One trial watcher tweeted: "She hasn't had any dealings with Depp since the early 90's and she is up here testifying against him." Another Twitter user wrote: "Ellen Barkin was kinda sad tbh. She tried wrecking Johnny Depp but just looked like a wreck to me." Another tweeted: "Are we sure Ellen Barkin didn't just want to humblebrag about nailing Johnny Depp back in the day?" Ouch.
Barkin previously starred with Depp in 1998's "Fear and Loathing in Las Vegas," per IMDb, and the co-stars became more involved amidst her split from then-husband Gabriel Byrne. She also called Depp "a jealous man [and] controlling, [and would ask] 'Where are you going? Who are you going with? What did you do last night?"