Tyra Banks Says 'Large Forehead' Saved Her Modeling Career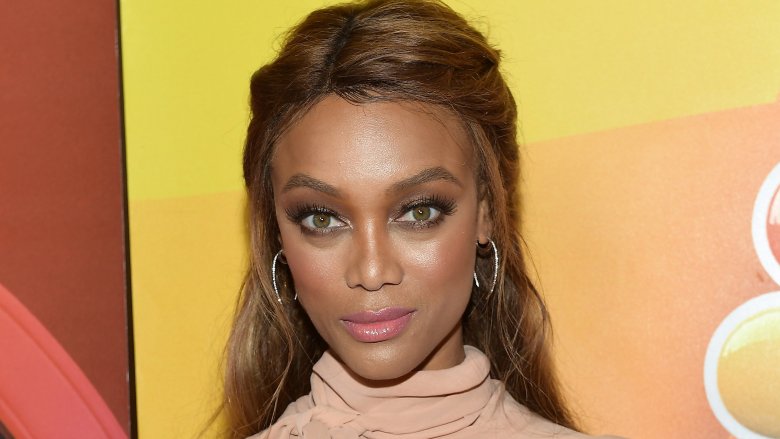 Getty Images
Tyra Banks is thankful she learned to love her "big forehead."
"So I have a very large forehead. Some people call it a five-head, and maybe even a six or a seven," the supermodel quipped on the Today show on Wednesday, Sept. 20, 2017 (via Page Six).
"When I turned into a supermodel, a lot of people were saying, 'She cute, but she got a big forehead.' But what I have to thank my forehead for is my modeling agent said if I didn't have a high forehead, I would've been too safe-looking and too commercial-looking," the America's Next Top Model creator explained. "And I wouldn't have been able to have the high-fashion career that I started with."
When asked what advice she would impart to her younger self, Banks, 43, joked, "Girl, please. Wait till you see him 15 years from now. You are not going to be running toward him, you are going to be running away."
The new host of America's Got Talent was a bit more serious when she revealed her life's motto: "Plan for the end at the beginning." She continued, "There are so many things that are here, and that are wonderful, but they're fleeting. There's always somebody, like, goin', 'I'm next. I'm next. I'm next.' But don't have them take your spot. Give them your spot, and move onto the next thing."
As Nicki Swift previously reported, Banks is set to make her trumphant return as host of America's Next Top Model in its upcoming 24th cycle. She famously stepped down from the role during the show's move from the CW to VH1 in 2016, while Rita Ora took a turn as host. "Fans drew me back, blowing up my social media," she told Entertainment Tonight in June 2017, adding that she'll be making some changes. "I say screw the number. Throw away age. It's not how old you are, it's how old you look....I feel like it should be a career that can go forever. And presently, it's not."
While we wait for Tyra Banks' exciting return to ANTM next season, read up on the ups and downs of the fashion icon's career.