Tom Cruise's Height Is Causing A Stir All Over Again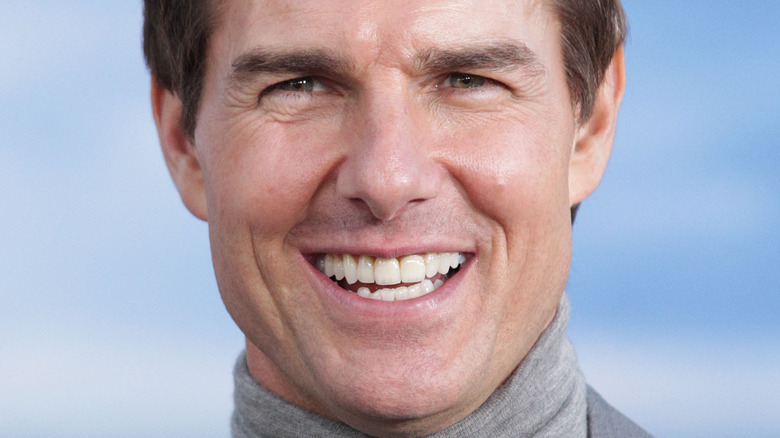 DFree/Shutterstock
It is no secret that Tom Cruise isn't the tallest celebrity around. That is apparently a very big sin in Hollywood, which has prompted Cruise to spend his career trying to conceal his height, Refinery29 noted. Producers reportedly applied all sorts of tricks to make Cruise, whose apparent height is 5'7", stand shoulder-to-shoulder with co-stars. Take "Mission Impossible III" as an example. In many shots, Cruise seems about the same height as Ving Rhames, who is 6 feet tall, and Jonathan Rhys Meyers, who stands at 5-foot-10, according to BuzzFeed. Similarly, Cruise was cast as a 6-foot-5 cop in "Jack Reacher" when he is several inches shorter, NPR reported.
It also hasn't helped that Cruise seems to look for tall partners. The three women he has been married to have been reportedly taller than him. Mimi Rogers is 5-foot-8, while Kate Holmes is 5-foot-9. Notably tall Nicole Kidman is 5'11", a feature of hers that was often pointed out during her marriage to Cruise. In fact, Kidman herself took a jab at Cruise after they divorced in 2001. "Well, I can wear heels now," she said on "Late Night with David Letterman," drawing laughter from the talkshow host and the audience.
Despite his many efforts, Cruise continues to make headlines for his height and reported attempts to hide it. That was again the case when he greeted Kate Middleton and Prince William at the "Top Gun: Maverick" premiere.
Tom Cruise appears close in height to Kate Middleton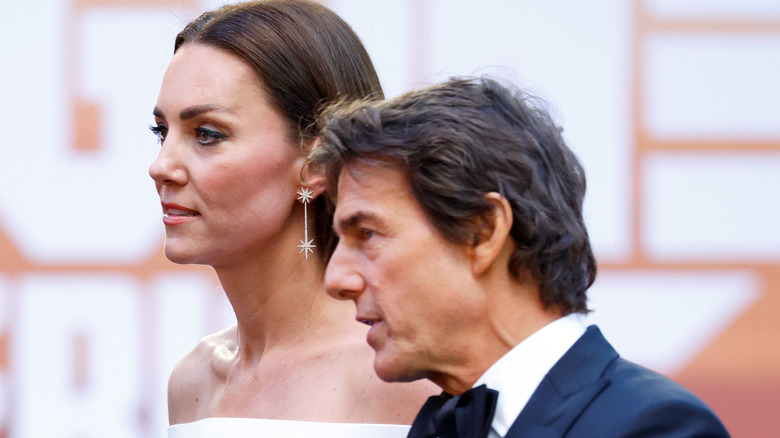 Max Mumby/indigo/Getty Images
Prince William and Kate Middleton attended the "Top Gun: Maverick" red carpet in London on May 19, joining forces with the film's star, Tom Cruise, to promote its charity premiere, CNN reported. It was a true case of Hollywood and British royalty rubbing shoulders. However, many chose to fixate on the height difference between the Duchess of Cambridge and Cruise. That was certainly the case for Piers Morgan. "BREAKING: Kate's taller than Tom Cruise," the British TV presenter captioned a clip of their greeting on Twitter.
Social media users were quick to point out that Cruise actually appeared close in height to Kate Middleton, who is 5-foot-9, according to Parade. Middleton was also rocking heels at the event, easily putting her above Cruise at 6 feet and some inches. "No way is Tom Cruise 5'10," one Twitter user wrote, adding a laughing emoji. The Daily Mail also hypothesized that Cruise must have been wearing shoe inserts to make him seem taller. 
This is far from the first time the media has speculated that Cruise employs tricks to boost his height on the red carpet. Following the premiere of "Knight & Day" in 2010, HuffPost noted how Cruise appeared to stand shoulder-to-shoulder with Cameron Diaz, who is reportedly 5-foot-9 and, like Middleton, had on high heels. But Twitter users also used Morgan's jab to criticize this trend. "Is that news? ... So what. Heightist," one wrote.