Inside Kaley Cuoco's Friendship With Zosia Mamet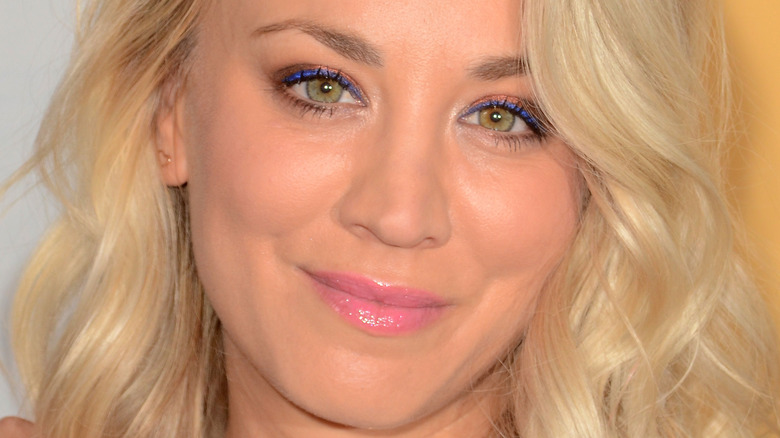 Kathy Hutchins/Shutterstock
Kaley Cuoco showed TV fans a whole new side of her abilities with her rendition of Cassie Bowen in "The Flight Attendant." After skyrocketing to fame playing the sexy Penny for 12 years in "The Big Bang Theory," Cuoco could very well have fallen into typecast territory. But she proved everyone wrong and it took her no time at all. As soon as the HBO Max thriller premiered in late 2020, she impressed critics, not only through her portrayal of the alcoholic flight attendant, but also her role as producer, Deadline reported.
In the show, Cuoco finds herself embroiled in a crime when she wakes up next to a dead passenger in a hotel in Bangkok, with nothing but a hangover as a reminder of the events of the previous night. Cuoco's Cassie navigates the mess she's gotten herself into with the help of best friend Annie Mouradian, who, thankfully for Cassie, also happens to be a lawyer. "Annie has been put through the wringer by Cassie," Zosia Mamet, who plays Annie, told The Playlist.
But in the process, Annie is forced to realize she isn't as perfect as she thought she was. In her eyes, the friendship between the protagonists is at the heart of the show. "Kaley and I joke about the fact that Annie and Cassie are the true love story of 'The Flight Attendant,'" she said. As they crafted the dynamics on-screen, Cuoco and Mamet developed a powerful friendship behind the scenes as well.
Kaley Cuoco and Zosia Mamet's have two matching tattoos
Kaley Cuoco and Zosia Mamet never met before their audition. But that audition was all they needed to learn they were going to be in each other's lives for the long haul. Before jumping into the lines, producers wanted Cuoco and Mamet to do a "chemistry read," Mamet told The Hollywood Reporter in June 2021. They instructed Mamet to get playful, so she sat in the room pretending to be on her phone. "Kaley walked up and bopped me on the nose, which wasn't in the script, and I immediately swatted her hand away like, 'Don't do that,'" she recalled. And just like that, Cassie and Annie were born. "It was this immediate spark of chemistry between the two of us," she added.
Cuoco and Mamet have been inseparable since. It only takes a quick peek on their social media to get a sense of how much the two care about each other. In April, Cuoco and Mamet debuted not their first, but second matching tattoos, a homage to that special day that ignited the relationship. "I 'booped' you many years ago @zosiamamet. Glad we made it official," Cuoco captioned an Instagram post featuring the new ink on their inner biceps. The friends and co-workers first eternalized their friendship on flesh in October 2020, when they got matching paper planes. "After a full year and many adventures together we decided to get a little memento," Mamet wrote on Instagram.
Zosia Mamet helped Kaley Cuoco through her divorce
Kaley Cuoco announced her divorce from Karl Cook in September 2021 when she was filming Season 2 of "The Flight Attendant." While her career was enjoying some of its most memorable moments, her personal life was a lot less ideal. "This year, I wanted to be very upfront that it wasn't my best year, and I've been very sad," Kaley said on "The Kelly Clarkson Show" in April. Thankfully, she had Zosia Mamet by her side.
"She helped me so much through Season 2," she told Clarkson. "She basically lived with me the last few months of shooting, we just moved in together, and I don't think I would've gotten to work some days without her." Even on Mamet's days off, she showed up on set anyway to give Cuoco the strength she needed to work. The experience was new to Cuoco, who was used to depending on nobody but herself. "I never thought I had to depend on anyone like that before and I really depended on her," Cuoco detailed. 
Mamet is just as grateful to have Cuoco in her life. "Getting to work with Kaley at any point is a joy. We obviously love each other in real life as well and have had this epic friendship blossom," Mamet told The Playlist. At this point, Mamet knows her relationship with Cuoco will continue long after "The Flight Attendant" wraps up. "I can't imagine life without you," she gushed on Instagram.