How Maisie Williams Became Friends With Kourtney Kardashian And Travis Barker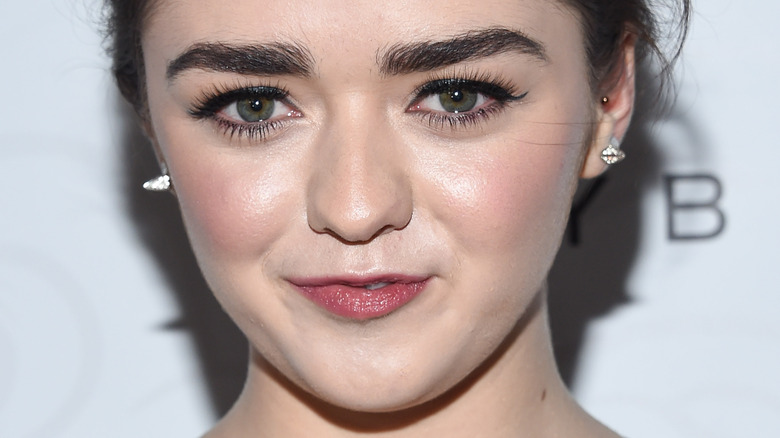 DFree/Shutterstock
The 2022 Met Gala was packed with high-profile celebrities wearing outfits created by some of the most famous designers in the industry. Thom Browne, a notable designer featured at this year's gala, undoubtedly dominated the event with beautiful looks designed for a plethora of household names. He dressed stars such as Lizzo, Evan Mock, Charles Melton, and plenty others, according to GQ. And despite the long list of celebrities turning heads at the event, Browne truly outdid himself with one couple's looks in particular: Travis Barker and Kourtney Kardashian.
"A massive thank you to @thombrowne for your vision," Kourtney wrote on Instagram. "When I heard that Travis and I were the first couple you had dressed, how important it was to you that our story be told, for us to be an extension of each other, it meant so much to us."
And while the duo was grateful for Browne's vision and talent, Kravis can also thank him for some new friendships formed at his Met Gala table. Maisie Williams, an English actor also dressed by Browne, took the opportunity to get to know the couple at the Met Gala and spoke highly of them in a recent interview.
Kravis and Maisie were fast friends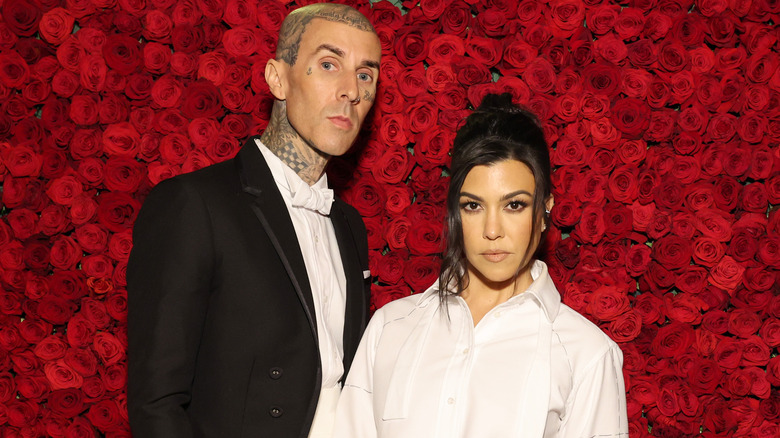 Cindy Ord/mg22/Getty Images
Despite how it may look, Kourtney Kardashian and Travis Barker aren't always locking lips. Besides PDA, the couple also values taking the time to get to know people they haven't met before. Maisie Williams decided to strike up a conversation with the pair at the 2022 Met Gala after they were sat together at Thom Browne's table. Within what seems to have been a matter of minutes, a friendship was formed. The actor opened up about the experience during an interview on the "The Tonight Show Starring Jimmy Fallon," revealing her new show "Pistol" gave her a reason to connect with the lovebirds. 
"They did dress up as Sid and Nancy for Halloween a year ago. So then my thought was, 'I'm in a show and Sid and Nancy are in that show and I'm in it too, and so hi!'" she recalled. Kravis then replied, "Great! We can't wait to watch it." Williams said that's all that it took. "And that was it. We were best friends," she laughed.
Barker and Kardashian have been beyond busy lately. Following their appearance at the Met Gala, Kravis secretly tied the knot at a Santa Barbara courthouse, according to Entertainment Tonight. TMZ reported that an intimate celebration is set to take place in Portofino, Italy, this weekend at a castle next to the harbor, while an even bigger celebration will take place in LA in the near future. We wonder if Williams made the guest list.