Kourtney Kardashian And Travis Barker Seemingly Left Some Important People Out Of Their Big Day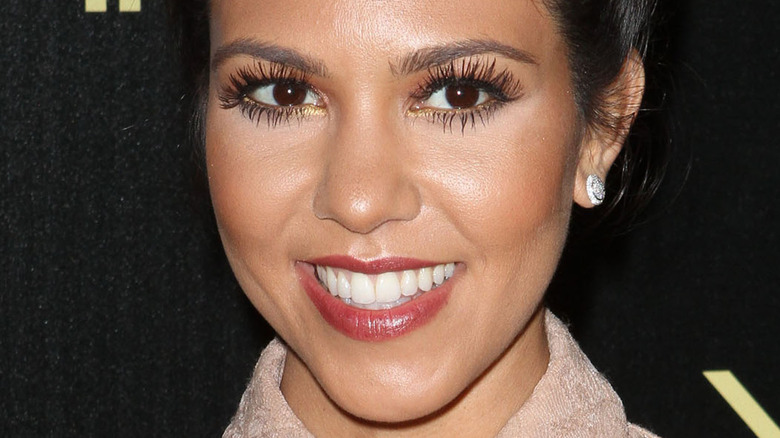 admedia/Shutterstock
After 10 years of waiting for the father of her three children to put a ring on it, Kourtney Kardashian finally got to have her big day — but with another guy. She said "I do" to Travis Barker on May 15 in Santa Barbara. The couple had undergone a trial run after heading to the chapel in Las Vegas during Grammys weekend. Per TMZ, Kardashian and Barker swapped vows and locked lips at the One Love Wedding Chapel in the early hours of the morning, following his live Grammys performance.
The pair was determined to keep the ceremony on the down-low, taking along their own security and photographer to ensure privacy. The chapel's owner acted as a witness and an Elvis impersonator officiated. However, what happens in Vegas stays in Vegas because the Sin City wedding wasn't legally binding, as they didn't have a license. All the paperwork was in order for their surprise second round, though.
Once again, TMZ was first with the scoop. Kardashian wore a white dress, and Barker donned a black tux to get married outside Anacapa's downtown courthouse. Plenty of bodyguards were milling around to prevent curious onlookers from getting too close to the couple. However, there weren't many guests in attendance to wave off the newlyweds as they sped away in a convertible lowrider with the ubiquitous "JUST MARRIED" sign attached. Sadly, Elvis wasn't invited this time. Kardashian and Barker seemingly left some other important people out of their big day, too.
Kourtney Kardashian's kids apparently missed the big moment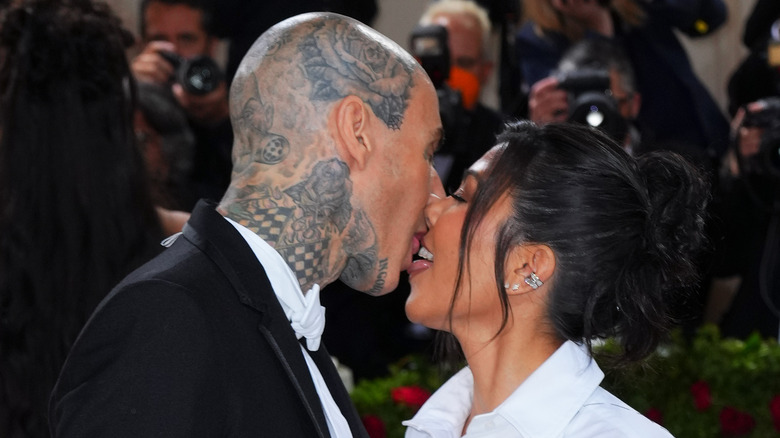 Gotham/Getty Images
Kourtney Kardashian and Travis Barker seemingly left some important people out of their big day, such as her three children. While Barker's kids apparently didn't attend the ceremony, the love birds made a post-wedding cameo in his daughter Alabama's TikTok (via In Touch). Meanwhile, per Scott Disick's Insta Story, Kardashian's kids were with him on their mom's wedding day. The self-appointed "Lord" shared videos and photos of Mason, Penelope, and Reign Disick. "Living the dream," he captioned a pic of Reign lazing around on a sunbed.
Penelope has already made her feelings clear about Kardashian's whirlwind relationship. In episode 4 of "The Kardashians," the 9-year-old burst into tears and hung up after being surprised by her mom's engagement news during a FaceTime call. "I feel bad for P," Kardashian told her sister Kim. She admitted the kids may have felt "more included" in her new romance if they'd been invited to attend the proposal like Barker's were.
According to Us Weekly, Kardashian's grandmother MJ attended the couple's courthouse wedding, and an insider spilled that a third wedding is on the horizon to include more family and friends. While fans will have to wait for more deets on that, the newlyweds are already planning on adding to the family. The couple was filmed attending an appointment with a fertility specialist. "Travis and I want to have a baby," Kardashian announced on the Hulu show. Barker held and kissed Kardashian's hand as she lay on a gurney, undergoing fertility tests.