How Elon Musk Really Feels About Johnny Depp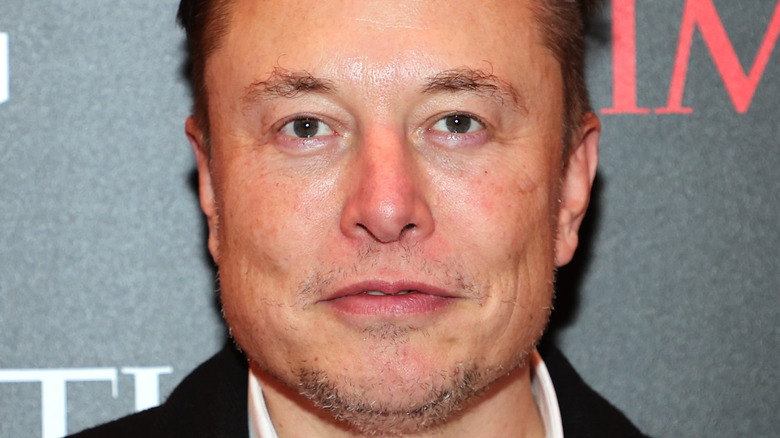 Theo Wargo/Getty Images
Elon Musk doesn't hold back when it comes to voicing his opinions, which he seems to have about anything and everybody. The billionaire is renowned for his bizarre and controversial tweets. A small sample of the most contentious ones include branding President Joe Biden as "a damp [sock] puppet in human form," declaring that the COVID-19 pandemic "panic" was "dumb," and musing about becoming "a full-time influencer."
So, it's no surprise Musk has an opinion about Johnny Depp, given that he dated the actor's ex-wife, Amber Heard, for a hot minute in 2016. Musk and Depp's relationship is far from friendly; they've had beef ever since it was alleged Heard seeing Musk before splitting from Depp. Musk shot down the reports and dished out some relationship guidance to the warring exes, telling Page Six in 2020 they should get over their drama and "bury the hatchet."
The former couple clearly ignored his words of wisdom, though, as they continue to attack and humiliate each other in court. First, during Depp's (unsuccessful) defamation lawsuit against The Sun over the tabloid branding him a "wife beater," and second, during Depp's defamation lawsuit against Heard over a Washington Post op-ed that she wrote about being a survivor of sexual violence. Musk found himself dragged into the bitter courtroom battle after his relationship with Heard was placed under the spotlight. And he was none too happy about it, as evidenced by how Musk really feels about Depp.
Elon Musk was dragged into Johnny Depp's court drama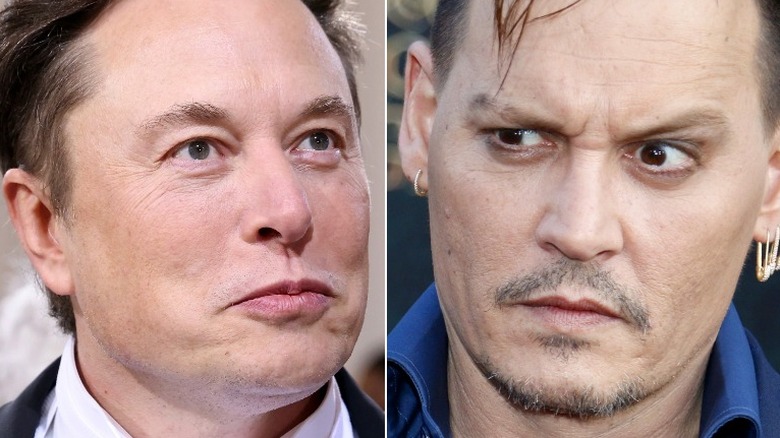 Taylor Hill/Getty & Tinseltown/Shutterstock & undefined
How Elon Musk really feels about Johnny Depp is heavily influenced by Amber Heard, and his relationship with her became a focal point in both of Depp's high-profile lawsuits. Metro reports that Heard appeared in tears as Depp's former agent testified during her trial in Virginia. In a recorded deposition, Christian Carino claimed Heard and Musk began dating "immediately after" her split from Depp.
Carino also expanded on a text exchange between him and Heard following her split from Musk. He testified that she messaged him about being upset over "dealing with the breakup," per Metro. Carino said he told her he didn't get why because she hadn't loved Musk and had said "1,000 times [she was] just filling space" by seeing him. "I hate that yet again a man lets me fall on the spikes by myself," Heard replied (per Us Weekly), claiming men were mean to her as revenge for being dumped.
Musk was previously dragged into the fray during Depp's lawsuit against The Sun in 2020, when Heard again testified that Depp's explosive rages had played a significant role in her leaving him. Heard alleged Depp flew into a jealous fury over allegations that Heard was cheating on him with Musk, per The US Sun. In a text Depp allegedly sent, he threatened to slice off "Mollusk's" genitals, which very likely contributed further to Musk and Depp's beef.
Elon Musk is definitely #TeamAmber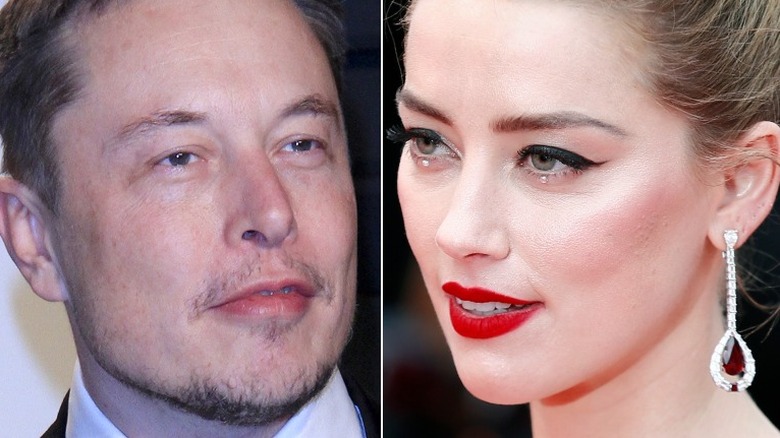 Andrea Raffin & Kathy Hutchins/Shutterstock
Elon Musk has made it clear how he really feels about Johnny Depp. After hearing Depp allegedly threatened to cut off "his d***," Musk responded in classic Musk style by challenging the actor to duke it out. "If Johnny wants a cage fight, just let me know," Musk told The New York Times. The billionaire also shot down attorneys' allegations that he'd been hooking up with Heard prior to her split from Depp. "I definitely was not having an affair with Amber while she was married to Johnny; this is totally false," Musk insisted. He also denied rumors that he, Heard, and Cara Delevingne had engaged in a threesome.
Despite Depp's former agent claiming Heard had just been filling space by dating Musk, the two have remained tight following their short-lived romance. "Btw, just to clear up some of the press storms this weekend, although Amber and I did break up, we are still friends, remain close, and love one another," Musk tweeted in 2017, per Page Six. He also admitted to Rolling Stone that he'd been "really in love, and it hurt bad" when they split.
The head of the ACLU testified in April that he believed Musk had coughed up half a million dollars on Heard's behalf to help fulfill a pledge she'd publicly vowed from her $7 million divorce settlement from Depp. If words and donations are any indication, Musk likely isn't pulling for Depp in his defamation lawsuit battle.