Bam Margera Proves To Fans He's Committed To Staying Sober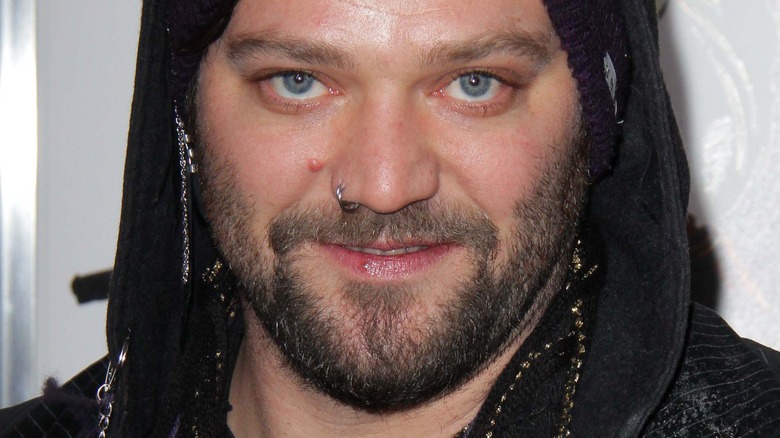 s_bukley/Shutterstock
Substance abuse has had a direct impact on Bam Margera's career. The "Viva La Bam" star first entered rehab in 2009. At the time, he was hospitalized due to hydration during a four-day "drinking bender" that was influenced by marital issues. "I may get a divorce ... booze helps," he told TMZ. Per Complex, the professional skateboarder wound up leaving rehab before completing the program. Years later, in 2017, Margera put down the bottle after making appearances at nightclubs became his sole means of income. "Once I woke up in my own puke and piss, I knew I had to cut it off," he told People in 2017. The "Jackass" star had quit skateboarding for five years thanks to bone spurs, and had to start from scratch once he was sober and skating again. "I had to relearn all my tricks," he revealed.
The MTV star fell back into old habits leading up to the filming of "Jackass 4," which led to him being fired from the production. Margera bashed his former co-stars. "So, my family, Jackass, has betrayed me, abandoned me, rejected me," he said in a video clip uploaded to Instagram in May 2021, naming Johnny Knoxville and Jeff Tremaine as the main culprits. Steve-O took issue with Margera's post, and defended Knoxville and Tremaine for being two people who helped him get sober.
A year later, Margera was not only sober himself, but proved his resolve to remain sober with a bold decision.
Bam Margera injures himself skateboarding
During a break from an Alcoholics Anonymous meeting, Bam Margera decided to kill time by pulling off tricks on his skateboard. The former MTV star wound up wiping out, breaking his wrist and dislocating his elbow, per TMZ. It was the tenth time Margera had broken that wrist, but this time around he opted to not take any pain medication in order to maintain his sobriety. The injury came only days after the "Jackass" star had celebrated one year of being sober on May 16. Even after completing a year of treatment, Margera continued the rehab program as an outpatient, and around that time he got an apartment with his wife and child near the facility, per TMZ.
One day after the anniversary, Margera posted a video clip to Instagram where he showed off a few tricks on a skateboard ramp. The "Epicly Later'd" star included the hashtag "#sobersession" in the caption, and received an outpouring of support from fans. "Hes Bam Margera what will he do next. Whatever the f*** sobriety brings!" one follower commented. "Dude look how much better you can skate! F***in beyond happy for you," another added.
After getting patched up by doctors, Margera shared a photo to Instagram on May 22 that featured his right arm in a cast. "Try & stay off the opioids to stay clean on your sobriety!" one follower suggested, but Margera was well ahead of them on his road to recovery. 
If you or anyone you know is struggling with addiction issues, help is available. Visit the Substance Abuse and Mental Health Services Administration website or contact SAMHSA's National Helpline at 1-800-662-HELP (4357).