Fashion Expert Says Kourtney Kardashian's Wedding Style Will Kickstart A Bridal Revolution – Exclusive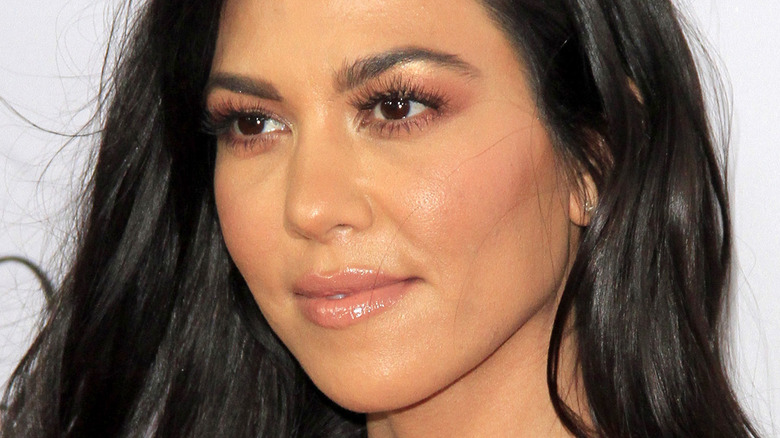 Kathy Hutchins/Shutterstock
The Kardashian family seems to take turns in the headlines, and now the spotlight is firmly on oldest sister Kourtney Kardashian at the moment, with her May 22 wedding to Blink-182 drummer Travis Barker — the third celebration thus far.
Kardashian and Barker married, again, in a lavish, "Catholic"-style wedding that has caused a bit of a stir. After legally marrying in a Santa Barbara courthouse on May 15, per TMZ — which happened weeks after an April 4 middle-of-the-night "practice run" at a Las Vegas chapel with an Elvis Presley impersonator — Kardashian and Barker decided to do it up big in a castle in Portofino, Italy. And yet, also perhaps surprising, Kardashian's wedding dress was very similar looking to the one she wore to the Santa Barbara courthouse.
In Kardashian and Barker's Italian wedding, Kardashian traded in the traditional Victorian-style long gown for a custom-designed Dolce & Gabbana corset-style white mini dress with lace fringe, per People — essentially fancy underwear. Barker, and the whole Kardashian family, also wore Dolce & Gabbana. With it, Kardashian wore a hugely elaborate, cathedral-length lace veil with an embroidered visage of the Virgin Mary, that matched the enormous tattoo on Barker's head. The ensemble did what the Kardashians, in general, do best: got people talking. Now Nicki Swift has the official word from a fashion expert on Kardashian's wedding fashion statement, and how it's likely to start a bridal revolution.
Fashion guru expects Kardashian's dress will start a trend
In an exclusive interview, Nicki Swift has the hot take, and future predictions, from fashion expert and TV personality Cindy Conroy on Kourtney Kardashian's luxurious wedding fashion. "Kourtney's sweeping veil is proof that beauty exists," Conroy said, estimating that the elaborately embroidered veil took more than 80 hours to make, and likely cost between $1,000 and $5,000. "So ornate and yet romantically demur, it's fabulosity and simplicity at its finest."
With groom Travis Barker and the entire Kardashian family all appearing in Dolce & Gabbana, fashion mags, like Vogue, are saying the wedding embraces "La Dolce Vita style." Conroy explains the movement, which is based on the 1960 Federico Fellini film of the same name. "There's a sweetness to life and La Dolce Vita style is all about the extravagant glamour that is the backdrop," Conroy says. "It's a stylized tone that is indulgent, yet magically understated and fresh."
Referring to the much talked about minidress Kardashian wore for her nuptials, Conroy is sure it will start a big new trend. "In true Kardashian form, Kourtney has sparked a wildfire of bridal revolution," Conroy states emphatically. "Brides everywhere will want this short dress and long veil look for their own special day. So get your engines ready, because this trend is about to kick off." But given the backlash from many online, others aren't so sure the trend will be that successful.
Kardashian's wedding vibe didn't impress everyone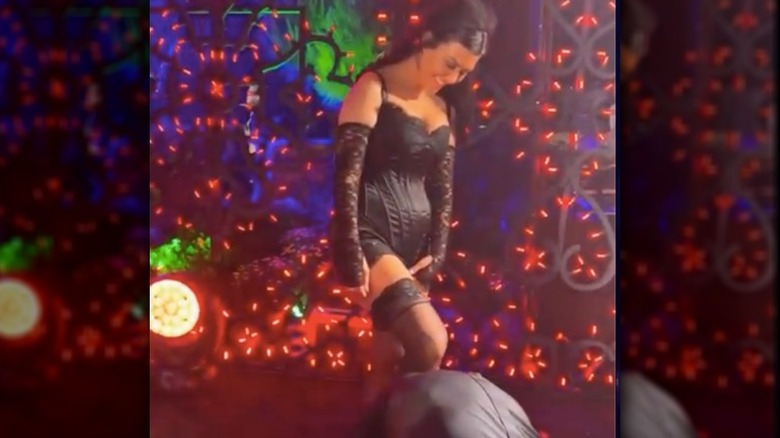 Alabama Barker/Instagram Stories
Fashion mags may drool over Kourtney Kardashian's corseted mini-dress and epic veil, but not all her fans are happy with her sartorial choices. At least one fan expected her to wear a long, if not traditional, dress. "I was ready for a huge wedding and beautiful wedding dress and she gave nothing," they tweeted.
Many didn't like the lack of "dress" to the dress, with one tweeting, "Looks like lingerie lopped on a slip all it needs is garter and stockings." Another threw shade at Kanye West in the process: "...was Kanye involved in that dress pick. It's a wedding not a lingerie show." Another joked that it must have been a mistake, saying "I'm just going to assume they forgot the dress in LA so she just wore the undergarments for funsies instead." Worse, however, is some were offended by the Catholic symbols on Kardashian's veil, particularly paired with the lingerie-style dress. "Wearing religious symbols dressed like a stripper, its offensive," one person penned. 
Of course, some trends aren't always popular at first — and as the old saying goes, to each their own.