What Happened To Britney Spears' Relationship With Colin Farrell?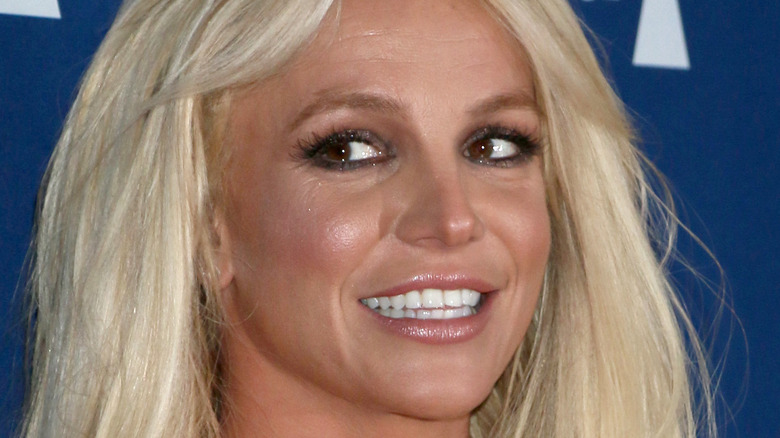 Kathy Hutchins/Shutterstock
Before the "Free Britney" movement, Britney Spears was a chart-topping superstar with international recognition. The young star posed for numerous magazine covers and walked many red carpets. And while Spears is certainly still a household name who attracts a lot of attention wherever she goes, things were a little different before her surprise wedding to Jason Alexander to 2004, per Today — followed by her second wedding to back-up dancer Kevin Federline in 2005. 
Of course all that attention came with a lot of scrutiny. Back in 2003, Anderson Cooper "jokingly" announced on his CNN show that Spears was no longer a virgin. Not only that, in 2004, Diane Sawyer also grilled Spears during an interview with ABC News only a few days after she broke up with Timberlake. In a since-deleted Instagram post, Spears slammed Sawyer and the interview in 2021 by writing, according to People, "Something I never shared when I had that break up years ago was that I couldn't talk afterward ... two days later they put Diane Sawyer in my living room."
Around the time of the Sawyer interview, there was another high-profiled celebrity that Spears was most likely texting from her Razr cellphone: Colin Farrell.
Colin Farrell and Britney Spears' date was one to remember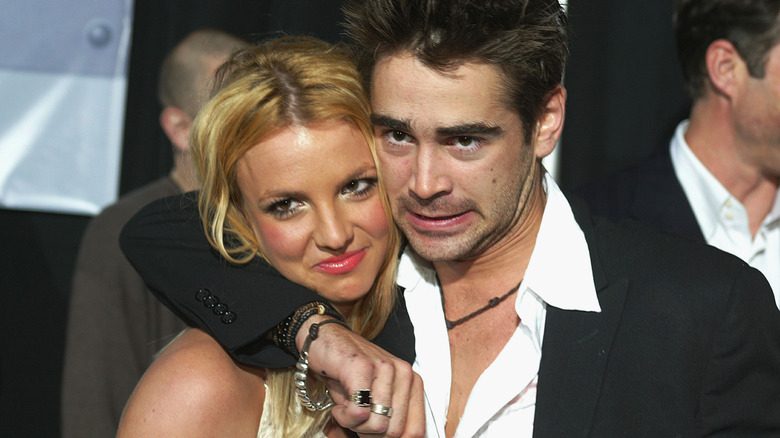 Kevin Winter/Getty Images
Back in 2003, the celebrity world was shocked when they saw Irish bad boy Colin Farrell wrapping his arm around Britney Spears' shoulders in what seemed like an amorous embrace for the red carpet premiere of his film, "The Recruit." 
It seemed like Farrell kept Spears so close that in almost every photo from that premiere, the two were cheek to cheek. However, according to Entertainment Tonight (via People), Farrell was most likely having a "good craic" as the Irish would say, as he told the news outlet at the time that he and Spears were just good mates, adding, "Seriously, we just met a week ago, (we're) having a laugh." 
A separate report from Entertainment Weekly suggested that Farrell and Spears' red carpet appearance that night was nothing more than a publicity stunt and that the "Toxic" singer quickly left the theater once Farrell's film was over. But because there's always three sides to a story when it comes to Hollywood — two sides and the truth — apparently there was more to Farrell and Spears' red carpet moment.
Colin Farrell wasn't exactly prince charming material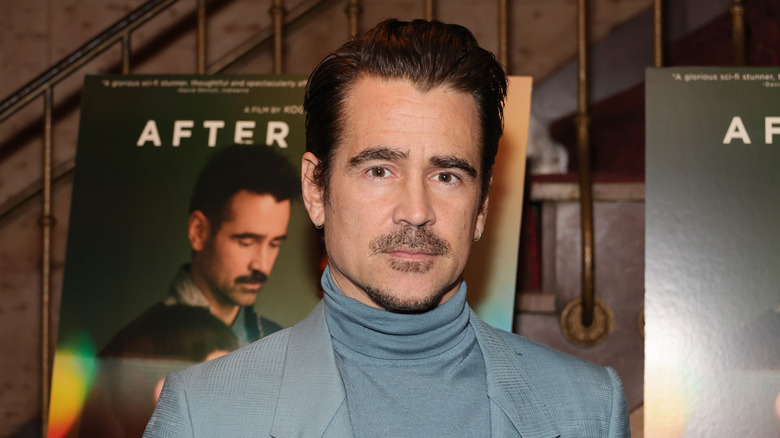 Theo Wargo/Getty Images
In an interview with W magazine (via Paper) during the summer of 2003, Britney Spears confirmed that she did lock lips with Colin Farrell but also admitted that they didn't share anything more than just a kiss. She said, "Yes, I kissed him ... He's the cutest, hottest thing in the world — wooh! ... But it was nothing serious." 
Celebrity memorabilia collector Bryan Ulrich also told the publication that he reportedly saw Farrell and Spears get rather up close and personal at an after party at The Chateau Marmont later that night. Apparently, Farrell didn't appreciate being labeled as "nothing serious" by one of the biggest pop stars in the world and as a result, reportedly, sent her a bumper sticker that read, "Honk if you've slept with Colin Farrell," and a shirt that read, "I slept with Colin Farrell and all I got was this lousy T-shirt," per the Telegraph. Spears was reportedly left livid over the bumper sticker.
While Farrell and Spears have not made any additional comments about their red carpet date and all of the speculation about that night, they have managed to do at least one thing together, and that's make everyone wish that today's celebrity gossip was just as juicy as it was back in 2003.