The Scary Reason Kim Kardashian Is Taking Legal Action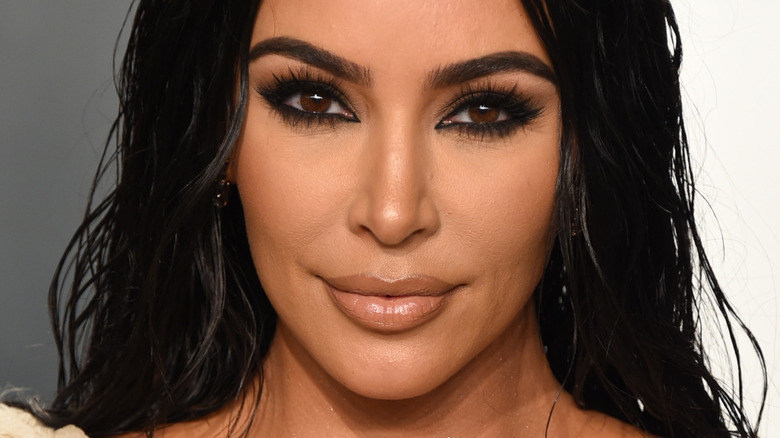 John Shearer/Getty Images
Kim Kardashian began dating her current boyfriend, Pete Davidson, months after she announced she would be filing for divorce from her former husband, Kanye "Ye" West. The new couple has actually known each other for quite some time. In 2019, they both attended Kid Cudi's birthday dinner along with Ye, who posed alongside Davidson for group photos taken by Kardashian. There didn't seem to be animosity between the two years ago, but things changed when Ye had concerns about Davidson's romance with Kardashian. West shared the throwback photo from Cudi's celebration with a big red X over the comedian's face, per E! News, along with a barrage of other online attacks.
Ye encouraged his followers to go after Davidson in many Instagram posts, but later retracted his comments after Kardashian reached out to ask him to stop. He captioned a now-deleted photo, "UPON MY WIFE'S REQUEST PLEASE NOBODY DO ANYTHING PHYSICAL TO SKETE I'M GOING TO HANDLE THE SITUATION MYSELF." Amid their feud, the rapper shared a music video for his track "Eazy," which featured a clay version of Davidson. In the video, Davidson's figure is kidnapped, tied up, and buried. A source told People that Kardashian was "really upset with Kanye" for making it and thought it was "way too violent." 
While things between Ye and Davidson appeared to be all talk, threats toward the comedian and Kardashian from a complete stranger have now become a serious problem.
Kim Kardashian fears for her safety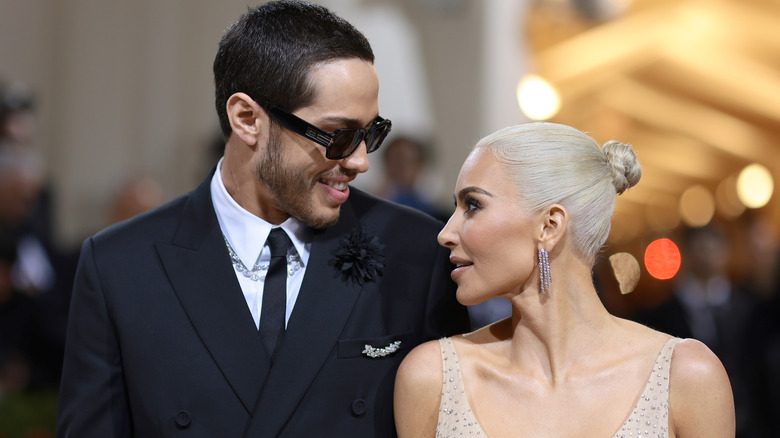 Dimitrios Kambouris/Getty Images
Kim Kardashian and Pete Davidson may have the support from their loved ones and countless strangers around the world, their romance has caught the attention of the wrong person. According to legal documents obtained by The Blast, one of Kardashian's alleged stalkers has threatened to kill Pete Davidson. The individual reportedly sent Kardashian over 30 letters that include multiple violent threats towards Davidson, saying that she and the comedian are on his "hit list" and even mentioned Kardashian's children.
In the restraining order filed by Kardashian, she explained, "I have suffered and continue to suffer, severe emotional distress. I fear for my own safety. I also fear for the safety of those close to me, my family, and others at my workplace." She continued, "I am concerned with a restraining order in place, he will continue to escalate his threats and will attempt to physically harm or even kill me." A court hearing for a permanent restraining order is set for June 13, according to The Blast. 
Unfortunately, this isn't Kardashian's first scary encounter with strangers. A trespasser was arrested in October 2021 for attempting to gain entry to Kardashian's home after sending her Plan B pills and an engagement ring in the mail, per TMZ. We're wishing Kardashian, Davidson and the star's family peace of mind amid the scary situation.