Kanye West Has A Strange New Concern About Kim Kardashian
Robin Marchant/Getty Images
There's no doubt that Kanye "Ye" West has a sizable beef against Pete Davidson. The "Saturday Night Live" star began dating Ye's ex-wife Kim Kardashian in late 2021, and they've been making headlines ever since. Ye is no stranger to sharing his feelings on social media when something is bugging him, and Davidson has been at the forefront of most of Ye's attacks amid his bitter divorce from Kim.
One of the more disturbing posts was from Ye's music video "Eazy." The upload included a claymation video of Ye and Davidson riding on a motorcycle, but Davidson had a bag over his head. When the pair arrived at their destination, Ye proceeded to bury Davidson six feet under. During most of Ye's rants, Davidson has remained tight-lipped; in fact, Davidson doesn't even have an Instagram account. But, he may have had enough.
In an alleged text message exchange with Ye, the star appeared to be fed up. "Yo it's Skete, Can you please take a second and calm down. Kim is literally the best mother I've ever met. What she does for those kids is amazing, and you are so f**king lucky that she's your kids mom," Davidson wrote, per Daily Beast. He also added that he wasn't going to be Mr. Nice Guy anymore, and when Ye asked Davidson where he was, he replied, "In bed with your wife." While some people like Jake Paul are calling for Ye and Davidson to duke it out in the boxing ring, the drama still continues on social media.
Kanye is worried Pete Davidson will get Kim hooked on drugs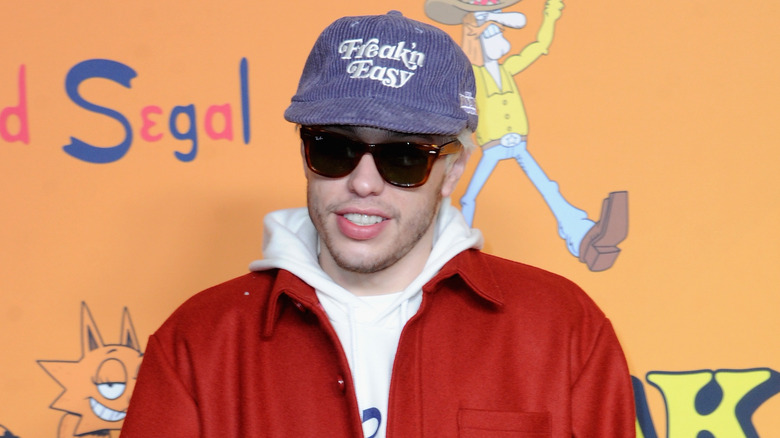 Albert L. Ortega/Getty Images
Kanye "Ye" West is at it again. The star has been known for going on social media rants, and he unleashed another in mid-March. The star shared what appeared to be a caption from a fan on his feed that read, "The way Skete used Kim's marital status too [sic] address Kanye was a sneak diss towards her & she didn't even catch it," referencing Pete Davidson's alleged aforementioned comment about being "in bed" with Ye's "wife." Ye added his own caption while addressing a strange concern. "Im really concerned that SKETE will get my kids mom hooked on drugs He's in rehab every 2 months," he claimed.
The same day, Ye shared an old headline on his Instagram that read, "Pete Davidson enrages audience with jokes about having sex with a baby," which Page Six noted was from a 2019 Breitbart article. "Yet another reason why SKETE gotta stay away from my children Oh and nobody noticed that he ain't show up to SNL Because Mr. I can help you with meds had a mental breakdown after we ran him off the internet," Ye wrote in the caption.
Ye ended with a stern warning for the star. "SKETE you not built for this I already blacked the Super Bowl out on you Apologize to your family for being in your family." The rapper also shared a still of him and Davidson from his "Eazy" music video and asked fans if they're ready for Coachella. It's only a matter or time until he does it again.