Why Kate Gosselin Rocked Her Iconic Hairstyle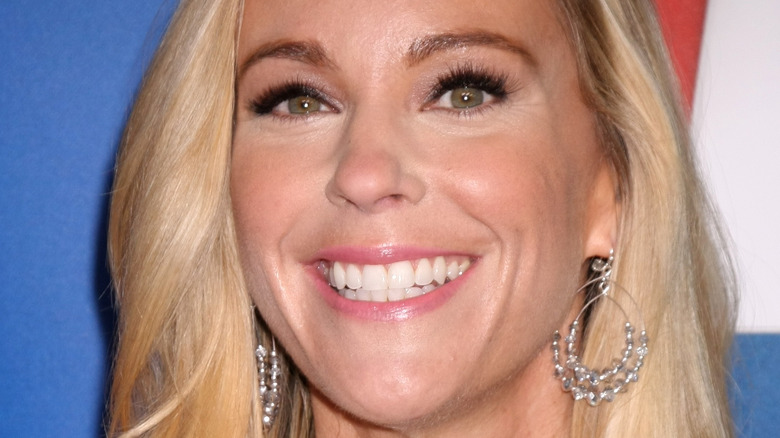 Kathy Hutchins/Shutterstock
Giving birth to sextuplets and appearing on a TLC reality series were reasons enough to make Kate Gosselin a tabloid sensation, but the "Jon & Kate Plus 8" star added a little something extra to the equation to further secure her spot in American pop culture history. Love it or hate it, her reverse mullet hairstyle with blond highlights is one of reality TV's most memorable looks, and it's become inexorably linked to an unflattering stereotype.
When the internet decided that "Karen" was a name befitting racist white women in 2020, the proliferation of memes that ensued inspired an inevitable Halloween costume. Per the New York Post, it included a wig that looked suspiciously like Kate's infamous coif: A bob and pixie cut stitched together. But by the end of 2021, less severe variations of the look — now deemed a "bixie," per Allure — were making a comeback.
Kate was rocking a much different hairstyle when she and her now-ex-husband, Jon Gosselin, welcomed six children in rapid succession in 2004 — a shaggy, brunette bob with feathered bangs. But by 2009, she was blond with side-swept bangs that would make the center-part enthusiasts on TikTok gasp in horror. Her sleek and spiky pixie cut looked familiar to stylish "Project Runway" star Christian Siriano, who quipped to Us Weekly, "Is she trying to rock my look?" But Kate later explained that her haircut had nothing to do with looking trendy.
Kate Gosselin explained her haircut after being compared to Justin Bieber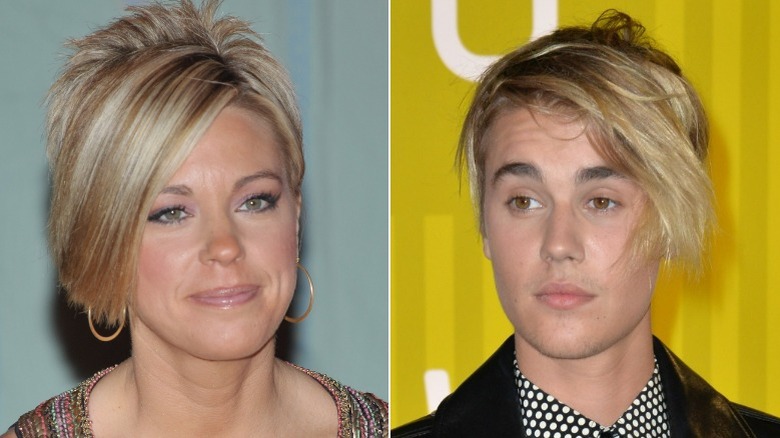 Featureflash Photo Agency/Shutterstock & Dr. Billy Ingram/Getty Images
Christian Siriano admitted that he was actually a fan of Kate Gosselin's divisive hairdo, even comparing it to Jennifer Aniston's iconic "Friends" haircut. The designer dished to Us Weekly in 2019, "I know so many women who are literally obsessed with that hairstyle." Gosselin's cut was such a big deal at the time that Us Weekly photoshopped it onto the scalps of A-list celebs, including Jennifer Lopez and Rihanna.
We also got to see Justin Bieber rocking "The Kate" in 2015 when he experimented with a strikingly similar hairstyle. "It's okay, he can have it!" Gosselin quipped to Cosmopolitan while discussing the pop star's edgy new look. She also shared the origins of her trendsetting pixie with pizzazz. "It was more of a way to avoid having all-day bed head when my focus was on eight kids, all of whom were 5 years old and younger!" she explained. "I got up and it looked the same as when I went to sleep!"
Many of Kate's adoring fans took a page from Bieber by trying to steal her hassle-free hairstyle, but she threw a little shade at some of her imitators when she warned that not everyone can pull it off. "I have very, very thick hair, so it's not going to work for everybody," she told Entertainment Weekly in 2009. "I've seen people come through the book line with thin hair and it just won't work."