Rumer Willis Shares The Sweet Way She's Been Spending Time With Her Dad Bruce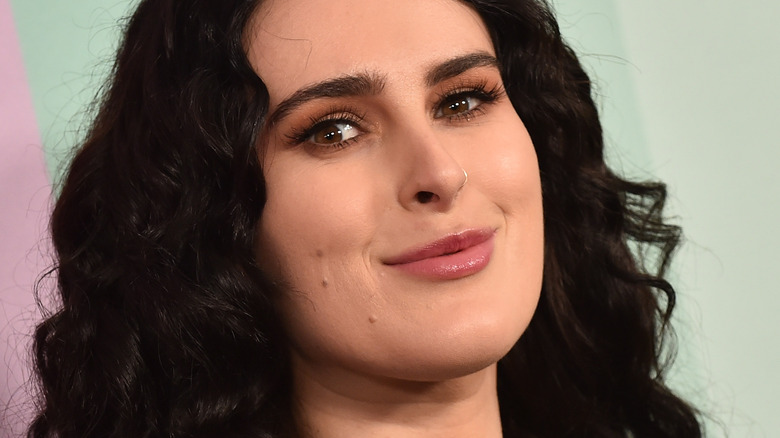 DFree/Shutterstock
Since his family announced that Bruce Willis would be stepping back from acting due to his aphasia diagnosis, his oldest daughter Rumer has been sharing some emotional updates and favorite memories with her dad on her Instagram. The throwback pics Rumer has posted to Instagram include a lot pictures from her childhood. In one, she's making a funny face, which she captioned, "Thank you for teaching me to be so silly. I love laughing with you," she wrote. In another, young Rumer and Bruce are making matching winking faces at the camera. One especially touching photo that she posted to Instagram shows Bruce kissing her on the forehead, captioned, "P A P A." 
On May 24, Rumer provided a new update on the extremely sweet way she's been spending time with her father. And while the legendary actor's daughter is obviously cherishing her memories with him, she's also spending time these days making new memories with Bruce — even if it's not quite the same.
Rumer Willis is playing guitar for her dad
On May 24, Rumer Willis posted a picture of herself holding an acoustic guitar to her Instagram, along with the caption, "Out of practice but trying to play some tunes for my Daddio." Rumer's musical prowess has seemingly come into good use amidst father Bruce Willis' aphasia diagnosis. But even if Rumer can't have exactly the same kind of relationship with her father that she used to, she's obviously taking advantage of the time she does have to spend quality time with him. 
Aside from Rumer's posts, we have gotten some updates on Bruce's health. His wife Emma Heming, for instance, uploaded a video of the actor playing basketball to her Instagram Story (via E! News). The clip shows Bruce catching a pass and making a layup, which Heming captioned with, "I see you BeeDub." Other than that, we don't have a whole lot of new information from Bruce's immediate family. All we can say for sure is that his loved ones are making the most of every day.