Here's What Erin Andrews Looks Like Without Makeup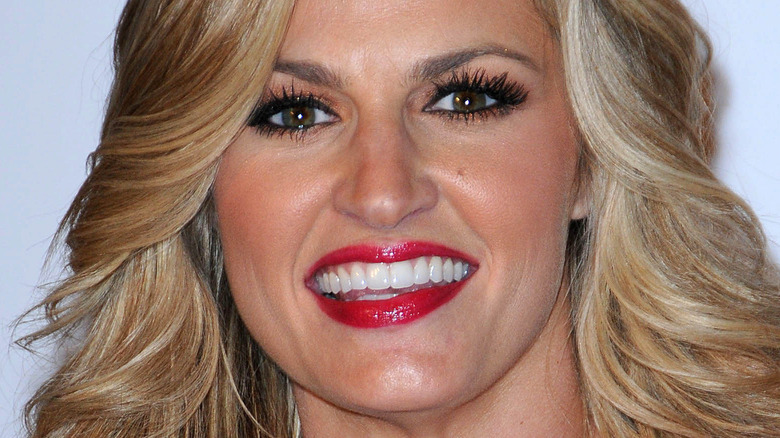 s_bukley/Shutterstock
Erin Andrews is gorgeous on the inside and outside, we know that already. The sportscaster is one of the most effortlessly gorgeous people on TV, so much so that she was even chosen to be the spokesperson for Covergirl cosmetics. But even she isn't immune to a beauty mistake or two over the years. The star admitted to StyleCaster in 2014 that, when she was younger, she tried a way of getting rid of her zits that she probably wouldn't recommend today — for obvious reasons. "I used to do the toothpaste on the zit, but then I had the whitening toothpaste that actually ate through my skin. That was really bad," she recalled. Ouchie! Andrews also revealed that one of the ways she keeps her skin glowing is with plenty of sun protection, particularly with her growing up in the Sunshine State, telling the outlet, "I definitely created a good amount of sun damage just being a little sun bunny."
But, sadly, being a woman in a typically male-dominated sports doesn't come without its own challenges. "My look, what I'm wearing, is always talked about. I think it's so sad that... we're apologizing for wanting to look good, wear a great lipgloss and then be questioned if I know sports," she told Us Weekly in 2014. You go, girl!
So, with all that confidence, what does the former "Dancing with the Stars" co-host actually look like without all the cosmetics?
Erin Andrews' skin is glowing
Erin Andrews has been pretty open about her beauty routine in interviews, so it's probably no surprise to know she's also shared an insight into what keeps her looking so youthful on social media. Back in November 2015, Andrews shared a selfie on her Instagram with pads under her eyes and without a stitch of makeup. She gave the camera a thumbs up with her hair pulled back and joked in the caption, "Guess who feels fresh??" The star appeared to be heading out, as she had sunglasses on her head and a bag on her shoulder. She didn't specify where she was heading to, though it's possible Andrews was getting ready to go to one of her many jobs where she'd be all made up. 
As for the makeup she wears when she's in front of the camera? Andrews has admitted that during her stint on "Dancing with the Stars" she could be in the makeup chair for upwards of five hours. "Then they do touch-ups during commercial breaks and everything too. It's a lot. But I try to keep it natural. In general we try to keep the focus on the clothes," she explained to Glamour in 2014. She also admitted that smoky eyes aren't really her thing, noting she finds a lot of eye makeup a bit too heavy while revealing, "Even though we keep the makeup pretty clean, we definitely pile on the lashes."
Erin Andrews keeps things natural
Though she usually goes for a more glam look when she's hosting big time football games and shows, Erin Andrews actually tends to keep things a little more natural when it comes to her podcast. Andrews regularly shares footage on Instagram from the recordings of "Calm Down with Erin & Charissa" (which she hosts alongside Charissa Thompson), in which she can be seen showing off her blemish-free skin and casual attire like hoodies and sweats. And we have to say, she looks totally gorgeous!
But when she does opt for a few more cosmetics, Andrews has a strict regime for making sure her skin stays so flawless. "I don't necessarily have bad skin, but I wear a lot of makeup a lot of times, and it's on my face all-day long. I go from being on the field to being on the plane and I don't always get to wipe it off right away," she told New Beauty in September 2021, revealing she'd adopted Rosie Huntington-Whiteley's skincare routine.
But while Andrews might sometimes turn to others to help her with her glam look, she'll often do her own makeup before games. When asked by Elle in 2014 what tips and tricks she's learned when doing things for herself, she admitted it's important to stay hydrated under her eyes. "With all the concealer it's important to moisturize. My makeup artist taught me to use Neutrogena hand cream underneath my concealer to freshen things up," she said.