Why Emily Ratajkowski Continues Modeling Despite Issues With The Industry
Ovidiu Hrubaru/Shutterstock
Emily Ratajkowski is one of those people that no longer need an introduction. One of the most recognizable faces (and bodies) of our generation, she has made a name for herself in the modeling industry and, ironically, it's the very same sector she criticizes.
In her book aptly called "My Body," which contains a collection of essays about treading the line between empowerment and condoning objectification, the "Blurred Lines" star opened up about how the industry exploits aspiring models, as she once was. She wrote about how agents would disregard her safety just to score a project and how she only bagged gigs after a drastic weight loss. "I caught a terrible stomach flu and lost ten pounds in one week. After I recovered, I kept the weight off, realizing that I was booking more shoots with my thinner body," she wrote (via Barnes & Noble).
Even though Ratajkowski is blithely aware of how predatory the industry she's operating in is, she continues to capitalize on it, but not solely for selfish reasons.
Emily Ratajkowski wants to take back control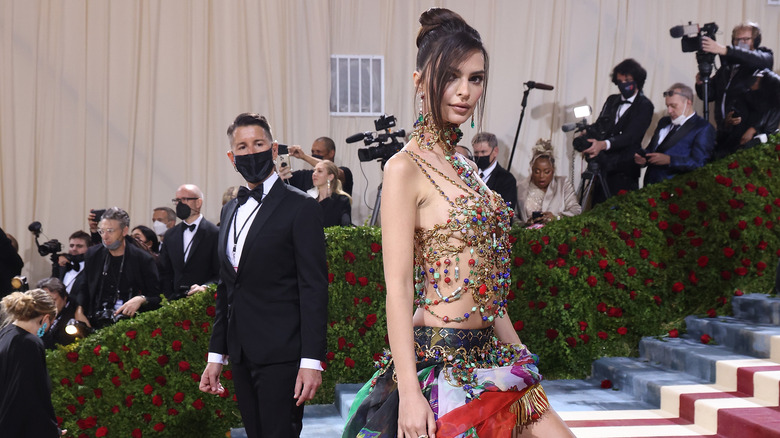 Taylor Hill/Getty Images
Emily Ratajkowski recognizes that the modeling industry has a long way to go when it comes to valuing models, and while she isn't actively working on revolutionizing it, she says she "carves out control where I can," especially now that she has gained popularity. In the book, she wrote (via CNN), "The industry really teaches you that you're replaceable, and that the less agreeable you are, the less likely you are to be hired. That felt very scary when I was a young model doing it for money. But the other thing is that I'm in a different position. Now, I'm not an unknown model."
But she has also arrived at the realization that she has benefitted much from the male gaze. "Whatever influence and status I've gained were only granted to me because I appealed to men," she added, per People. "My position brought me in close proximity to wealth and power and brought me some autonomy, but it hasn't resulted in true empowerment. That's something I've gained only now, having written these essays and given voice to what I've thought and experienced."
And in her decision to remain a cog in the machine, she also confesses that she's "complicit," but she says so is everyone else. "I am complicit. But I also think it's a mistake to shame a young woman for wearing a tight dress because she wants to be noticed by someone powerful," she proclaimed. "I don't think that we should continue to criticize women for saying, 'This is how I can succeed and capitalize off of my image or my body.'"
Emily Ratajkowski on influencing other women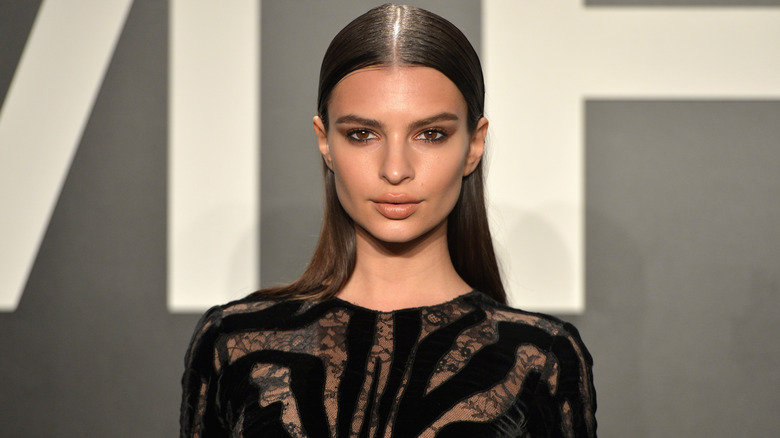 Charley Gallay/Getty Images
Some may criticize Emily Ratajkowski for not doing enough to spark change in the industry she's condemning, but at least she is self-aware of her role in it. "I would never tell a young woman not to model because I have had the success and the financial success to be able to buy myself time to write this book," she wrote, per The Times. "And I have the ability to have this book be talked about in a way that an unknown writer wouldn't — and that's power. And that came through commodifying my image and my body."
But if there's one thing she wishes, it's that women should be celebrated without being exploited. "I hope that with my modeling and with the things that I do, I'm able to walk that line and show young women who are developing and becoming sexual that they don't have anything to be embarrassed about," she told Maxim in 2015. "And instead of being exploited, it's something they embrace and feel empowered by."
As for modeling, she's going to keep at it because it's something that she enjoys doing, in the grand scheme of things. "I enjoy modeling. I feel that acting is more fulfilling for me, and you definitely have a lot more to contribute as an actress than you do as a model, but that being said, when I shoot with a really incredible photographer, it's exciting and inspiring," she added. "And also, it's something I'm good at, so why would I not like doing it? But I don't feel any shame or wanting to distance myself."