The Truth About Emily Ratajkowski And Robin Thicke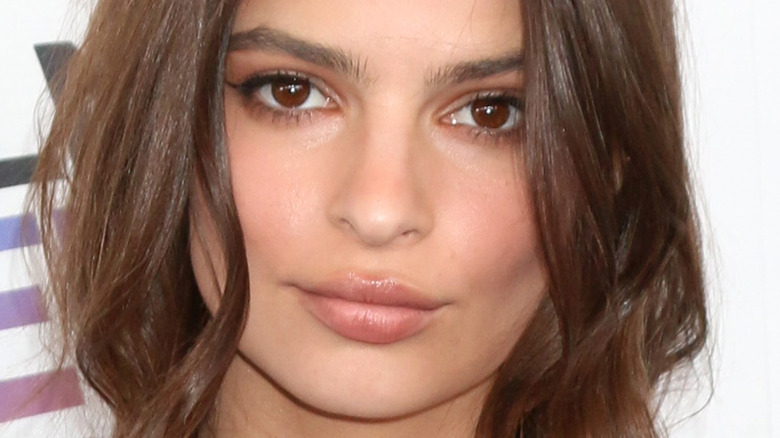 Kathy Hutchins/Shutterstock
Emily Ratajkowski has succeeded as one of the most well-known models in the industry for the last several years. Aside from being the face of her Inamorata swimwear line, the London-born superstar has covered countless high-profile magazines, including Vogue, GQ, InStyle, and others, but she's also walked a plethora of runways at New York Fashion Week and more.
Before Ratajkowski rose in the ranks and accumulated an Instagram platform with more than 28 million followers and counting, she was an aspiring model and movie star who moved from San Diego, where she was raised, to Los Angeles in 2009 to pursue an education at the University of California. That same year, she picked up a role as Tasha on Nickelodeon's "iCarly," but after reprising the character for a second episode in 2010, Best Life reported she dropped out of school to focus on accomplishing her lifelong dream of being an actor.
Ratajkowski grew her image by modeling for Ford Models, and upon landing her first cover for Treats!, the bombshell was catapulted into the spotlight. Her nude display on the front of the erotic magazine caught the attention of Robin Thicke, who inquired for Ratajkowski to be in his 2013 music video for "Blurred Lines." Though Ratajkowski's performance in the controversial song made her a household name, she's now coming forward with claims of inappropriate behavior by the artist. 
Emily Ratajkowski comes forward with allegations that Robin Thicke groped her on the set of 'Blurred Lines'
Emily Ratajkowski accused Robin Thicke of crossing a ~ completely clear ~ line while shooting the music video for his 2013 song "Blurred Lines." The supermodel, who appeared nude while getting extremely intimate with Thicke in the NSFW clip, alleged he inappropriately touched her while on the set more than eight years ago. According to a report from the Sunday Times of London, Ratajkowski detailed the unsolicited ordeal in her new book "My Body," which is set to be released in November.
"Suddenly, out of nowhere, I felt the coolness and foreignness of a stranger's hands cupping my bare breasts from behind. I instinctively moved away, looking back at Robin Thicke," Ratajkowski penned, per the U.K. outlet. Explaining how it appeared the Grammy-nominated singer was under the influence of alcohol, Ratajkowski said the incident caused her to feel "naked for the first time that day." The music video vixen wrote, "He smiled a goofy grin and stumbled backward, his eyes concealed behind his sunglasses. My head turned to the darkness beyond the set."
Looking back on the moment Thicke groped her, Ratajkowski wishes she didn't let the singer's actions slide so easily at the time. "I pushed my chin forward and shrugged, avoiding eye contact, feeling the heat of humiliation pump through my body," she penned. "I didn't react — not really, not like I should have."
'Blurred Lines' director backs up Emily Ratajkowski's claim that Robin Thicke inappropriately touched her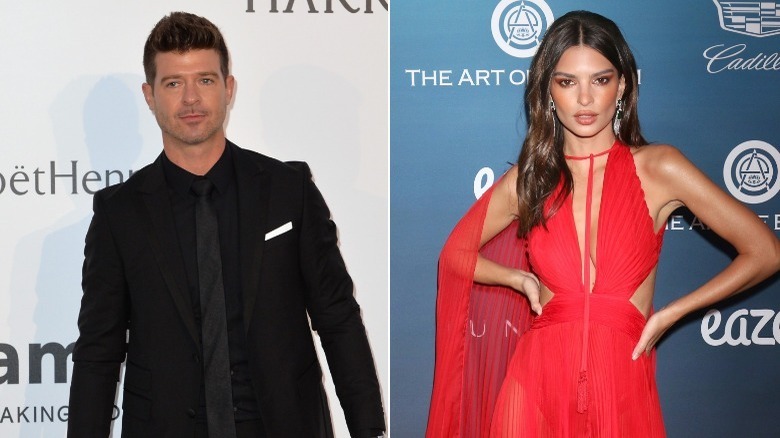 Shutterstock, Shutterstock
Emily Ratajkowski said she remembers the feeling of pure shock when she realized Robin Thicke allegedly grabbed her breasts while filming the music video for "Blurred Lines" in 2013. The mom of one spoke about the alleged groping in her upcoming book "My Body," saying the video's director, Diane Martel, witnessed the singer grab Ratajkowski's bare body. "[Martel's] voice cracked as she yelled out to me, 'Are you okay?'" Ratajkowski penned, according to the Sunday Times of London.
As the publication's report states, Martel supported Ratajkowski's accusation. "I remember the moment that he grabbed her breasts. One in each hand. He was standing behind her as they were both in profile," the director stated, via the Times, saying she didn't waste a single moment to call him out. "I screamed in my very aggressive Brooklyn voice, 'What the f**k are you doing, that's it!! The shoot is over!!'"
Without defending Thicke's actions, Martel pointed out how the American-Canadian musician was drinking on the set, and after she scolded him, he "sheepishly" apologized and was seemingly "contrite" throughout the rest of filming. "I don't think he would have done this had he been sober," Martel said.
If you or anyone you know has been a victim of sexual assault, help is available. Visit the Rape, Abuse & Incest National Network website or contact RAINN's National Helpline at 1-800-656-HOPE (4673).