Zendaya And Anne Hathaway Are Teaming Up For A New Project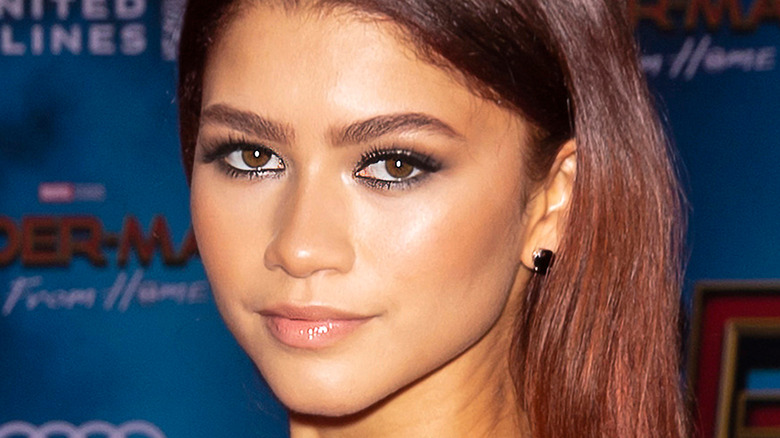 Ovidiu Hrubaru/Shutterstock
Two of the most talented actors in Hollywood, Zendaya and Anne Hathaway, are joining forces in a chic short film for a luxury brand. Both performers are familiar with brand partnerships.
In February, Zendaya led a Super Bowl Squarespace commercial, and that same month she also starred in a Valentino campaign called "Rendez-Vous." In a statement for Harper's Bazaar, the fashion brand's creative director, Pierpaolo Piccioli, revealed why Valentino approached Zendaya to be their latest celebrity partner. "She is a powerful and fierce young woman that uses her talent and her work to express herself, her values and her generation as well," Piccioli said.
For her part, Hathaway has participated in ads for brands like Lancôme and Tod's, and she recently starred alongside tennis star Roger Federer for a campaign promoting Switzerland Tourism in April. As Newsweek noted, the new collaboration between Zendaya and Hathaway marks the first time the stars have acted in a project together. Fans of the two will be in for a treat as they combine their skills for this artistic and stunning short film.
Fans can't get enough of Zendaya and Anne Hathaway's pairing
Zendaya and Anne Hathaway partnered together in a short film for luxury jewelry brand Bulgari. The actors were shown in a clip teasing the short, which is called "Unexpected Wonders," that was released via the brand's YouTube channel on May 24. The full-length version is two-and-a-half minutes long and was directed by Paolo Sorrentino, who is known for acclaimed projects like "The Hand of God" and "Youth." The short shows Zendaya and Hathaway roaming through a breathtaking mansion in Rome while wearing gorgeous Bulgari jewelry, and IndieWire noted the video has "a dash of a sensual love affair."
"In the search for wonder," Hathaway says at the start of the video, at which point Zendaya chimes in, "There are no endings ...," and Hathaway concludes with, "Only new beginnings." A statement released via Bulgari's Twitter account highlighted the film's awe-inspiring moments. "Accept Rome's heartwarming invitation and search for joy and wonder in every moment, gleaming beauty in the most surprising places — knowing that staying curious opens us up to an infinity of blissful opportunities," the brand wrote.
Zendaya and Hathaway are a dynamic duo, so it seems like the brand chose wisely. Especially since fan reactions range from tamer-yet-still-enthusiastic tweets like, "I want whatever they selling!" to more over-the-top responses like, "this has me foaming at the mouth i want a ten episode limited HBO series about these jewel thief partners in crime and i want it NOW."