The Harry Styles Songs That Are Rumored To Be About Olivia Wilde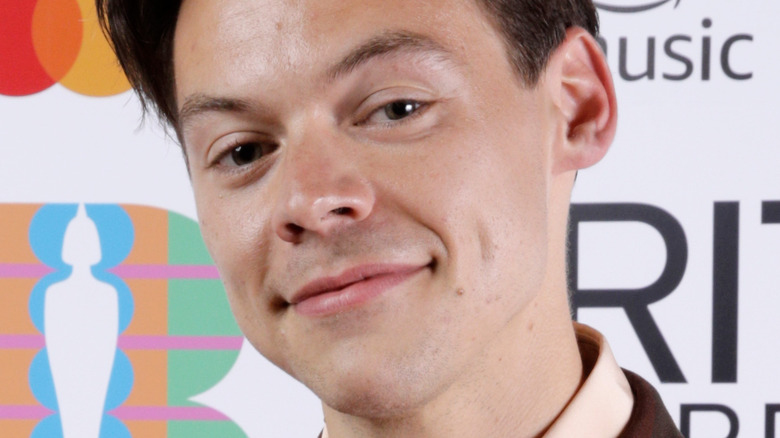 Jmenternational/Getty Images
Harry Styles' third solo album "Harry's House" has only been out for about a week, but it's already generated major buzz throughout the music industry. Outlets like Pitchfork have praised it for its mixture of "funk, folk, and 2010s Tumblr-pop ... with a surplus of style and whimsy." The Times lauded the album as "the next step" in Styles' "remarkable reinvention," following his early years as a member of the British boy band One Direction. And for Styles, it's his time to step into who he really is as a musician, after years of trying to fit himself into a box. "I think getting to a place where I feel like, 'This is what I do and I love it, but it's not necessarily who I am.' Just feels like a much healthier place to be operating from and making music from," he told NPR.
Styles' fans have raved about "Harry's House" so far, though they seem more interested in uncovering the subject material behind the songs. When the song "Daylight" first hit listeners' ears, many were convinced it was about Styles' ex, Taylor Swift. (Coincidentally, Swift also has a song titled "Daylight," and the former flames have sung about each other before.) However, Styles shot down the rumors in a SiriusXM interview with Howard Stern. But fans aren't completely left in the lurch because Styles had plenty of romantic inspiration to pull from in the form of his current girlfriend, actor-director Olivia Wilde.
Harry Styles confirmed Cinema is a love song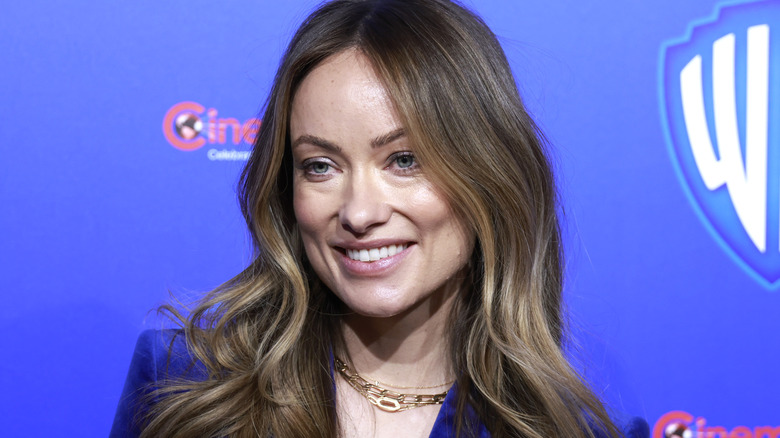 Frazer Harrison/Getty Images
Harry Styles and Olivia Wilde have kept their relationship under wraps after meeting on the set of "Don't Worry Darling" in 2020, per Us Weekly. Wilde made a vague statement to Vogue in December 2021, telling the outlet, "All that matters to you is what's real, and what you love, and who you love." Styles was similarly obscure when he spoke on Sirius XM's "The Howard Stern Show" about his experience working with Wilde. "Being able to trust your director is a gift. That was very helpful and it really meant ... a really nice experience working on that movie," he said (via Page Six).
Styles and Wilde haven't officially confirmed their relationship, and likewise, Styles hasn't confirmed that any of the songs on "Harry's House" are about Wilde. He has, however, dropped plenty of hints. According to Life & Style, Styles told SiriusXM host Howard Stern that "Cinema" is a love song regarding someone important. Lyrics like "I think you're cool / I dig your cinema" and "I bring the pop to the cinema / You pop when we're intimate" led fans to believe Wilde was Styles' muse. "There's no way cinema isn't about Olivia Wilde," one fan tweeted. "So we are not going to talk about how Cinema — a sex ballad — is for Olivia Wilde, a filmmaker," someone else tweeted. 
And because "Cinema" isn't the only love song on the album, Wilde appears to have inspired another recent hit song.
Fans think Late Night Talking is about Olivia Wilde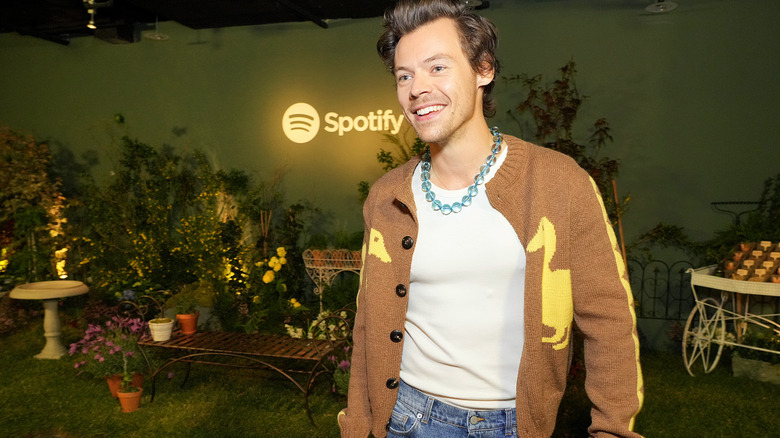 Kevin Mazur/Getty Images
Harry Styles' song "Daylight" was first rumored to be about Taylor Swift, but now the "Adore You" singer's fans are wondering whether it could actually be about Olivia Wilde. As Life & Style notes, the lyrics reference a long distance relationship, one where Styles wishes he could "Dip you in honey so I could be sticking to you." Then again, Styles also told Howard Stern on "The Howard Stern Show" that the song was about the experience of having a crush on someone who didn't return his feelings, which clearly isn't Wilde.
But, while "Daylight" is a dead end, there seems to be more (lyrical) proof that another Styles song, "Late Night Talking," is about Wilde. The first verse features the lyrics, "And nothing really goes to plan / You stub your toe or break your camera / I'd do everything I can to help you through" — and fans immediately honed in on the "camera" allusion pertaining to Wilde. In the second verse, Styles sings, "But I'd follow you to any place / If it's Hollywood or Bishopsgate, I'm coming, too." Per Us Weekly, Wilde and Styles' film "Don't Worry Darling" was filmed in Los Angeles, and Styles reportedly lived in the Hollywood Hills during this time period. Could the lyrics therefore be a nod to the couple's jet-setting lives? Fans certainly think so. "As much as I hate it, Late Night Talking is straight up talking about Olivia," one person tweeted.