What Is The Real Meaning Of Late Night Talking By Harry Styles? Here's What We Think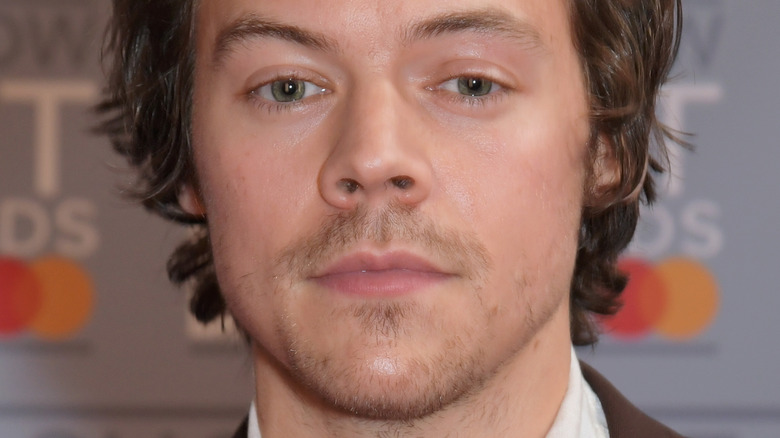 David M. Benett/Getty Images
Harry Styles has several properties around the world, but now he's welcoming us into "Harry's House!" This is Styles' third studio album and it has been highly anticipated since the release of his last album, "Fine Line" in 2019. In fact, Styles revealed to Better Homes and Gardens that he finished "Harry's House" during the pandemic in 2021 just before he went on tour for "Fine Line." "I realized that that home feeling isn't something that you get from a house," Styles asserted to BH&G. "It's more of an internal thing. You realize that when you stop for a minute."
The first single off of "Harry's House" was the melodic yet melancholic "As It Was," which was at the top of the Billboard Hot 100 for three weeks straight after its release on March 31. That made it all the more exciting when his second single, "Late Night Talking," was dropped on the same day that the album dropped.
Besides "As It Was," "Late Night Talking" is one of the best performing songs off of "Harry's House;" it has over 17 million streams on Spotify as of this writing! One fan tweeted about the song, "'Late Night Talking' is such a vibe I want to dance down the street and tip my hat at strangers and twirl around a lampost." So, what is it about this song that has fans raving?
Is Olivia Wilde the muse for Late Night Talking?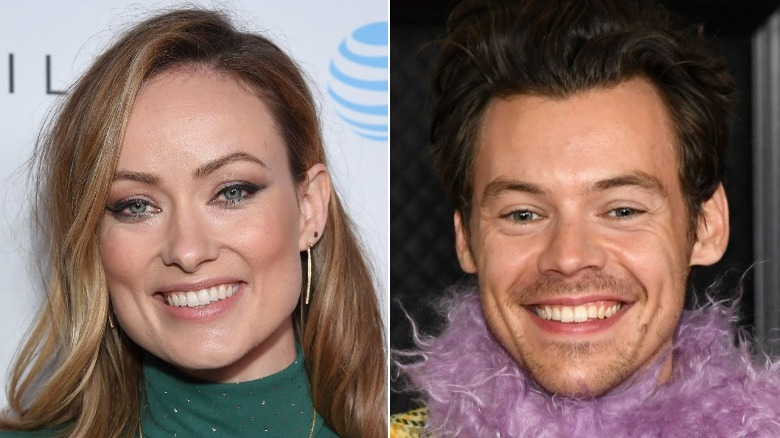 Kevin Mazur/Getty & undefined & DFree/Shutterstock
Just like the songs "As It Was" and "Music For a Sushi Restaurant," it is heavily speculated that Harry Styles was thinking of his girlfriend, Olivia Wilde, when he wrote this track. Styles and Wilde reportedly began dating around the beginning of 2021, which lines up with the timeline of the writing of the album that Styles told Better Homes and Gardens. Plus, Styles performed "Late Night Talking" for the first time ever during his 2022 Coachella set, where Wilde was seen dancing in the crowd. This caused fans to connect the dots that the track is about Wilde, per Pop Buzz.
When you take a closer look at the lyrics, it's apparent that Styles is singing about a very special someone. One line in the first verse goes, "It's only been a couple of days and I miss you, mmm, yeah." This is in line with what a source told Entertainment Tonight about the couple: "While they have busy schedules and a lot of personal commitments, they make a point to prioritize time with each other."
The song continues, "When nothing really goes to plan / You stub your toe or break your camera." Ok, now this line is definitely the best evidence of the song being about Wilde, since she has transitioned from being an actor to a director (even directing Styles in her upcoming film, "Don't Worry Darling"). And what do directors work with the most? Cameras!
If anything, Late Night Talking is about the trials of being a celebrity in a relationship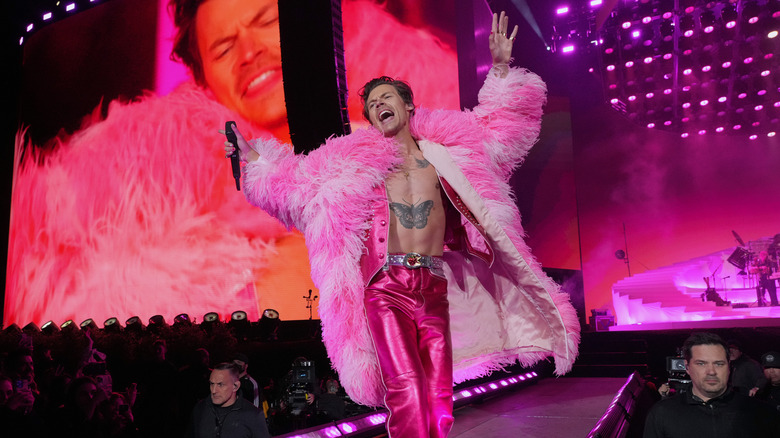 Kevin Mazur/Getty Images
It should be mentioned that Styles has neither confirmed nor denied that "Late Night Talking" is about Olivia Wilde. But even if you take Wilde out of the equation, the song is all about Styles juggling his life as a musician on the road alongside his relationships. The pre-chorus of the song goes, "If you're feeling down, I just wanna make you happier, baby / Wish I was around, I just wanna make you happier, baby." Anyone who has been in a long-distance relationship can relate to this sentiment; feeling helpless when your partner is down and wanting to rush to their side to cheer them up. Add onto that the fact that Styles is constantly jet-setting around the world touring and doing press.
Styles sings in the chorus, "We've been doin' all this late-night talkin' / 'Bout anything you want until the mornin' / Now you're in my life / I can't get you off my mind." This seems to be referencing those hours-long phone calls that you have with your significant other when you haven't seen each other in a while. Even if the song isn't about Wilde, Styles has probably been in this situation many times. From his time touring with One Direction to the intense schedule of his solo career, Styles probably has had his share of long-distance loves.