Dominic Fike's Comments About Amber Heard Set The Internet On Fire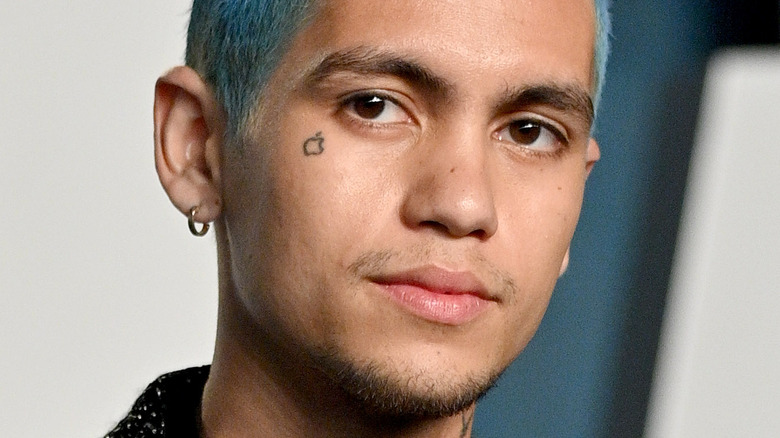 Lionel Hahn/Getty Images
The following article includes allegations of domestic abuse.
Dominic Fike, known for his role as Elliott on the HBO series "Euphoria," is also a popular musician who has recently been touring across the United States. The "3 Nights" singer recently took the stage at schools such as University of Connecticut and University of Rhode Island. And while students thoroughly enjoyed those performances and shared clips of the shows on social media, his stop at Northwestern University on May 26 has people talking for the wrong reasons.
Halfway through his set at Northwestern, Fike took a second to address the crowd with a confession. "Yo, I'm just gonna come straight out and say it. I'm gonna say it. I'm gonna be real with y'all," he continued, "I think Amber Heard is hot. I know it's not a popular opinion ... but I've been having these visions of her [where] she's beating me up. I think it's hot."
Amber Heard, who is currently in a legal battle with her ex-husband Johnny Depp, has been accused of physically abusing the "Pirates of the Carribbean" actor, per the Daily Mail. Meanwhile, Heard has also accused Depp of physical abuse in her recent shocking testimony. The ongoing defamation trial between Depp and Heard has completely taken over social media and gotten the attention of several stars. But Fike's unusual comments about the actor have only added fuel to the fire, and backfired on the musician.
The internet explodes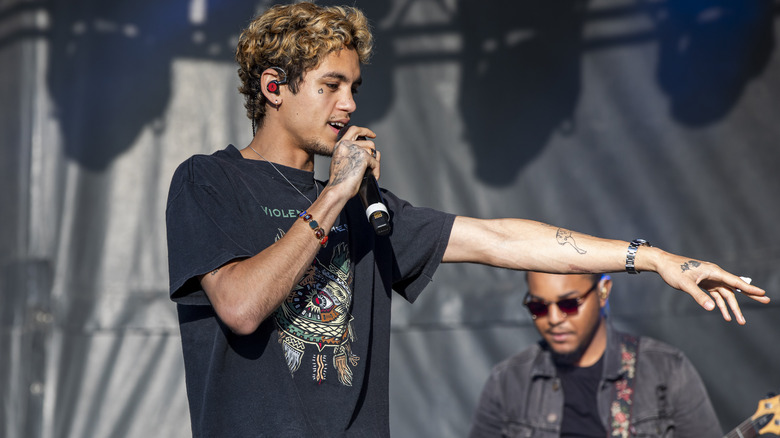 Scott Legato/Getty Images
Ever since Dominic Fike revealed his thoughts about Amber Heard during his concert at Northwestern University, the internet has not stopped talking about it. After the "Euphoria" star confessed that he thinks the actor is "hot" and fantasized about her beating him up, many fans were disturbed to hear his unfiltered thoughts about Heard.
One fan took to Twitter to say, "Dominic fike saying Amber Heard is attractive so he wouldn't mind being abused by her just pretty much killed it for me he's corny." Some fans are even choosing to end their support for the singer, with one tweeting, "ps unstanning Dominic Fike [because] he says he had visions of Amber Heard beating him up and that's just a bit weird." Some social media users are saying he is trying to "cancel" himself at this point. Fike has yet to publicly address his controversial comments about the actor.
Fike was dating his "Euphoria" co-star, Hunter Schafer, for quite some time, but recent rumors that the pair broke up have been circulating on social media, according to Life & Style. While he has recently been spotted getting close to other women around hot spots in Los Angeles, his sexualized comments about Amber Heard have some fans grateful that the pair might have split. 
If you or someone you know is dealing with domestic abuse, you can call the National Domestic Violence Hotline at 1−800−799−7233. You can also find more information, resources, and support at their website.